The RX family consists of four product series: the flagship RX700 series, with the fastest performance and most advanced functions; the standard RX600 series; the RX200 series, which delivers an optimal balance of power efficiency and high performance; and the entry-level RX100 series, with extremely low power consumption. These four series encompass a range of products that provide seamless scalability from small-scale to large-scale applications.
Download: RX Family Brochure (PDF | English, 日本語, 简体中文)
Download: Renesas RX Testimonials from Partners and Customers (PDF | English, 日本語, 简体中文)
Find by Solution
Find by Specification
Renesas offers the Product Longevity Program (PLP) to help customers select the most appropriate part for applications that require long life cycles. Participating RX Family products are available for up to 15 years.
Image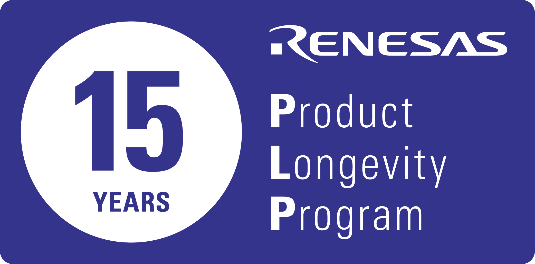 RX Family Product Portfolio
Series
Groups

RX700

200MHz~

 
240MHz, RXv3, 4MB (1MB), 2ch Ether, CAN, USB,
TFT-LCD, TSIP
200MHz, RXv3, 1MB (128KB), 5V, 4 motor, PGA,
TFU, USB, TSIP Lite
240MHz, RXv3, 4MB (1MB), EtherCAT/Ether, CAN,
USB, TFT-LCD, TSIP
 
 

RX600

~200MHz

120MHz, RXv2, 2MB (640KB), Ether, CAN, USB,
TFT-LCD, TSIP
120MHz, RXv3, 4MB (1MB), Ether, CAN, USB,
TFT-LCD, TSIP
 
 
 
 
120MHz, RXv2, 2MB (640KB), CAN, USB,
TFT-LCD, TSIP
120MHz, RXv3, 2MB (384KB), Touch, SSI, CAN,
USB, QSPI (XiP), TSIP
160MHz, RXv3, 1MB (128KB), 5V, 4 motor, PGA,
USB, TSIP Lite
 
 
120MHz, RXv2, 2MB (640KB), Sub-GHz/Wi-SUN,
TSIP
 

120MHz, RXv3, 1MB (128KB), 5V, CAN FD

 
 
 
 

RX200

~120MHz

 
 
120MHz, RXv3, 512KB (64KB), 5V, 2 motors, PGA,
TFU, TSIP Lite
 
 
 
54MHz, RXv2, 512KB (64KB), Touch, CAN,
USB, TSIP Lite
 

80MHz, RXv2, 512KB (32KB), 5V, 2 motors, PGA

 
 
 

54MHz, RXv2, 256KB (32KB), Touch

 

40MHz, RXv2, 128KB (12KB), 5V, 1 motor

 
32MHz, RXv2, 256KB (32KB),
24-bit DSAD
54MHz, RXv2, 512KB (64KB), Touch, CAN,
TSIP Lite, BT5 LE

RX100

~48MHz

32MHz, RXv1, 512KB (64KB), Touch, LCD

48MHz, RXv2, 256KB (64KB), 5V, Touch,
AES, RNG, CAN
 
 
 
 

32MHz RXv1, 512KB (64KB), USB

32MHz, RXv1, 512KB (48KB), 5V, Touch

 
 
 
 

32MHz, RXv1, 128KB (16KB)

 
32MHz, RXv1, 64KB (12KB),
5V, 1 motor, PGA
 
 
 
 
General Purpose
Motor Control/
Inverter
IA/FA Network
Rich Analog
Wireless