RL78 8/16-bit microcontrollers (MCUs) greatly improve power efficiency with industry-leading low power consumption at 37.5μA/MHz consumption during normal operation and 0.355μA during clock operation. Built-in features such as a high-precision (±1%) high-speed on-chip oscillator, background operation data flash capable of 1 million rewrites, temperature sensor, and interface ports for multiple power supplies help reduce system costs and size.
Learn More About RL78 MCUs
Find RL78 MCUs by Solution
Renesas offers the Product Longevity Program (PLP) to help customers select the most appropriate part for applications that require long life cycles.
Image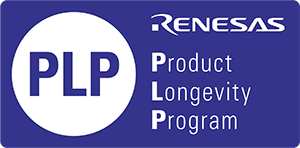 Portfolio