Low birthrates, increased longevity, decreased productivity, and increases in labor costs are expanding the market for robotic alternatives. Particularly, as the population ages and requires additional care, service robots that coexist and interact well with humans can help provide solutions to these challenges.
Renesas offers advanced technology for robotic applications, including functional safety solutions for security and safety and real-time solutions such as sensing, system control, and drive systems. Renesas also brings AI (Artificial Intelligence) capability to robotics endpoints. From industrial robotics to communications robots, Renesas offers scalable solutions to provide the advanced functionality and performance required to help realize a smart society.
Learn Renesas's approach to today's robotics applications and browse block diagrams to see how our devices could be used in your next project.
---
Renesas offers robotic sensors solutions to help robots correctly recognize surroundings and provide the controller or drive with data including images.
Renesas high-performance microcontroller technology is ideal for reliable robotic system drive control based on information gathered by the sensors.
Renesas technology provides precise motor control for robot joints to the power device and safe battery management for mobile robotic applications.
The Robot Operating System (ROS) is a key framework that provides libraries and tools to bring new innovations to the robotics community. micro-ROS is the ROS 2 (the second generation of ROS) on a microcontroller in various robot applications.
The e-AI solution brings AI (Artificial Intelligence) capability to embedded endpoints.
Renesas IEC61508 certified solution helps to build a safety system from Industrial and collaborative robots to service robots where humans are able to interact safely.
---
Image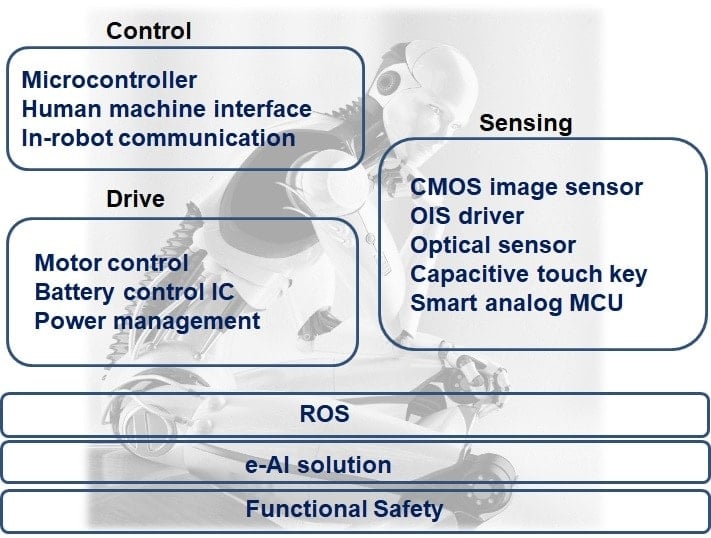 Featured Products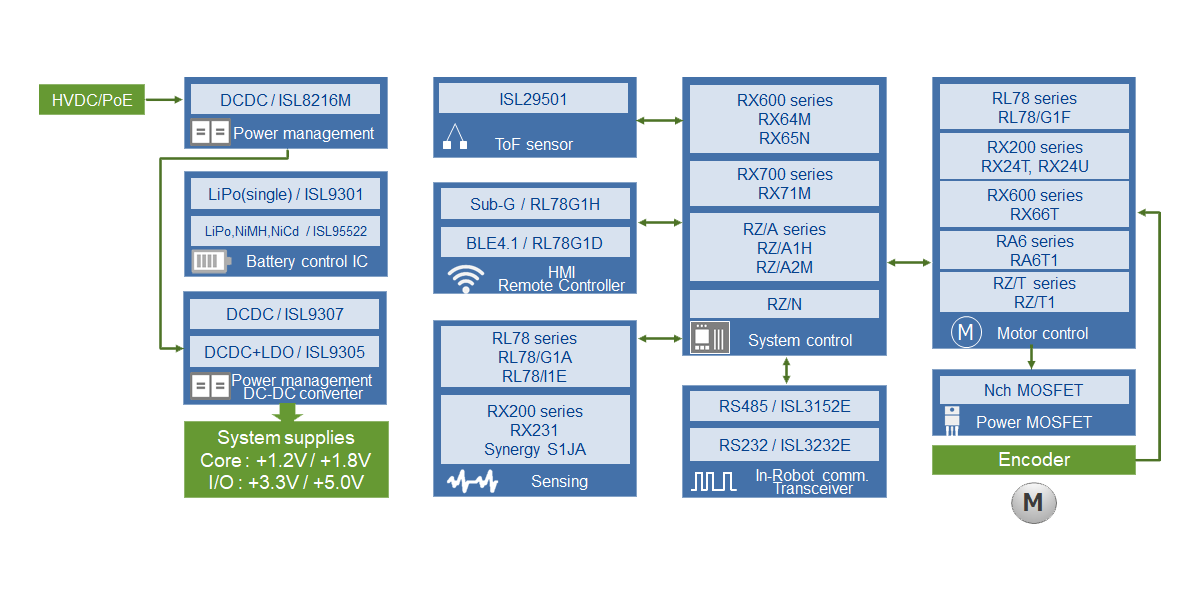 | Product | Description | Featured Document |
| --- | --- | --- |
|   |   |   |
| Power Management |   |   |
| ISL8216M | Complete High Voltage 80V, 4A DC/DC Power Module | ISL8216M Datasheet (PDF) |
|   |   |   |
| Battery Control IC |   |   |
| ISL9301 | High Input Voltage Charger with Power Path Management | ISL9301 Datasheet (PDF) |
| ISL95522 | Hybrid Power Boost (HPB) and Narrow VDC (NVDC) Combo Battery Charger with SMBus Interface | ISL95522 Data Short (PDF) |
|   |   |   |
| DC-DC Converter |   |   |
| ISL9307 | 3MHz Dual 1500mA Step-Down Converters and Dual Low-Input LDOs | ISL9307 Datasheet (PDF) |
| ISL9305 | 3MHz Dual Step-Down Converters and Dual Low-Input LDOs with I2C Compatible Interface | ISL9305 Datasheet (PDF) |
|   |   |   |
| ToF Sensor |   |   |
| ISL29501 | Time of Flight (ToF) Signal Processing IC | ISL29501 Datasheet (PDF) |
|   |   |   |
| HMI Remote Controller |   |   |
| RL78/G1H | Industry's Lowest Power Sub-GHz Wireless Communication MCU | RL78/G1H User's Manual: Hardware Rev.1.30 (PDF | English, 日本語) |
| RL78/G1D | Bluetooth® Low Energy Microcontrollers for Smart Connectivity | RL78/G1D Datasheet Rev.1.30 (PDF | English, 日本語) |
|   |   |   |
| Sensing |   |   |
| RL78/G1A | General-purpose MCUs with Built-in High-resolution A/D Converter | RL78/G1A Datasheet Rev.2.11 (PDF) |
| RL78/I1E | Configurable AFE, High-precision Analog Microcontroller | RL78/I1E Datasheet Rev.1.10 (PDF) |
| RX231 | Low-power Consumption, High-performance MCU with 32-bit RXv2 CPU Core | RX230 Group, RX231 Group Datasheet Rev.1.20 (PDF | English, 日本語) |
| Synergy S1JA | 48MHz Arm® Cortex®-M23 CPU | |
|   |   |   |
| System Control |   |   |
| RX64M | High-performance MCU with 4.55CoreMark/MHz (546CoreMark) and RXv2 core | RX64M Group Datasheet Rev.1.10 (PDF | English, 日本語) |
| RX65N | 32-bit Microcontrollers with RXv2 core, Large-capacity RAM | RX65N Group, RX651 Group Datasheet Rev.2.30 (PDF | English, 日本語) |
| RX71M | 32-bit Microcontroller; Industrial Equipment-specific High-performance Real-time Engine | RX71M Group Datasheet Rev.1.10 (PDF | English, 日本語) |
| RZ/A1H | Full-featured MPU with Arm® Cortex®-A9 Core | |
| RZ/A2M | High-Speed Embedded AI-Based Image Processing Device with DRP Technology | RZ/A2M Group User's Manual: Hardware (PDF | English, 日本語) |
| RZ/N1D | MPU with Dual Arm® Cortex®-A7 + Arm® Cortex®-M3 (R-IN Engine) | DATASHEET RZ/N1D Group, RZ/N1S Group, RZ/N1L Group (PDF) |
| RZ/N1L | MPU with Dedicated Protocol H/W (EtherCAT / Sercos III) and Arm® Cortex®-M3 (R-IN engine) | DATASHEET RZ/N1D Group, RZ/N1S Group, RZ/N1L Group (PDF) |
| RZ/N1S | MPU with Arm® Cortex®-A7 + Arm® Cortex®-M3 (R-IN Engine) Optimized for Small PLC and HMI | DATASHEET RZ/N1D Group, RZ/N1S Group, RZ/N1L Group (PDF) |
|   |   |   |
| In-Robot Communication Transceiver |   |   |
| ISL3152E | 5V, RS-485/RS-422 Differential Transceiver | ISL3150E, ISL3152E, ISL3153E, ISL3155E, ISL3156E, ISL3158E Datasheet (PDF) |
| ISL3232E | QFN Packaged, ±15kV ESD Protected, +2.7V to +5.5V, 150nA, 250kbps, RS-232 Transmitters/Receivers | ISL3232E, ISL4221E, ISL4223E Datasheet (PDF) |
|   |   |   |
| Motor Control |   |   |
| RL78/G1F | Multifunctional MCUs with Enhanced Functionality Suitable for Sensorless BLDC Motor Control | RL78/G1F Datasheet Rev.1.12 (PDF) |
| RX24T | 32-bit MCU Including On-chip FPU Enable to Drive Two Motors Simultaneously | RX24T Group Datasheet Rev.2.00 (PDF | English, 日本語) |
| RX24U | Powerful 32-bit Motor Control MCU With Built-in Differential Amplifiers and Safety Systems | RX24U Group Datasheet Rev.1.00 (PDF | English, 日本語) |
| RX66T | 32-bit MCUs Optimal for Motor Control in Industrial, Home Appliance and Robotics Applications | RX66T Group Datasheet Rev.1.21 (PDF | English, 日本語) |
| RZ/T1 | MPU with Arm® Cortex®-R4 Processor with FPU for Real-Time Control of Industrial Equipment and Networking | RZ/T1-M Datasheet (PDF | English, 日本語) |
|   |   |   |
| Power Mosfet |   |   |
| Nch MOSFETs | Low on-resistance and low gate charge product series meets the large current requirements of the industrial segment. |   |