Renesas provides an efficient power distribution network solution based on Intelligent Power Device (IPD) technologies. The intelligent protection and diagnostic functions of the IPDs raise the safety level over mechanical relays. Together with their small size and weight, IPDs are the key enabler to building advanced automotive power distribution networks with cable harness optimization and functional safety implementation. The battery power is split into multiple parallel lines providing a protected and distributed power supply into the network. This forms the basis of creating any type of hierarchical architecture, enabling further nesting to achieve the desired safety level through redundancy.
System Benefits:
Relay and fuse replacement by high operating current IPDs with protection features to shut down the circuit during over-temperature and overcurrent situations.
Optimize BOM and realize miniaturization with the RL78 MCU line-up containing small packages and low power consumption.
An MCU monitors the load current of IPDs through programmable control current sense terminal check and shut down in the suitable sequence once overcurrent is detected.
Soft start-up by cascaded switch-on of the IPDs is possible to control the timing of each peak current.
Achieve functional safety through parallel power lines supporting redundant networks.
Image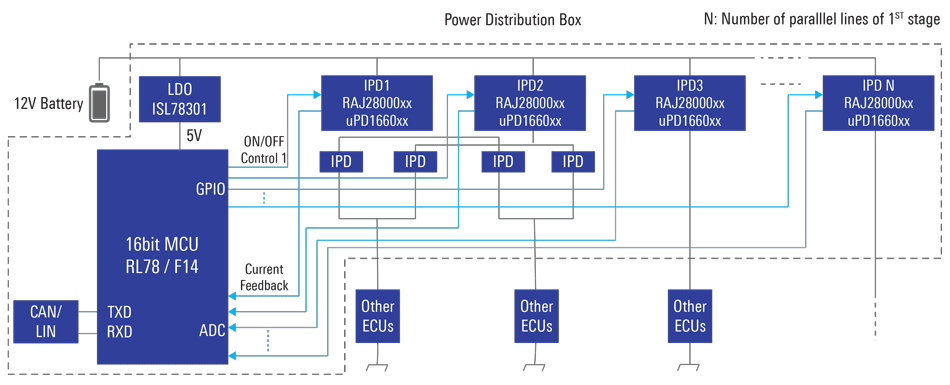 Related Products
Product
Description
Featured Document
Ordering
 
 
 
 
Microcontroller
 
 
 
RL78/F12
16-bit MCU with ultra-low power and built-in LIN (20 - 64 pins, 16 - 58 GPIOs)
User's Manual
Contact Sales
RL78/F13
16-bit MCU with ultra-low power and built-in CAN/LIN (20 - 80 pins, 13 - 68 GPIOs)
User's Manual
Buy/Sample
RL78/F14
16-bit MCU with ultra-low power and built-in CAN/LIN (30 - 100 pins, 23 - 86 GPIOs)
User's Manual
Buy/Sample
RL78/F15
16-bit MCU with ultra-low power and built-in CAN/LIN (48 - 144 pins, 38 - 130 GPIOs)
User's Manual
Buy/Sample
RH850-F1KM-S1
32-Bit High-End Automotive Microcontrollers Ideal for Body Applications
User's Manual
Buy/Sample
 
 
 
 
Intelligent Power Device
(IPD)
 
 
 
RAJ2800024
Automotive Nch intelligent power device, high-side switch, 1.6mOhm, TO-263-7 package
Datasheet
Contact Sales
RAJ2800034
Automotive Nch intelligent power device, high-side switch, 2.5mOhm, TO-263-7 package
Datasheet
Contact Sales
RAJ2800044
Automotive Nch intelligent power device, high-side switch, 3.8mOhm, TO-263-7 package
Datasheet
Contact Sales
uPD166031A
Automotive Nch intelligent power device, high-side switch, 10mOhm, TO-252-7 package
Datasheet
Contact Sales
uPD166033
Automotive Nch intelligent power device, high-side switch, 6mOhm, TO-252-7 package
Datasheet
Contact Sales
uPD166034
Automotive Nch intelligent power device, high-side switch, 8mOhm, TO-252-7 package
Datasheet
Contact Sales
 
 
 
 
LDO
 
 
 
ISL78301
40V, 150mA linear regulator for automotive applications
Datasheet
Buy/Sample
 
 
 
 
Buck Controller
 
 
 
ISL78206
40V 2.5A buck controller with integrated high-side MOSFET
Datasheet
Buy/Sample
 
 
 
 
Buck Regulator
 
 
 
ISL78233
2.7V to 5.5V input 3A buck regulator
Datasheet
Buy/Sample
ISL78234
2.7V to 5.5V input 4A buck regulator
Datasheet
Buy/Sample