The RZ/V series are microprocessors (MPUs) with a Dynamically Reconfigurable Processor (DRP)-AI, Renesas' original AI accelerator that achieves both high AI inference performance and low power consumption. The RZ/V2M has a high-performance image signal processor (ISP) that supports 4K/30fps, and the RZ/V2L has a 3D graphics engine and versatile peripheral functions for a wide range of applications.
White Paper: Embedded AI-Accelerator DRP-AI (PDF | English, 日本語)
DRP-AI is Renesas' dedicated hardware that provides high performance and low power consumption, and the ability to respond to evolution.
Partner products and services that support the RZ/V series can speed up your design and get to market faster.
Target Applications
IP camera
Surveillance camera
Retail
Logistics
Image inspection
Products
RZ/V2M  Mid-range product for camera applications with high-performance ISP in addition to DRP-AI 
RZ/V2L  Entry-level product group equipped with the same DRP-AI as RZ/V2M
Specification Summary
 
RZ/V2M
RZ/V2L
Main CPU
Arm® Cortex®-A53 (1.0GHz) Dual
Arm Cortex-A55 (1.2GHz) Dual/Single
Sub CPU
---
Arm Cortex-M33 (200MHz) Single
DRAM-I/F
LPDDR4-3200 32-bit
DDR3L/DDR4-1600 16-bit (In-line ECC)
ISP
4K/30fps, HDR/3DNR, etc.
--- (*1)
Video CODEC
H.264/265 Enc/Dec (4K/30fps)
H.264 Enc/Dec (2K/30fps)
Graphics Engine
2D GPU
Arm Mali-G31 3D GPU
Camera-I/F
2x MIPI-CSI2 (4-lane)
1x MIPI-CSI2 (4-lane), 1x Parallel
Display-I/F
1x MIPI-DSI2 (4-lane), 1x HDMI
1x MIPI-DSI2 (4-lane), 1x Parallel
Peripherals
1x USB3.1, 1x GbEther, 1x PCIe Gen2
2x USB2.0, 2x GbEther, 2x CAN-FD
Package
841-pin FCBGA (15x15mm, 0.5mm pitch)
456-pin LFBGA (15x15mm, 0.5mm pitch)
551-pin LFBGA (21x21mm, 0.8mm pitch)
(*1) Simple ISP function provided as DRP library
AI Development Tool Flow
Open frameworks can be used for learning
Converts from industry standard ONNX Format to executable with DRP-AI Translator
Image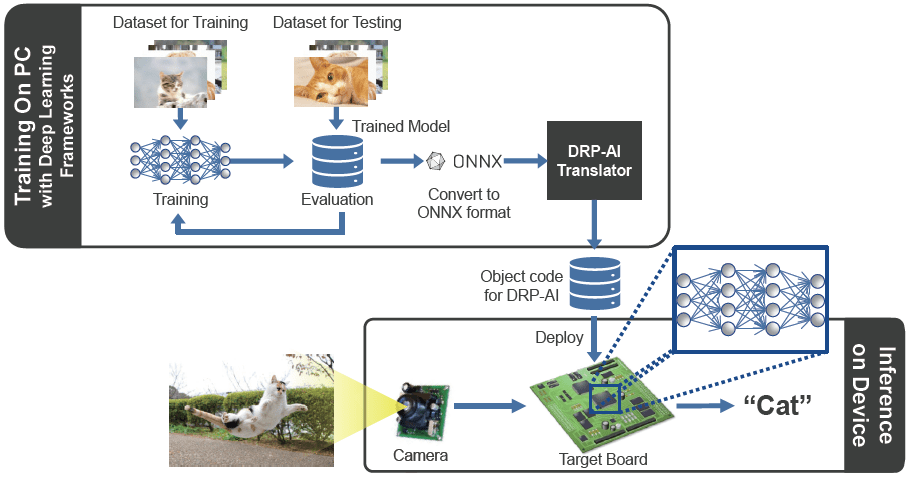 Use Case
Image