Power line communication (PLC) is a technology that allows power lines to be used for data communication by transferring data over existing power lines. By using a power line as a communication network, it is possible to build a system at a low cost and early stage. For this reason, PLC attracts attention as communications in smart meters (AMI), HEMS, BEMS and solar panel monitoring systems that realize a smart society. There are low-speed and high-speed versions of PLC, each of which uses a different communication protocol. In addition, it is possible to make the same device compatible with both AC and DC power supplies by changing the peripheral circuits. Placing the focus on the ability to connect, Renesas offers products that support low-speed PLC for building automation applications.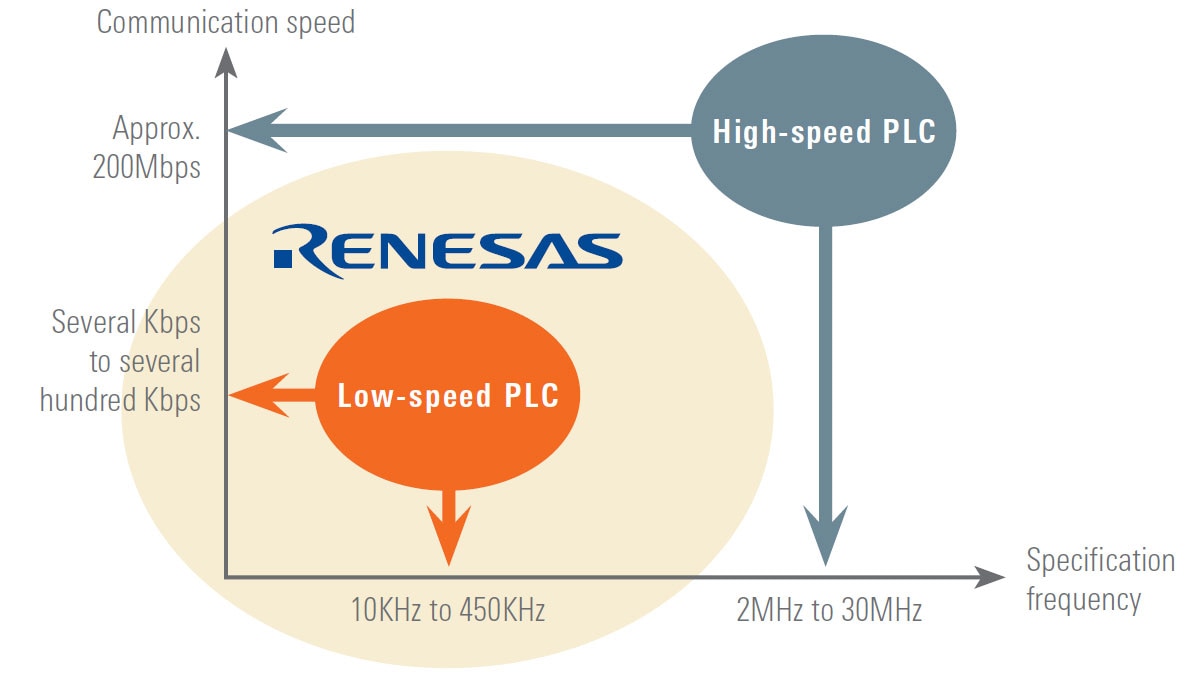 AC-PLC needs trans to remove AC.

DC-PLC can be removed by capacitance coupling. External circuit costs are potentially less expensive.

---
Strengthening Internal Building Communication Networks and Related Issues
A variety of communication networks are used by the systems in a typical building, such as HVAC (Air Conditioning), fire and safety, building security, and lighting. Also in use are information gathering (sensing) functions to provide safety, security, and comfort, and this further increases the volume of data to be handled. Renesas PLC technology provides the means to solve issues such as the following.
Connectivity Technology That Solves a Variety of Problems
Renesas PLC devices eliminate a variety of issues by reducing cable installation while providing high speed and high reliability. This technology allows power lines to be used as communication lines for transmitting sensor data, audio data, and more.
Features of Renesas PLC include:
Ability to use power lines as communication lines, reducing or eliminating cable installation.
Multicarrier modulation (OFDM) for high-speed and robust communication.
A variety of error detection and correction functions for high reliability.
DSP-based software modem easily accommodates updates to support different standards or boost performance.
No expensive wiring, such as shielded or twisted-pair cables, is needed, and this contributes to more compact housings and reduced cost. There is no need to worry about issues such as increased complexity and the need for additional wiring to accommodate the increase in various types of information collection and use of sensors, and it is not necessary to install cables when building a new communication network. Some building automation application examples are shown below.

---
Example of Use of Power Lines as Communication Lines for an HVAC (Building Air Conditioning) System

Example of Use of Power Cables as Transfer Routes for Audio Data