This RZ/A2M software development kit helps speed up time to market.
Image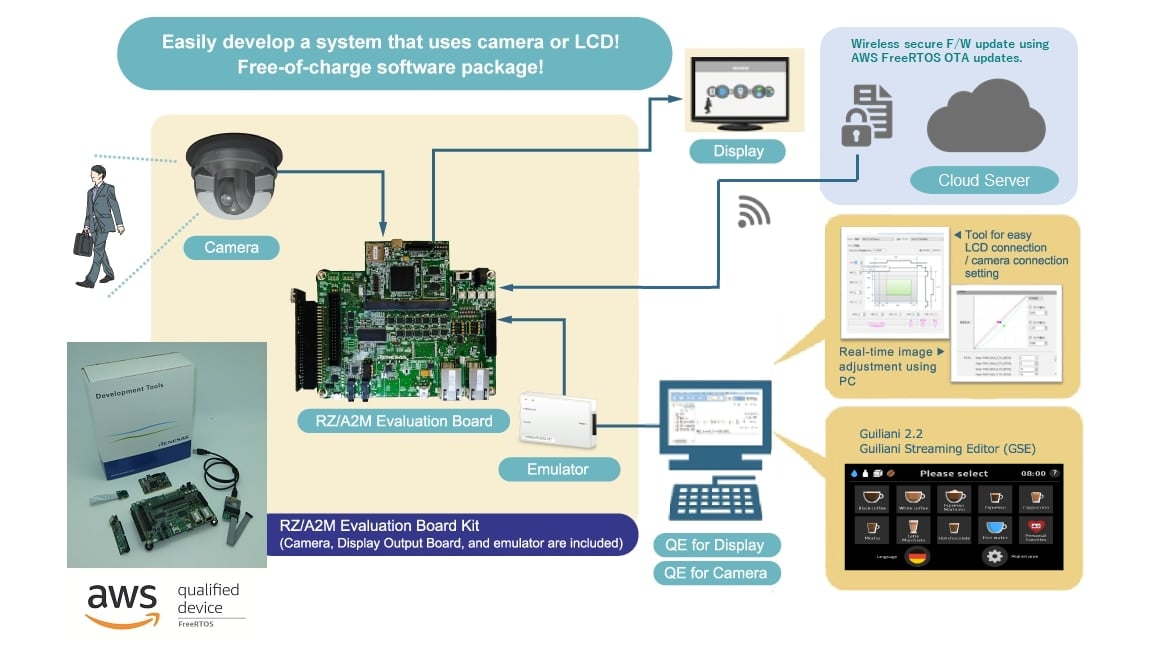 RZ/A2M Software Package is a software development kit for the RZ/A2M that supports various RZ/A2M functions such as DRP(Dynamically Reconfigurable Processor), camera input, LCD output, and image adjustment. It consists of device drivers, middleware, sample programs for the RZ/A2M and FreeRTOS OS.
 * RZ/A2M Evaluation Board Kit must be purchased separately.
The Prepaid by Renesas Guiliani Lite license for Guiliani Evalkits
With Guiliani Evalkits in RZ/A1H Software Package you can obtain an additional Guiliani-Lite production license key from TES. This license is free of charge for Renesas RZ/A1H with FreeRTOS OS and e² studio IDE. With this license you are able to produce state-of-the-art HMI applications for production use. The Lite version of Guiliani is fully featured and only has small limitations on usable resources (number of images, dialogs, fonts, etc) and hardware acceleration. For getting the Prepaid by Renesas Guiliani-Lite license, please refer to TES Guiliani.
Features
Contains sample programs for drivers and application sample programs that can be used for development, so you can start using the peripheral functions of the RZ/A2M immediately.
DRP library can accelerate various image processing easily.
Example for interoperation between RZ/A2M peripherals/"RZ/A2M Evaluation Board Kit" on-board peripherals with the C++ HMI Framework "Guiliani" by TES Electronics Solutions. "Guiliani" and RZ/A2M Software Package allows rapid implementations of smooth, intuitive and high-performance GUIs that can interact with RZ/A2M extensive peripherals free-of-charge. For details on Guiliani, please refer to Welcome to guiliani.de open_in_new page.
Smart Configurator enables your implementation of Renesas drivers into your own system easily.
Use with QE for Display (e2 studio plug-in) to easily make image quality and LCD timing adjustments using a GUI.
Use with QE for Camera (e2 studio plug-in) to easily set Camera module and Camera timing adjustments using a GUI.