RL78 Family Development Environment
Renesas offers various easy-to-use boards for evaluation; Renesas Starter Kits containing a board and software, CPU boards for trying out the operation of RL78 Family MCUs, and evaluation boards which are specific to particular fields. We also offer a rich variety of boards produced by our partners.
Renesas Starter Kit
All-In-One Tool Kit for Evaluation and Introduction of an MCU
Do you need to jump start your RL78 Family evaluation? If yes, this will be the best and affordable development tool kit for you. You can obtain all the development environment elements needed for evaluation or introduction of an MCU. The CPU board has the application headers to output the control signals from an MCU and can be connected to a user system for debugging.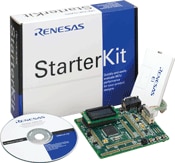 Fast Prototyping Board
Built-in Emulator Circuit and High Expandability for Fast Prototyping
The Fast Prototyping Board (FPB) comes equipped with an RL78 microcontroller and is an evaluation board specialized for prototype development for a variety of applications. It has a built-in emulator circuit that is equivalent to an E2 emulator Lite so you can write/debug programs without additional tools. In addition, with interfaces such as Arduino and Pmod™ included and through-hole access to all pins of the microcontroller, it has high expandability.
CPU Boards
Quick and Easy Evaluation
These boards are beginner friendly and make it easy to evaluate the operation of MCUs. With all pins of the MCU joined to connectors on the edge of the board, you can create evaluation circuits by using a readily available universal board.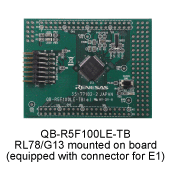 Evaluation Boards for Specific Fields
RL78/G1D Evaluation Board
The RL78/G1D board includes peripheral functions such as push switches and LEDs. The board eases the evaluation of the RL78/G1D MCU and the development and evaluation of Bluetooth® Low Energy applications.
RL78/L1C HMI Solution Kit
This solution kit includes a versatile segment LCD display circuit, a sound playback circuit, and a capacitive touch sensor circuit. The kit eases the development and evaluation of products that incorporate human machine interface (HMI) and USB, such as consumer electronics and health care products with communications functionality.
RL78/G1C USB Charger Solution Kit
This solution kit includes a charge-control IC, a serial EEPROM, an LCD character display, and sensors for luminance and temperature. The kit eases the development and evaluation of rapidly chargeable and USB applied products.
Partner Boards
A wide variety of boards from Renesas Partners are also available.