Bluetooth Low Energy (LE) Lineup
IC Products
| Product | CPU Core | LE Data Length Extension | 2Mbps Mode | LE Coded PHY Mode | Low Power Operation | Feature |
| --- | --- | --- | --- | --- | --- | --- |
| RX23W | RX | Supported | Supported | Supported | Low Power | Bluetooth Mesh, Touch, Security, USB |
| RA4W1 | Arm® | Supported | Supported | Supported | Low Power | Touch, Security, USB |
| RE01B | Arm® | Supported | Supported | Supported | Ultra-Low Power | Energy Harvest Control Circuit |
| RL78/G1D | RL78 | Not Supported | Not Supported | Not Supported | Low Power | Low Power in the System, Beacon |
Module Products
| Product | CPU Core | Module Size | Feature |
| --- | --- | --- | --- |
| RX23W | RX | 6.1mm x 9.5 mm | Bluetooth Mesh, Touch, Security, USB |
| RL78/G1D | RL78 | 8.95mm x 13.35mm | Low Power in the System, Beacon |
The Bluetooth® word mark and logos are registered trademarks owned by Bluetooth SIG, Inc. and any use of such marks by Renesas Electronics is under license.
Bluetooth LE wireless technology
Bluetooth LE wireless technology is designed for very low power operation and is optimized to short burst data transmission. In order to achieve reliable communication in the 2.4GHz frequency band, it employs a robust frequency hopping spread spectrum method that transmits data over 40 channels.
The Bluetooth LE wireless technology provides great flexibility to developers with data rates from 125Kb/s to 2Mb/s, multiple PHY options that support power levels from 1mW to 100mW, and multiple high-level security options required by government agencies.
LE supports multiple network topologies such as "Point-to-Point" used for data transfer, "Broadcast" used for location services, and "Mesh" used for building large-scale device networks.
Image

Bluetooth Low Energy (LE)

Frequency Band
2.4GHz ISM band (2.402GHz – 2.480GHz utilized)
Channels
40 channels with 2MHz spacing
(3 advertising channels/37 data channels)
Channel Usage
Frequency-Hopping Spread Spectrum (FHSS)
Modulation
GFSK
Power Consumption
~0.01x to 0.5x of reference
(depending on use case)
Data Rate
LE 2M PHY: 2Mb/s
LE 1M PHY: 1Mb/s
LE Coded PHY (S=2): 500Kb/s
LE Coded PHY (S=8): 125Kb/s
Max Tx Power
Class 1: 100mW (+20dBm)
Class 1.5: 10mW (+10dbm)
Class 2: 2.5mW (+4dBm)
Class 3: 1mW (0dBm)
Network Topologies
Point-to-Point (including piconet)
Broadcast
Mesh
The benefit of LE is that it can communicate with applications for smartphones or tablets. LE is already used in many applications such as for healthcare and fitness, home electric appliances, home automation, gadgets, accessories, and location systems.
The Bluetooth wireless technology includes the LE standard and the BR/EDR standard that supports the Basic Rate and Enhanced Data Rate that are the classic standards.
Devices are classified into types that support LE only, BR/EDR only, and both LE and BR/EDR.
Renesas devices (RX23W, RA4W1, RE01B, RL78/G1D) are the types that support only LE.
Image
Applications using Bluetooth LE wireless technology have spread from healthcare devices and continue to expand into a wide variety of fields such as sports and fitness, smart homes, industrial equipment, and beacon applications.
Image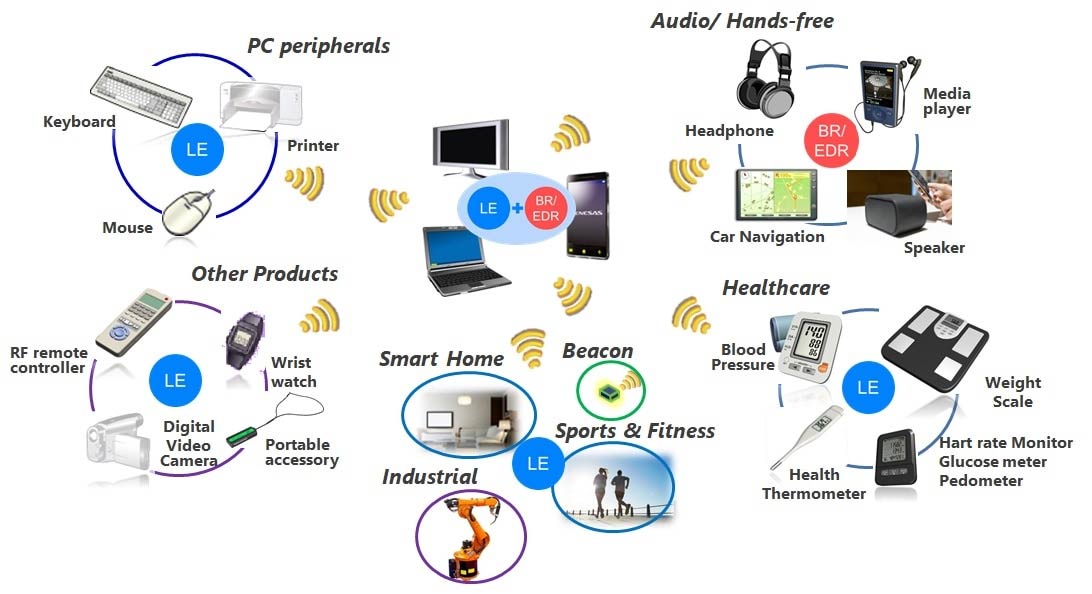 Bluetooth Qualification
The Bluetooth Special Interest Group (SIG) oversees the development of Bluetooth standards and the licensing of the Bluetooth wireless technologies and trademarks to manufacturers.
Refer to the "Bluetooth LE microcomputer / module Bluetooth qualification acquisition Application Note Rev.1.40 (PDF | English, 日本語)" application note for how to register a product using the Qualified Design Identification number (QDID) of our qualified design when selling a device equipped with a Renesas Bluetooth LE microcomputer or module as a Bluetooth product.
iOS/Android Application - GATTBrowser
The GATTBrowser smartphone application can be downloaded from the Apple App Store and Google Play.
The GATTBrowser app is used to check Bluetooth LE behavior. It can scan LE devices which are advertising in the vicinity and can perform GATT-based communication with the connected LE device. You can easily check the sample application behavior. GATTBrowser assists in the development of products that implement the Renesas Bluetooth LE microcomputer and module.
Image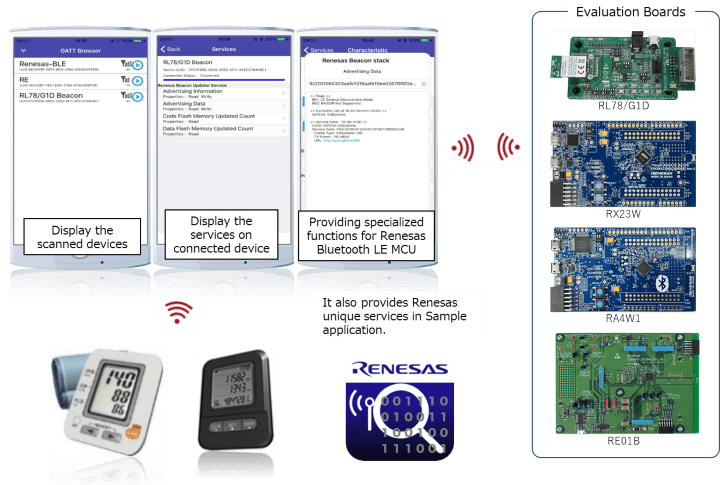 GATTBrowser for iOS
Image

Image

GATTBrowser for iOS Smartphone Application Instruction manual Rev.1.12 (PDF | English, 日本語)
GATTBrowser for Android
Image

Image

GATTBrowser for Android Smartphone Application Instruction manual Rev.1.01 (PDF | English, 日本語)
Smartphone Application: TryBT
TryBT is a smartphone sample application that supports features for communicating with Bluetooth LE products. You can check communication with the firmware preinstalled in Target Board for RX23W. Also, you can use RA4W1 and RE01B, too.
In addition, icon images as well as a project for Android Studio and source code are provided, so you can use this sample application as a base for developing Bluetooth LE communication application in a proof-of-concept phase.
RX23W Group Smartphone Application TryBT for Android Rev.1.00 - Sample Code (ZIP | English, 日本語)
Related Software