Power Line Communication (PLC) is a communication method that uses power lines as the medium. By using power lines as the communication network, it is possible to build a system quickly at low cost. For this reason, PLC is used for communications in smart meters (advanced metering infrastructure - AMI), home energy management systems (HEMS), building energy management systems (BEMS), and solar panel monitoring systems, part of a smart society. Communication data can be propagated through AC or DC power lines.
Renesas offers power line communication solutions consisting of high-performance and flexible PLC devices, optimized evaluation boards, and a software stack that makes it easy to realize robust communication to support the development of projects.
Advantages of Renesas PLC Modem IC
Realize advanced and robust communication through high performance DSP@276MHz
Support flexibly PLC protocols and frequency bands for each country through the CPU + DSP dual core
Realize long distance communication over 1km in high speed, without the need for relays
Realize high-level security in communication with AES128 cryptographic hardware
Power Line Communication (PLC) Products
---
Applications for Power Line Communication Solutions
Image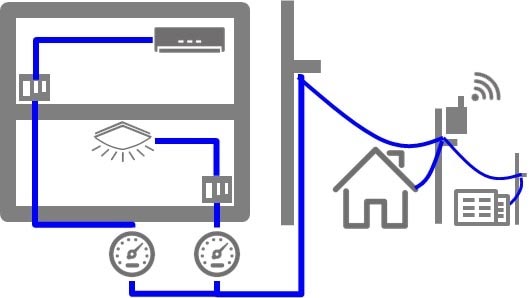 Smart meter (AMI)
Smart home and HEMS
HVAC and lighting control
Image
Building automation
EV charging station
Solar power and smart grid
---
PLC Software Stack
Renesas offers power line communication software that is compliant with global standards for G3-PLC, PRIME, and Meters and More full stack to support multi-hop communication. Renesas also offers simple communication software based on the G3-PLC MAC layer. Choose from among these packages according to the needs of your system.
Image

---
PLC Evaluation Tools
Communication signals on power lines may be affected by noise, line impedance and other factors, so analyzing the state of communications is important. Renesas and our partners offer evaluation tools that can visualize power line communication data and display an analysis of that data.
Image

---
Technical Standards
With the spread of smart meters and other smart devices, PLC network system complexity and scale are expected to increase. Several global alliances drive the standardization and creation of profiles for communication protocols that can ensure interconnectivity in these diversifying networks. Renesas has been a strong promoter of research and development and international standardization for these alliances since their establishment, and develops solutions that support each protocol.
Image

Image

Image