The powertrain segment of the automotive market remains focused on further reduction of emissions and fuel consumption through the optimization of traditional ICE engine control concepts. Renesas' comprehensive product portfolio is committed to automotive quality and ready to cover a wide range of applications, including diesel or gasoline direct/MPI injection, transmission control, powertrain DCU or powertrain integration concepts. We offer a full line-up for analog powertrain components including gate driver, bridge driver, solenoid, as well as power management ICs and discrete MOSFET components. We provide a broad product portfolio for sensor ICs for manifold air pressure, high temperature sensing, differential pressure (particle filters), air mass flow, position and angle sensing. And, Renesas' RH850 32-bit automotive microcontroller (MCU) family offers dedicated products for ICE, including IPs for combustion engine control like GTM, MSC and DS-ADC to reduce the CPU load significantly.
RH850/E2x Series Microcontrollers
The RH850/E2M microcontrollers operate at 400MHz and are equipped with large-capacity code Flash and RAM of the highest speed class, which is necessary for real-time control.
Automotive MCU Roadmap
Image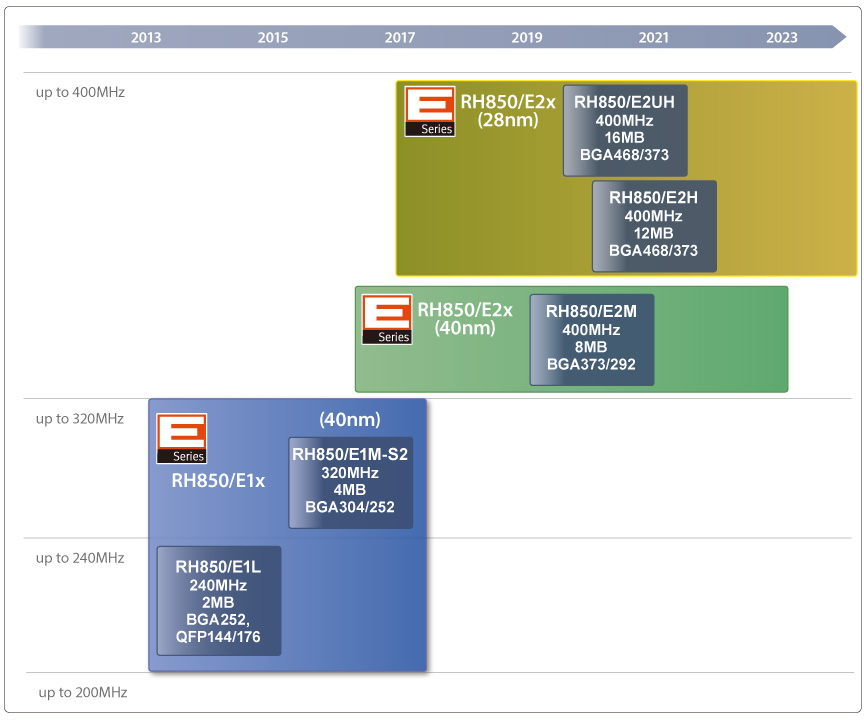 MCU Products