Image

Governance
Renesas Electronics Corporation is registered in Tokyo, Japan and is listed on the Tokyo Stock Exchange. We currently operate from headquarters located in Toyosu, Tokyo as well as through sales offices and companies, manufacturing and design, and development sites located around the world in Asia, Europe and the Americas. Each office is organized and operated in accordance with the laws and regulations of the countries.
Corporate Governance Policy
Based on our "Purpose": "To Make Our Lives Easier", we are committed to develop a safer, healthier, greener, and smarter world by providing intelligence to our four focus growth segments: Automotive, Industrial, Infrastructure, and IoT. To achieve our Purpose, we aim to respond flexibly to change, solve issues, and continue to create value in a sustainable way based on the "Renesas Culture", a guideline of conduct for all of our activities, behavior and decision-making, which consists of five elements. Based on Renesas Culture, we aim for continuous growth and enhancement of corporate value over the mid- to long-term. In addition, we aim to co-exist and co-prosper with every stakeholder in order to create long-term sustainable value as a responsible global company. In order to achieve this, we must thrive in the rapidly-changing, competitive global semiconductor marketplace, and continue to satisfy the expectations of all of our stakeholders and to grow with profit expansions. We will continue to solidify our business foundation as a global semiconductor company by honing technological advancement as well as supplying excellent semiconductor products and optimized solutions through elaborate marketing and sales activities. We recognize the importance to build a corporate governance structure and system that enables transparent, fair, quick and resolute decision-making. We will continue to enhance our corporate governance structure and system through various measures such as communication and cooperation with our stakeholders including shareholders, appropriate information disclosure, ensuring appropriate delegation of authority and highly effective oversight functions.
To execute corporate governance and remain as a sustainable and responsible partner for our stakeholders, we are committed to maintaining a corporate governance structure that is transparent, enabling fair, fast and resolute decision-making and robust accountability. We do this by implementing our policies through our processes and systems, from supervision of our business operations to business executions. Our ultimate objective is to achieve sustainable enhancement of corporate value over the mid- to long-term for the benefit of all the stakeholders.
As required under the Companies Act in Japan, we have established an internal control system to ensure our corporate officers, and employees comply with the applicable laws, regulations and our articles of incorporation. In addition, we periodically hold Internal Control Promotion Committee to discuss our Group's policies and the state of compliance with respect to internal control.
Our corporate governance policies and practices are outlined in our Corporate Governance Report, Corporate Governance Guidelines and Basic Policy on Establishment of Internal Control Systems.
Renesas Corporate Governance Structure
Image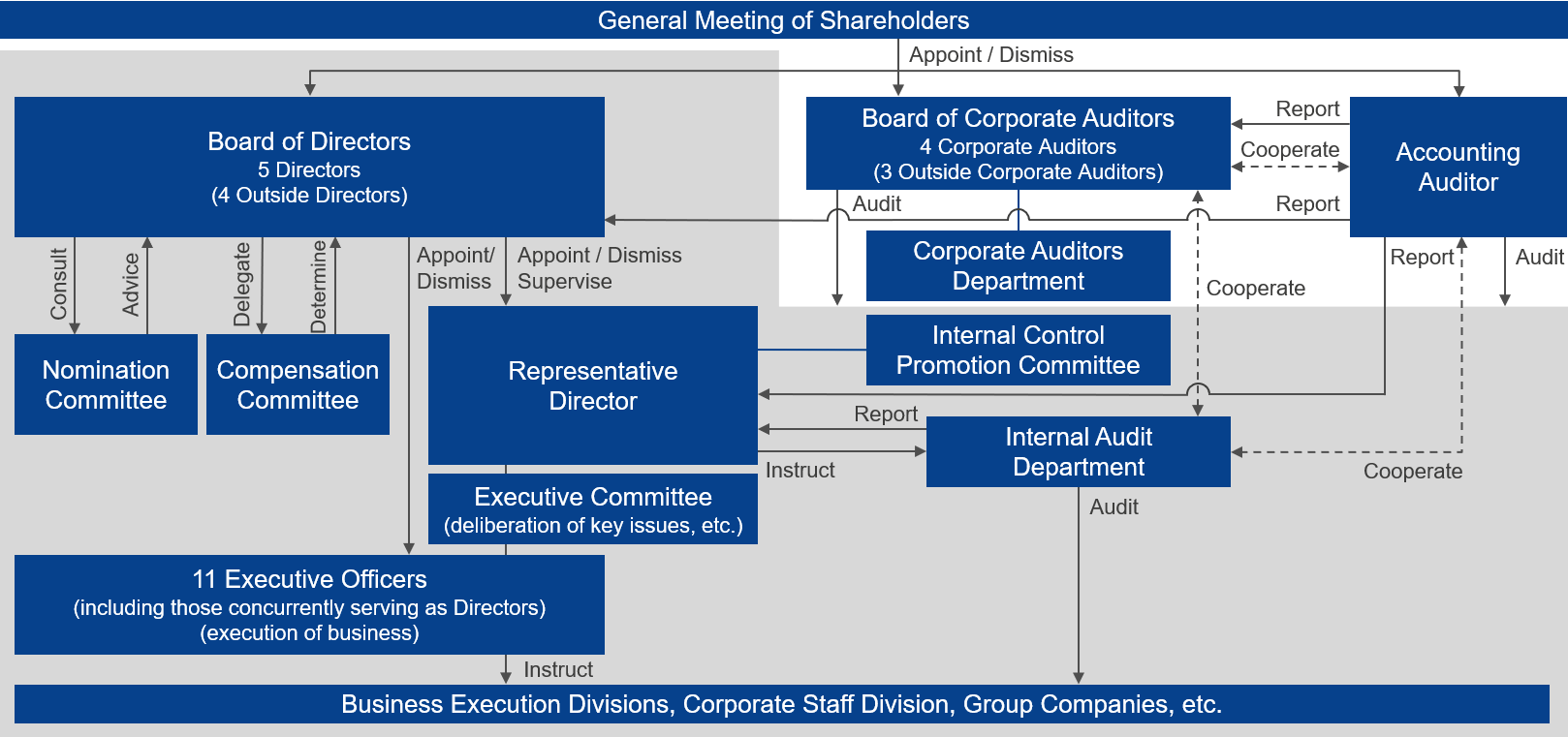 We recognize the importance of operating business efficiently and ensuring the soundness and transparency of management in order to continuously increase corporate value. We are working to improve our management system and implement various measures to enhance corporate governance. In addition, to execute corporate governance, we regularly hold the Board of Directors, the Board of Corporate Auditors, and the Executive Committee.
In principle, our Board of Directors meets regularly once every 3 months, and extraordinary meetings are held as necessary to flexibly and promptly make important decisions, and to supervise the execution of duties by directors and the executive officers. In principle, the Executive Committee, which is composed of full-time Director, Executive Vice Presidents and Senior Vice Presidents, deliberates on matters to be submitted to the Board of Directors in advance, thereby enhancing deliberations. Each Director servers a term of one year. In order to clarify the management's accountability, the Company asks its shareholders to appoint or reappoint the Directors at the General Meeting of Shareholders every year. 
The functions and roles of outside Directors are to supervise and check whether the execution of duties by other Directors are appropriate, and to participate in management decision-making with an external viewpoint by utilizing their knowledge, experience and insight, etc. cultivated from their own careers. A lead independent director is also appointed among outside directors.
In addition, we are a company with a Board of Corporate Auditors (a Company with Kansayaku Board) under the Japanese Companies Act, and we have established a corporate governance system in which the execution of duties by Directors is audited by members of the Board of Corporate Auditors. The full-time Corporate Auditor, who have a wealth of knowledge mainly in business operations and accounting, effectively collect a wide range of information related to the execution of Directors' duties while cooperating with the Internal Audit Office, which is the internal audit department. The Board of Corporate Auditors, including outside Corporate Auditors with high independency, objectively analyze this information from various perspectives. Through this process, the Company believes that its current corporate governance system is fully functioning and suitable for our corporate governance.
In principle, the Board of Corporate Auditors meets once every 3 months, and extraordinary meetings are held as necessary to determine items such as auditing policies and receive reports such as the status of audits from each Corporate Auditor. In addition to closely coordinating with the Accounting Auditor and the Internal Audit Office, the Corporate Auditors also hold individual meetings with each Director, receive reports on the content of their operations, and audit the execution of duties by each Director.
In addition, we have established voluntary Compensation and Nomination Committees to improve transparency and fairness in the remuneration, and the appoint and dismissal of our board members. The Board of Directors is advised by each committee on items related to the remuneration and appointment/dismissal of board members and the committee reports these items to the Board of Directors.
Sustainability Promotion Structure
Image

Responsibilities surrounding Renesas' sustainability activities lies with the CEO. 
Activities and issues surrounding sustainability is periodically reported to the Board of Directors through Corporate Officers and the Sustainability Promotion Office nominated by the CEO.
The Sustainability Promotion Office was established as a direct organization under the CEO in order to promote sustainability activities across the entire Group. 
Board of Directors and Corporate Auditors
Board of Directors
Renesas' management board is organized in accordance with the Companies Act in Japan, and the members of the board are collectively responsible for the management, general and financial affairs and policy and strategy of our company. As of April 2022, the Board of Directors comprise of 5 members, each appointed at our General Meeting of Shareholders. Out of 5 directors, we have 4 outside Directors to bring a different and diverse set of knowledge and experience in dealing with business challenges. Board responsibilities and expectations are identified in Renesas Board Charter that is approved by the Board of Directors.
Click here to view Renesas Board Charter (PDF file)
 
Management /
Strategy
Leadership
Experience
Risk
Management
Legal
Finance
Sustainability
International
Business
Semiconductor/
Technology/ DX
Hidetoshi Shibata
●
●
 
 
●
 
●
●
Jiro Iwasaki
●
●
●
 
 
 
●
 
Selena Loh Lacroix
 
 
 
●
 
●
●
●
Arunjai Mittal
●
●
 
 
 
 
●
●
Noboru Yamamoto
 
●
●
 
●
 
●
 
Board of Corporate Auditors
Corporate Auditors are responsible for auditing and supervising the Directors' performance of duties. The Board of Corporate Auditors organized in accordance with the Companies Act in Japan, is strictly independent from the management and the board of directors. As of October 2020, the Board of Corporate Auditors compose of 1 full-time Corporate Auditor and 3 outside Corporate Auditors. At the meeting of Board of Corporate Auditors, the Corporate Auditors determine auditing policies and other matters and receive reports from each Corporate Auditor about the status of audits and other subjects.
Independent Directors and Auditors
All of our outside Directors (4 Directors) and outside Corporate Auditors (3 Corporate Auditors) are designated as and noticed to Tokyo Stock Exchange as Independent Directors and Auditors. Independent Directors and Auditors are outside directors and outside corporate auditors who do not have any conflict in interest with the Company, Company's major shareholders or their mother company.
Click here to view Renesas' Independent Officer Notification Form (Submitted on March 1, 2022) (a translated version of the document submitted to the Tokyo Stock Exchange).  
Click here to for the Overview of Renesas' leadership team and their biographies.
Committees
Our Nomination and Compensation Committees are organized independently to the Board of Directors. The Nomination and the Compensation Committees are a voluntary advisory body reporting to the company's Board of Directors to increase accountability to stakeholders and to further validate corporate governance by ensuring objectivity and transparency.
Nomination Committee
The Nomination Committee is comprised of 4 members (all of which are independent outside directors). In accordance with the consultation with the Board of Directors, the Nomination Committee will deliberate on matters related to the appointment or dismissal of Directors and Corporate Auditors, as well as matters concerning the CEO succession plan, and will report these details to the Board of Directors. In 2021, 8 Nomination Committee meetings were held. All members of the committee were in attendance for all 8 meetings. 
Board Diversity Policy
When deliberating items such as appointment and dismissal of Directors, the Nomination Committee considers the below points:
Consider the expertise and the experience of the candidate as well as the gender, age, ethnicity, and cultural background in order to make progress towards achieving the board gender diversity of 20%
For more than half of the members of the Board of Directors to be outside directors
A Director who serves as an executive officer must not serve on more than 2 public companies' Boards (including Renesas), and outside directors must not serve on more than 5 public companies' Boards (including Renesas)
Compensation Committee
The Compensation Committee is comprised of 4 members (including 2 independent outside Directors and 1 independent outside Corporate Auditor) and is set for the purpose of enhancing transparency and objectivity in determining compensation amounts for the Directors and Corporate Officers. In response to a consultation request from the Board of Directors, Compensation Committee deliberates on and makes recommendations regarding the compensation policy for Directors and Corporate Officers. In 2021, 6 Compensation Committee meetings were held. All members of the committee were in attendance for all 6 meetings.
Ethics and Compliance
As one of the world's leading semiconductor company, Renesas' strong commitment to the highest standards of ethics and integrity helps us earn the continued trust of our stakeholders, including our investors, customers, vendors, and communities. Our Code of Conduct and compliance policies are foundational to how we do business and how we put our values into practice every day.
Compliance Promotion
Renesas' Internal Control Promotion Committee, chaired by the CEO, deliberates and makes decisions on compliance matters, and reports key issues to the Executive Committee and the Board of Directors. Any compliance violation is promptly reported to the head of the division or office in charge of compliance and to the chief of the Legal Division.
The Legal Division conducts training and awareness-raising initiatives on compliance matters, including but not limited to topics on anti-corruption, bullying or harassment, import-export compliance, insider trading, and antitrust. All Renesas Group employees are required to complete a survey to verify their adherence to and understanding of Renesas' compliance policies and programs. All managers at Renesas are required to complete additional training on handling of reports or instances of bullying or harassment. The results are shared with the divisions or offices in charge of compliance and used to revise the measures necessary to promote compliance.
Code of Conduct
Our Code of Conduct is reviewed and approved by the Board of Directors and expresses our commitment to ethical standards and responsibilities that guide our decision-making process in all of our business operations and corporate activities. It applies to all executives and employees of Renesas Group and sets forth the principles for us to operate as a socially responsible corporate citizen. It further directs all executives and employees to report any violations or possible violations of the law, regulations, and Code of Conduct. We share our Code of Conduct with all employees globally, and all executives and employees are required to take the Code of Conduct training each year.
Renesas carries out its corporate activities fairly, responsibly, and in full compliance with applicable laws and regulations. Renesas is committed to anti-corruption and anti-bribery, and we do not tolerate any form of bribery or kickbacks in connection with our business dealings. To ensure strict compliance with our Code of Conduct and anti-bribery laws, we carefully examine the legitimacy of payments to civil servants and make appropriate payments in accordance with prescribed Ringi approval procedures. The Ringi system is a bottom-up decision-making process in which payments must be approved from multiple related teams and departments, thereby promoting transparency and deterring any potential corruption.

In addition, Renesas provides and will further expand its anti-corruption and anti-bribery training for executives and employees globally. In 2021, Renesas did not make any political contributions in any of our global locations.
Click here to see the full version of the Renesas Code of Conduct.
Anti-Bribery and Anti-Corruption
Renesas will comply with the anti-bribery and anti-corruption laws of the countries in which it does business, including the United States Foreign Corrupt Practices Act (FCPA) and the United Kingdom (UK) Bribery Act.

Renesas employees are prohibited from, directly or indirectly, offering or making a payment or offering anything of value to any persons for the purpose of influencing an official act or decision in order to assist Renesas in obtaining or retaining business or otherwise obtaining a business advantage. As part of our zero-tolerance approach to bribery and corruption, Renesas also prohibits the making of facilitation payments no matter how small the amounts, whether or not they are permitted by local or other laws.  Employees will not suffer adverse consequences for refusing to pay or take a bribe or kickback, even if this results in the loss of business to Renesas.

Renesas' prohibition against offering, promising, or paying bribes also applies to third parties (including but not limited to new business partners and suppliers) who provide services or act on Renesas' behalf, such as suppliers, agents, contractors, consultants, and distributors. This principle applies to Renesas transactions everywhere in the world, even where the practice may be widely considered "a way of doing business."

A high degree of risk exists when we interact with government officials who may be in an actual or perceived position of influence which could affect our business. For such reasons, Renesas requires advance Legal approval for any direct or indirect dealings with government officials that involve the provision of anything of value, including but not limited to the provision of any gift or favor. Employees must also refrain from making charitable donations or sponsorships if it confers a personal benefit on a government official or if the donation is part of an exchange of favors with the official. In addition, employees are prohibited from hiring an official or someone suggested by, or related to, an official to help Renesas obtain or keep business, or if the official offers to give a benefit to Renesas or threatens to act in a way that harms Renesas if the requested hiring decision is not taken. 

To ensure that agents and representatives acting on Renesas' behalf are not themselves offering or receiving bribes or kickbacks, Renesas requires that all arrangements must be pursuant to a written agreement, documented in accordance with all applicable legal and accounting requirements, and in compliance with Renesas' policies on ethical business practices. The compensation to be provided in the written agreement must be clearly commensurate with the activities the agent or representative has undertaken.

In 2021, there was no case of disciplinary action or termination due to non-compliance with anti-corruption policy. In addition, we did not incur or pay any fines, penalties, or settlements in relation to corruption.
Initiatives against Antisocial Forces
Renesas strictly prohibits employees from doing any business with antisocial forces. A self-verifying system is set up at each workplace to determine whether transactions can go forward, and steps are clearly defined in the system to prevent business with antisocial forces. In addition, workplace managers and subsidiary presidents perform self-audits and check on the status of their businesses.
Compliance Hotline / Anonymous Whistle-blowing System
Image

To encourage reports of any compliance-related complaints or concerns, including on issues related to human rights, bullying and harassment, Renesas has established the "Renesas Electronics Group Hotline." Members of the public can also use this hotline to report complaints or concerns related to Renesas. 
From 2020 onwards, we appointed a third-party provider as a single point of contact for our hotline globally. This hotline can be accessed by web or phone 24 hours a day, 365 days a year by any Renesas Group employee, as well as its suppliers, distributors, contractors, temporary employees or external stakeholders. The hotline is available in English, German, Chinese, and Japanese, and individuals can register their concerns with the hotline anonymously or by name. Renesas is committed to protecting the privacy of both the complainant and the accused to the fullest extent possible. In addition, Renesas' no-retaliation policy prohibits any form of retaliation against employees for reporting a good-faith concern or complaint or for participating in the investigation of any concern or complaint. Anyone reporting a concern or complaint in good faith is offered legal protection, and anyone who is found to violate Renesas' no-retaliation policy may be subject to disciplinary action.

In 2021, there were 17 reports made to the hotline. No reports were determined to be serious cases of misconduct, and we responded to all cases appropriately. All cases have now settled.
Information Security
Information on Renesas' Privacy Policy is available here.
Once every two years, we conduct an internal audit on information systems and IT governance. The most recent audit was conducted in 2020. We did not find any materials which is a cause for concern.
The Senior Vice President of the Information Security Division, a member of the Executive Committee, periodically reports to the Board of Directors on information security matters so the Board of Directors are up to date. 
We provide information security training to all employees of Renesas and its subsidiaries. The most recent training, the Cyber Security Awareness Training, was held in February 2021.  
Contributing to SDGs
Renesas' efforts in Governance contributes to these Sustainable Development Goals targets:
Image

SDG 16.5 Substantially reduce corruption and bribery in all their forms
Image

SDG 16.7 Ensure responsive, inclusive, participatory and representative decision-making at all levels
---