The RX111 is the perfect 32-bit microcontroller (MCU) for any wireless implementation. With enhanced digital-signal processing (DSP) capabilities and performance up to 50 DMIPs it has the performance needed for cloud-based Wi-Fi applications, but with efficient, true low power (100µA/MHz) operation and ultra-low power standby modes (as low as 350nA) it can also maximize battery life in battery-powered Bluetooth® Low Energy (BLE) and low power wide area (LPWA) wireless applications.
What is the RX111 Cloud Connectivity Kit?
The fast, easy way to develop embedded Internet of Things (IoT) systems with robust Wi-Fi and smart home capabilities.
The Renesas Wi-Fi Cloud Connectivity Kit for the RX111 (YWIRELESS-RX111) provides a powerful platform for evaluating IoT applications on the RX111 microcontroller. The RX111 Wi-Fi Cloud Connectivity Kit is ideal for sensor and node-based IoT solutions requiring Wi-Fi, with easy set-up and configuration using the Micrium® Spectrum™ pre-integrated portfolio of embedded software and their protocol stacks designed for IoT applications, Micrium's µC/Probe™ graphic visualization tool, and Medium One's cloud-based platform with data intelligence.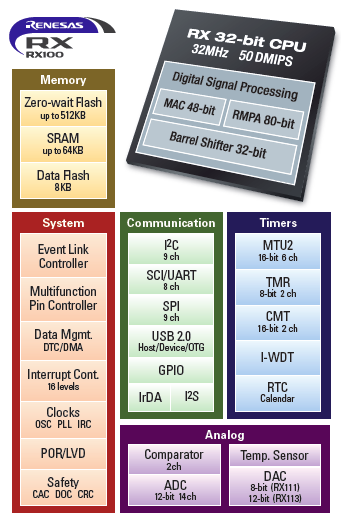 What are the RX111-based Symphony LoRa®-based modules from Link Labs?
Based in Annapolis, Maryland, Link Labs is a leading innovator in low power, wide-area network technologies that power the Internet of Things (IoT). Link Labs' patented Symphony Link technology provides secure connectivity for IoT devices. As a founding member of the LoRa Alliance™, Link Labs introduced the first FCC-certified production LoRa products into the market. Link Labs' Symphony Link powered by the RX111 offers best-in-class long range, low power connectivity.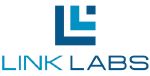 Link Labs excels in taking a concept from initial hardware design all the way through the delivery of a commercial product and has done so for dozens of enterprises around the world. Symphony Link powers a range of IoT applications across many industries, including smart cities, agriculture, building controls, automotive, health care, government, defense, retail, and utilities.
Low power wide area (LPWA) wireless solutions are ideal for applications needing:

Long battery life (5+ years)
Long range (3km - 5km outdoors)
Low data volume applications (under 1,000bytes/day)
Low cost modem hardware (around $20 in volume)

Other wireless solutions all have performance, battery usage and/or cost barriers

Bluetooth—low cost, short range, good battery life
ZigBee—low/medium cost, medium range, good battery life, expensive network infrastructure
WiFi—low/medium cost, medium range, medium battery life, expensive network infrastructure
Cellular M2M—high cost, medium/long range, poor battery life, expensive network infrastructure
Smart cities

Parking meter, street lights, gas and water meters, demand response, etc

Smart agriculture

Soil moisture, livestock tracking, tank levels, weather stations, asset tracking

Building management

lighting, occupancy sensing, HVAC, leak sensors, energy usage

Security systems

Alarms, locks, security lighting, occupancy sensing

Location tracking systems

Wander management, asset tracking, pet management
Modules