Artificial Intelligence (AI) used in deep neural networks is already providing new value for the IT segment. Although many people expect to implement embedded applications with AI, AI processing requires many calculations, making it difficult to adapt to embedded devices using traditional solutions with CPU or GPU, due to insufficient performance or large power consumption demands. Also, AI is constantly evolving, and new algorithms are developed from time to time.
In the midst of the rapid evolution of AI, Renesas developed the AI accelerator (DRP-AI) and the software (DRP-AI translator) that delivers both high performance and low power consumption, and have the ability to respond to evolution. Combining the DRP-AI and the DRP-AI translator makes AI inference possible with high power efficiency, which the current AI technology is unable to support.
Image
The AI model can be extended with the continuous update of the DRP-AI translator.
Features of DRP-AI
DRP-AI consists of AI-MAC (multiply-accumulate processor) and DRP (reconfigurable processor). AI processing can be executed at high speed by assigning AI-MAC for operations on the convolution layer and fully connected layer, and DRP for other complex processing such as preprocessing and pooling layer.
Image

For more detailed technical information on DRP-AI, please refer to the following white paper.
White Paper: Embedded AI-Accelerator DRP-AI (PDF | English, 日本語)
Tool: DRP-AI Translator
The DRP-AI translator generates DRP-AI optimized executables, such as graph optimization, FP16 quantization, pre/post processing option and ONNX format support from the trained ONNX model. It can optimize the graph structure of AI models to minimize memory access and improve computing efficiency.
The DRP-AI translator is part of the DRP-AI software development environment which runs on PC and can easily convert a trained AI model to an object code for DRP-AI.
Jump to: Download
Image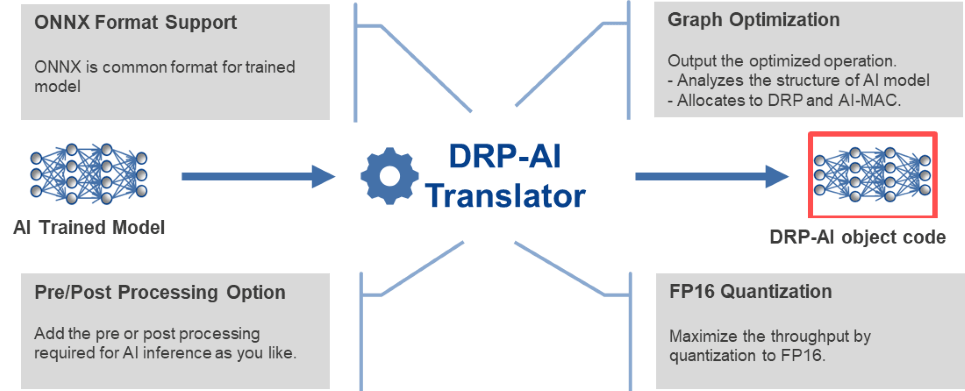 Image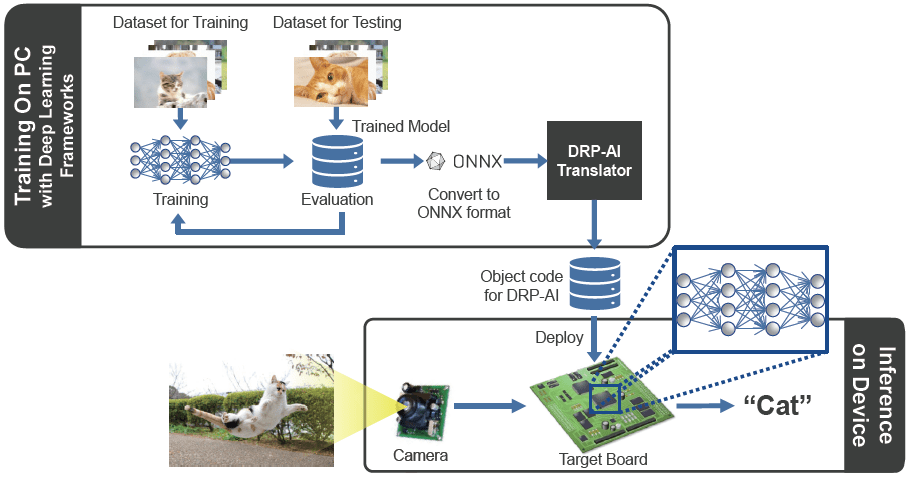 Software: DRP-AI Support Package
The DRP-AI Support Package provides the driver and guide needed to operate DRP-AI. Download the DRP-AI now to experience the seamless AI development from open software to device implementation.
Jump to: Download
Image