Published: September 2, 2022
Renesas, through various acquisitions and organic investment into RF business, has developed a comprehensive portfolio of RF products across different functions, frequency coverage, power levels, and technologies. As an introduction to a new series of blogs highlighting our wide-ranging RF innovations, below is an overview of Renesas' expanding product portfolio, extensive process and packaging technology toolkit along with the circuit innovation legacy that differentiates our product portfolio. We'll follow this with a continuing series of blogs to highlight the following offerings from Renesas.
Products from DC to 40GHz (IF signal chains, sub-7GHz RF cellular and mmWave front-end components)
Extensive RF product coverage along with multi-function and multi-channel integration

IF VGAs and RF VGAs
LNAs
Gain blocks
High isolation switches
High power and high linearity switches
RF pre-drivers with various gain and output power options
PA bias-controller PMICs
GaN power amplifiers and drivers
mmWave beamformers, up/down converters and synthesizers

Process technology expertise along with close collaboration with our foundry partners

SiGe technology (mmWave ICs, IF/RF VGAs, gain blocks, LNAs)
RF-SOI technology (switches, LNAs)
GaAs-pHEMT (LNAs, pre-drivers)
CMOS-BCD (PA bias-controller PMICs)
GaAs-HBT (pre-drivers)
GaN-SiC (PAs) and close collaboration with foundry partners in the development of GaN-Si

Packaging technologies with extensive sub-con network

MCMs, LGA/BGA, WLCSP, eWLB, QFN, thermal relief technologies with Cu-Coin, etc.
Renesas can fulfill RF front-end needs for all wireless applications. As an example, Figure 1 illustrates Renesas' product coverage across various 5G wireless infrastructure (WI) applications.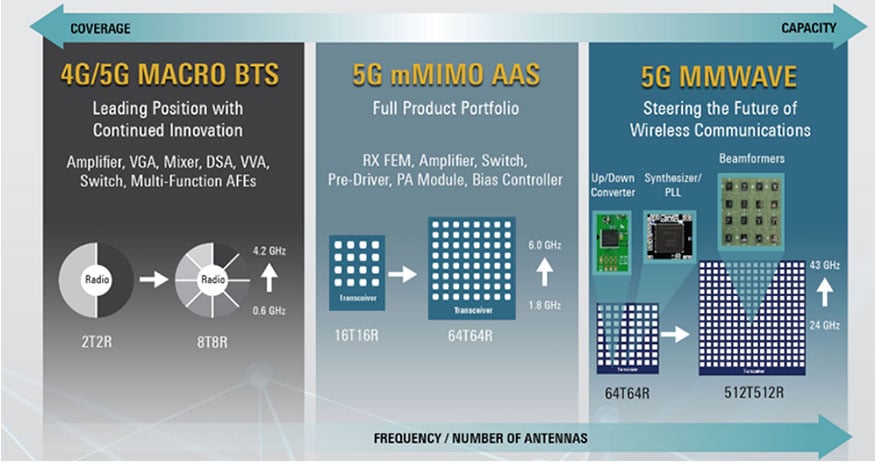 Further, Renesas' design philosophy is to comprehend the product function from a system perspective, pick the right technology from our wide-ranging process and packaging technology toolkit (Figure 2) and finally, layer in our circuit-level innovation techniques (Figure 3 and Figure 4) to provide our customers with the best performance while optimizing for cost.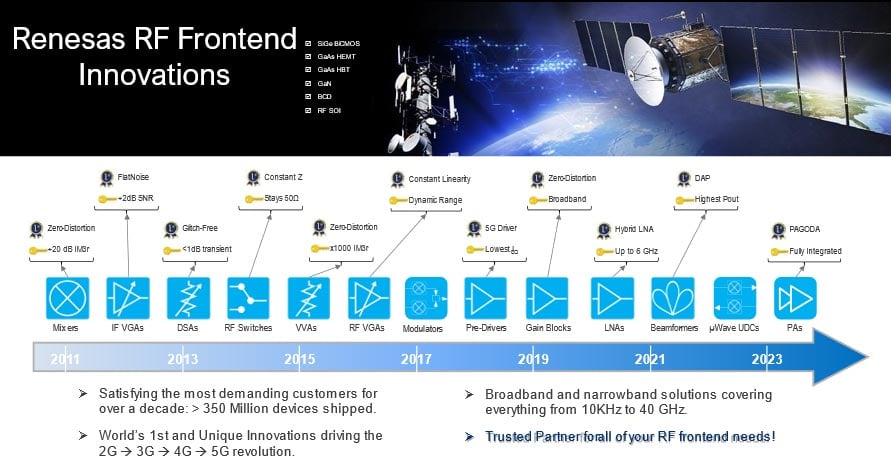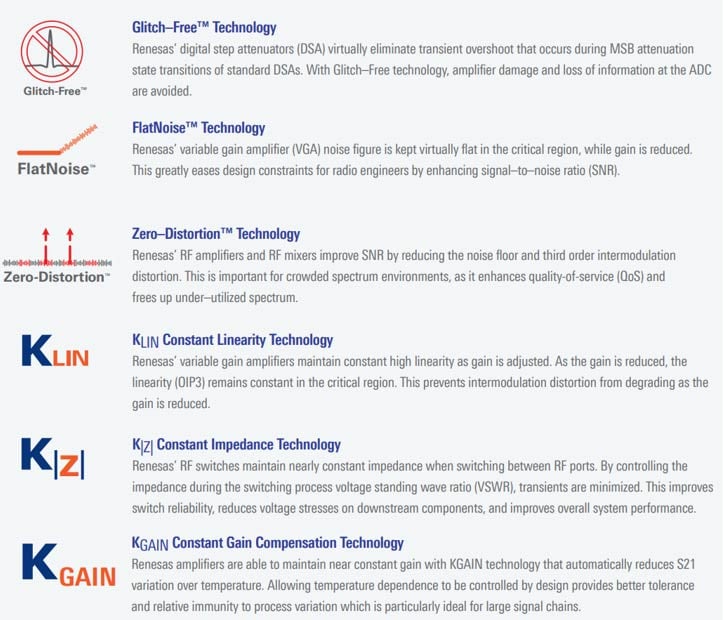 Through this series of blogs, we will cover various product families along with example products that provide a glimpse into the state-of-the-art performance achieved along with unique system-friendly feature sets.