Published: April 5, 2022
The RA MCU innovation kits for IoT enable users to effortlessly evaluate the features of different RA MCU Groups and develop sophisticated IoT and embedded systems applications. The RA6 series kits feature high-performance MCUs with unmatched integrated connectivity, security, and HMI for your next intelligent IoT and embedded product.
The RA6 series innovation kits provide differentiated functionality that users can utilize to develop proof of concepts, solutions, and demos for wired connectivity, metering, robotics, fire detection, HVAC, and other home and industrial automation and control applications. The kits meet the requirements of international standards for EMC/EMI, waste, recycling, material selection, and safety allowing for multi-regional compliance and broad use-cases.
Renesas RA6 Series Innovation Kits for Connected IoT Applications
Effortless Innovation Made Possible
The RA6 series kits are based on a patented architecture that provides an unparalleled combination of standardization and flexibility that helps users shorten the learning curve, speed up development, allow time for differentiated innovation, and take end-products to market faster.
The evaluation board included in the kits is architected in two sections:
Standard section – This section consists of the Ecosystem and System Control Access area that features onboard debugging, ecosystem expansion, serial connectivity, power regulation, user I/Os, reset, and boot configuration. This section is present in a mostly standard configuration on all the boards based on the new architecture.
Flexible section – This section is unique to each board. It comprises the Special Feature Access and MCU Native MCU Pin Access area. The Special Feature Access area provides high-value functionally provided by MCU and is optionally present. The Native MCU Pin Access area provides direct access to the RA MCU terminals via male pin headers and clamping loops for MCU and USB (if present on the MCU) current measurement. This section is present on all the boards based on the new architecture.

The advanced debugging capabilities available on RA6 series kits provide users the flexibility and convenience to debug the code quickly, easily, and inexpensively. The RA6 series kits feature three debugging modes.
Debug On-board
Debug-Out
Debug-In
Using these modes, users can not only debug the RA MCU on their RA kit but also on their custom PCB. The kits support various debugging interfaces such as Serial Wire Debug, JTAG, and Embedded Trace Macrocell and have standard 10-pin and 20-pin connectors that most external debuggers can be attached to. The debug modes can be configured using the debug selection jumpers provided on the board. The debug modes are implemented consistently across different RA kits, so once users learn debugging the code using one RA kit, they can reapply their knowledge to debug the code on another RA kit. To learn more, refer to Accelerate Debugging using RA MCU Innovation Kits for IoT.

Enhance Functionality on Your Terms: The RA6 series is architected to provide users multitude of options to expand the functionality of the kits to create a variety of applications using the third-party hardware and software IP available for the RA6 microcontrollers.
The RA6 series kits feature expansion ports compatible with popular ecosystems allowing users to simultaneously connect multiple hardware add-ons. There are hundreds of plug-in boards that users can choose from and build custom proof-of-concept hardware. The supported ecosystems are:
SeeedGrove® system (I2C & analog)
Digilent Pmod™ (SPI & UART)
Arduino™ (Uno R3)
MikroElektronika™ mikroBUS
SparkFun® Qwiic® (I2C)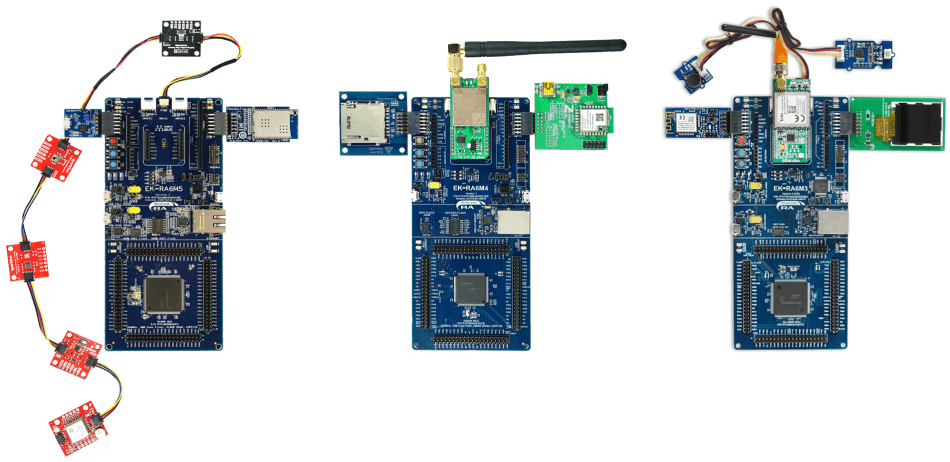 Cutting-edge software, cloud solutions, and tools for the RA microcontrollers are available from leading providers such as Microsoft, Amazon, Segger, Alibaba, IAR Systems, Tata, Arm, and Huawei. To learn more about such offerings, visit the RA Partner Ecosystem page.
When the users are ready to design their custom PCB with feature enhancements, they may refer to the kit design package that includes schematics, bill of material, design files, 3D drawing, manufacturing files, and more. The design package of each kit can be downloaded from the Documentation and Downloads sections of the corresponding kit webpage.
Take the Guess Work Out of Your Innovation Experience
Renesas recommends to new users a 5-step, systematic and methodical approach that takes the guesswork out of the innovation experience, making it hassle-free and fun. Doing so allows for structured and orderly exploration of many resources provided for the RA6 series kits. To learn more, refer to Innovate IoT with RA MCU Kits in 5 Easy Steps.
The RA6 series kits come pre-programmed with a Quick Start Example Project that showcases the key features of the MCU. The RA6 series kits also come with world-class technical collateral including a quick start guide, user's manual, design package, example projects, middleware and drivers (Flexible Software Package), development tools (e2 studio), flash programming utilities (Renesas Flash Programmer), and more to help speed up product development, saving time and cost.
To learn more, refer to Example Projects for RA MCU Innovation Kits for IoT and Quickly Programming RA MCU Innovation Kits for IoT.
RA6 series innovation kits for low-power IoT applications enable users to evaluate the features of RA6 MCU conveniently and methodically develop proof of concepts, solutions, and demos for their end products.
Users are invited to join the Renesas community on the RA support forum. This is where they can ask questions and get assistance from Renesas experts and collaborate with other members of the Renesas community.
We hope that users enjoy innovating with the RA6 series microcontroller kits as much as we have enjoyed developing them. Users can order their favorite kit and bring their big ideas to life!
Learn more at renesas.com/ra/kits
Related blogs: