Beginning with Endpoint Intelligence, Renesas aims to contribute to the realization of an eco-friendly, smart society that supports safer and healthy living in areas where this cannot be solved simply by using big data in the cloud. With its flexible and scalable embedded artificial intelligence (e-AI) concept, Renesas offers a future-proof, real-time, low power AI processing solution that is unique in the industry and addresses the specific needs for artificial intelligence in embedded devices at the endpoint.
Image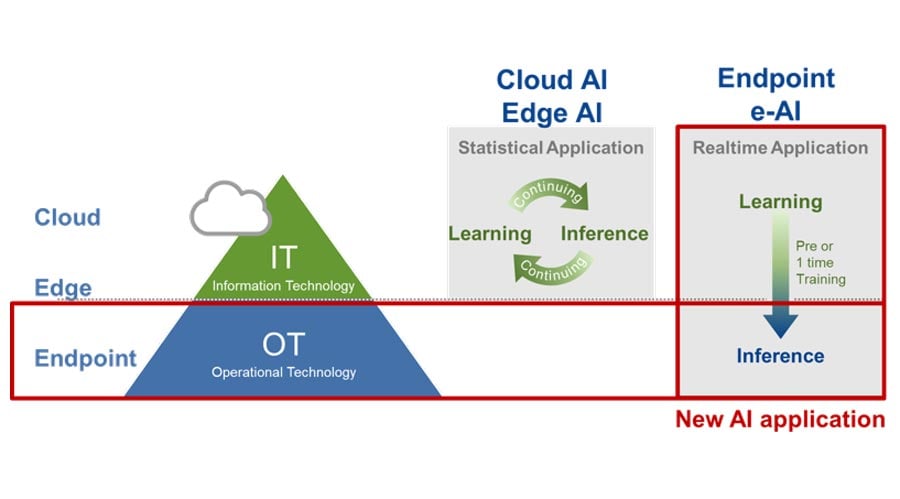 ---
---
Browse Applications
Learn Renesas' approach to today's e-AI solutions to see how our devices could be used in your next project.
The Renesas e-AI development environment makes it possible to implement learned Deep Neural Network (DNN) results onto an MCU/MPU in conformance with an e2 studio C/C++ project.
An e-AI demonstration experiment revealed that e-AI has greatly improved detection precision with regards to facility abnormalities that previously could only be properly judged by a skilled technician or operator.
Renesas' e-AI Translator is a tool that converts and imports the inference processing of neural network models which have been trained in an open-source deep learning framework into source code files for the e² studio IDE.
This tutorial introduces the procedure of outputting a file for the Renesas e-AI Translator and executing it on a Gadget Renesas board.
Tools for running learned AI on Renesas MCUs and MPUs can be downloaded from our website.
e-AI Translator has been released in March 2021. The new features are support of "PyTorch" framework which is getting popular among deep learning developers, major version up support of "TensorFlow" framework.
Submit inquiries and access additional information, development environments, supported products, and other resources.   
---
Videos
OpenCV DNN inference running a Mobilenet SSD model demonstrate an end-point AI solution delivered through high-performance CPU cores.
Integrated support for popular AI frameworks and multiple open-source AI models makes it easy to start designing an embedded AI application.
An RZ/A1H MPU performs facial recognition and classification to offer content targeting different demographics.