Renesas' lithium-ion battery management (Li-ion) solution is built around a battery management IC that offers a low-power microcontroller (MCU) and high-performance analog front-end (AFE) in a single package, along with an evaluation board, sample code and other tools to support the development of safe, secure and high-performance Li-ion batteries.
Target applications for Li-ion battery management solutions include notebook and laptop computers, power tools, cordless vacuums, and motor-assisted bikes.
Safety Control
Enable high battery pack safety with multiple fail-safe detection functions
Built-in self-diagnostic functions using an integrated MCU and AFE
Ultra-low power storage mode
Over/Undervoltage
Overcurrent
Over/Under temperature
FET control during failure
Fuse blow
Capacity Calculation
Continuous high accuracy battery capacity detection
Delta-Sigma analog-to-digital converter optimized for current, voltage and temperature measurement
Adjusts remaining capacity calculation dynamically for aged and deteriorated cells
Capacity calculation with built-in learning
Current and voltage calibration functions
Battery history and record keeping function
Comprehensive Development Environment
Starter kits with an evaluation board (EVB), sample code and user's manual for easy evaluation
Evaluate the device performance and operating behavior using the EVB; includes an E1 connector for easy on-chip debugging
Available sample program source code for all basic battery management functions
Communication with PC via I2C Bus
GUI I/F displays the battery parameter status such as voltage, current and temperature
For a starter kit, contact your local sales representative or distributor.
System Block Diagram
Image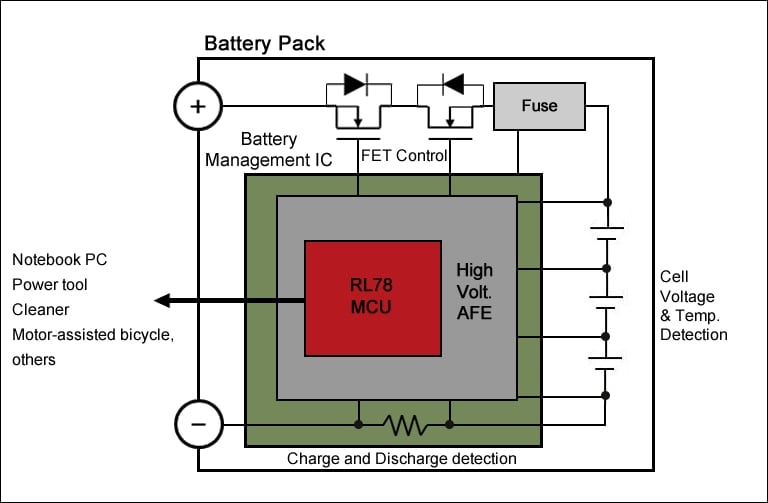 Recommended Products
Applications
Series Cells
Product
Features
PC, consumer, mobile devices
2 - 4
RAJ240045
RAJ240047
Small package
Drones, toy robots, power tools, cordless vacuums
2 - 5
RAJ240071
RAJ240075
Small package
RAJ240080
Multiple GPIO
Power tools, cordless vacuums, motor-assisted bike, energy storage system (ESS), industrial uses
3 - 8
3 - 10
RAJ240090
RAJ240100
Multiple GPIO, high voltage, MCU and AFE in a single package