Published: April 28, 2022
Arm announced the Arm® Cortex®-M85 core this week which will enable breakthrough performance and fully deterministic, low latency, real-time operation that enables our customers' most demanding application needs. It is a technology game changer, allowing designers to continue development in the MCU space whilst enjoying performance levels that have until now only been available from MPU products. Read the Arm blog for more about how the Cortex-M85 will push the boundaries of performance and security for microcontrollers.
The Arm Cortex-M85 core, based on Armv8.1-M architecture, supports 30% scalar performance uplift and 4x the machine learning capability as compared to the existing M7 core. It features Helium, Arm's M-Profile vector extension with integer and floating-point support that enables advanced DSP/ML capabilities and helps accelerate compute-intensive applications such as endpoint AI/ML. As a key Arm partner, Renesas is leading the way on next-generation MCU development in the RA family.
The Renesas RA 32-bit microcontroller family offers customers best-in-class technology and user experience with an innovative security solution from concept to production, currently based on Cortex-M4 / M23 / M33.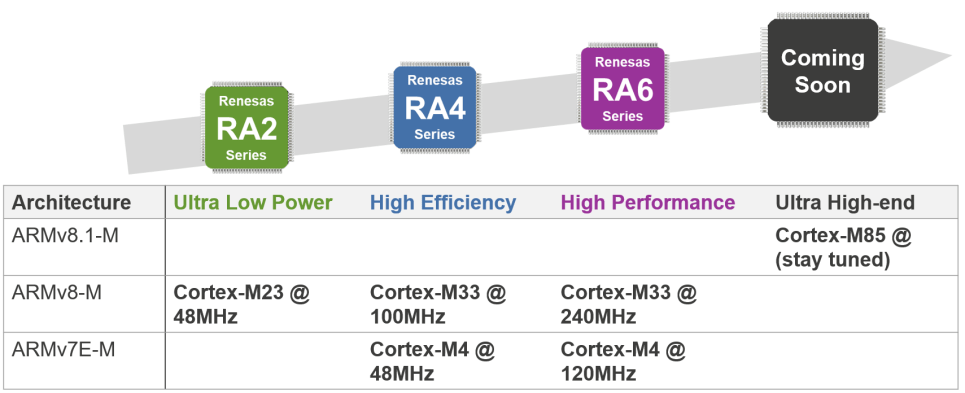 We are constantly looking for ways to futureproof our roadmap and your development efforts to ensure the best long-term partnership and investment for our customers. In defining the RA family, we have carefully evaluated the challenges our customers face today and in the future, and to that end we warmly welcome Arm's newly announced Cortex-M85 core as we expand the RA product line up into the high-performance domain.
Stay tuned for more RA news coming soon!