Published: October 20, 2021
There are many dedicated evaluation kits in the market. However, these dedicated evaluation kits become one of the issues for a longer development cycle as new purchases are needed to evaluate different devices and to find the dedicated evaluation kit in the laboratory full of evaluation kits can be a difficult task. Renesas decided to simplify the development cycle by unifying the evaluation kit for new products (RZ/V2L, RZ/G2L, RZ/G2LC, and RZ/G2UL) into SMARC (Smart Mobility ARChitecture) v2.1 form factor.
SMARC v2.1 Form Factor
This form factor can be separated into a module board equipped with MPU, DDR-Memory, etc. and a carrier board with connectors to connect various peripheral devices such as USB, LAN, etc. MPUs with different functions and performance can be evaluated in a scalable manner simply by changing the module board. In addition to SMARC, the circuits are unified among the module boards of each product, and the design is made with consideration for scalability in software development.
Easy Prototyping
MPU, DDR-Memory and PMIC are not mounted on a carrier board. Therefore, carrier board design does not require a complicated PCB design among MPU, DDR-Memory and PMIC. Developers can make low cost "carrier board" easily based on customized interface by using low-layered printed circuit board. Combine Renesas module board with the user's customized board to skip complicated designs, and an almost completed prototype system can be created in a short development term.
Linux Package
Renesas plans to release a Linux software package for the RZ/G2L, RZ/G2LC, RZ/G2UL, and RZ/V2L evaluation kits, including Linux kernel and device drivers. Also, it works stably on these four evaluation kits.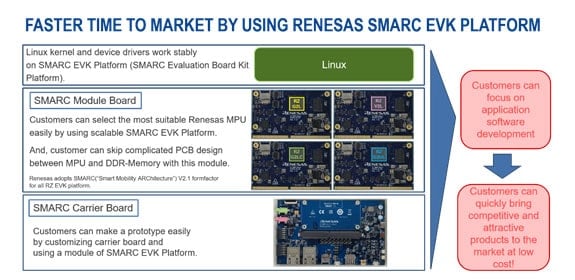 In summary, immediate evaluation is possible on the RZ/G2L, RZ/G2LC, RZ/G2UL, and RZ/V2L MPUs by using one SMARC evaluation kit platform and Linux software package. And, customers can evaluate the functional and performance difference among Renesas' four products with one module board, Use the ready Linux software package to easily create the Linux environment, enabling customers to focus on application software development that is their core-competence. With the evaluation kit and module board, customer can reduce a total cost of ownership, and shorten time-to-market.
Visit the RZ/G2L evaluation kit and RZ/G2LC evaluation kit pages to find out more.