Overview
The GR-KAEDE board using the RX64M MCU enables image processing via dedicated bus and on-board SDRAM. GR-KAEDE offers an Arduino compatible board footprint and libraries allowing designers to get started easily.
GR-KAEDE Key Features
GR-KAEDE Board
Renesas 32-bit RX64M Group MCU (R5F564MLCDFB) is on-board
Arduino UNO compatible pin-headers ready for its shields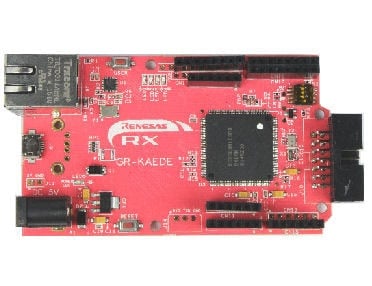 GR-KAEDE with Camera Option
The camera board option enables image processing
GR-KAEDE can detect humans and things (up to 10fps)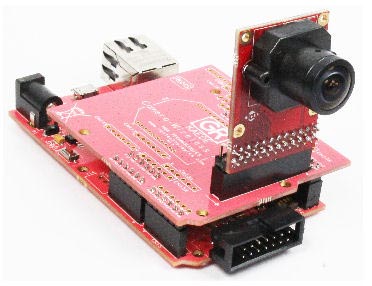 GR-KAEDE Pin Map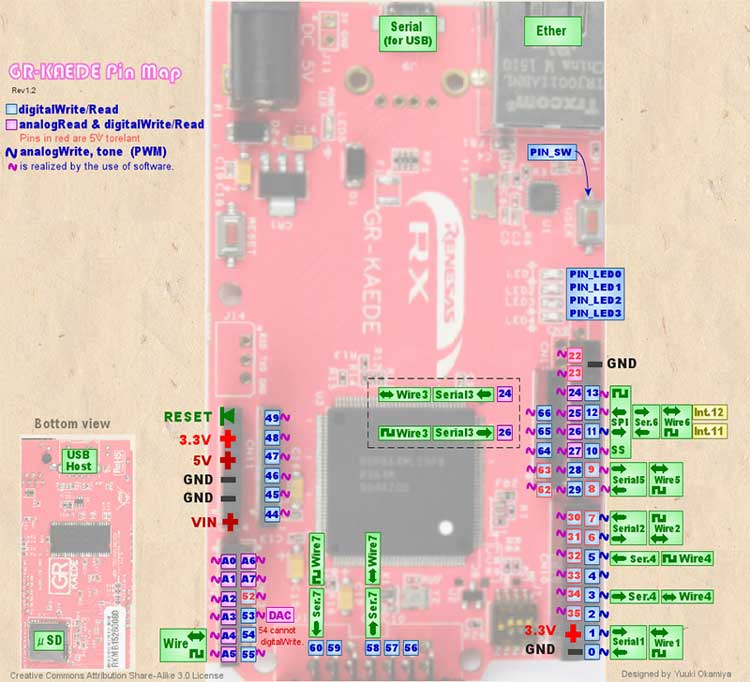 Detailed Specification
Microcontroller

RX64M (R5F564MLCDFB 100-pin QFP)

ROM/RAM

4MB/552KB (Note)

Data Flash

64KB

Frequency

96MHz (using external 12MHz XO)

Sub Clock

32.768kHz

Operating Voltage

3.3V

Board Function

USB host/peripheral (exclusion), Ethernet, Micro SD jacket, JTAG I/F, DC power jack (5V), user switch, reset switch, Arduino Shield I/F, camera board I/F, user LED, programmable like USB mass storage.
Note: 1920KB is available when using USB mass storage programming.
Resources
Sketch Reference
How to Program
Project File for e2 studio
Project file for sketching in Eclipse-based development environment e2 studio. For downloading and installing e2 studio, please refer to the e2 studio product page.
Note: This is a project exported in e2 studio Version 7.2.
Technical Support
Technical Information
User Forum
This is the Gadget Renesas User Forum on Renesas Engineering Community. In this forum space, you can find many showpiece applications using GR boards, as well as sample applications and programs. Post your questions and your showpiece here.
E-mail:

[email protected]
Related Websites
Projects
Gadget Renesas provides boards that make it possible to prototype ideas quickly, a community where users can interact, and events to help users build their projects to make their ideas a reality. Below is a project that utilized the GR-KAEDE board.