Published: August 4, 2022
RZ/A3UL – an RTOS-Based 64-bit MPU Operating at 1GHz that Delivers High Performance in Customer Systems.
The new RZ/A3UL microprocessor (MPU) of the RZ/A Series of MPUs, is ideal for real-time operating system (RTOS)-based compact systems, embedded with a 64-bit Arm® Cortex®-A55 core running at a maximum operating frequency of 1GHz. The RZ/A3UL utilizes the superior real-time performance of RTOS enabling users to achieve higher performance. In particular, the RZ/A3UL is expected to reduce startup time from power-on to system startup in industrial equipment, home appliances, LCD displays, and operation panels in office automation equipment, audio equipment and POS terminals.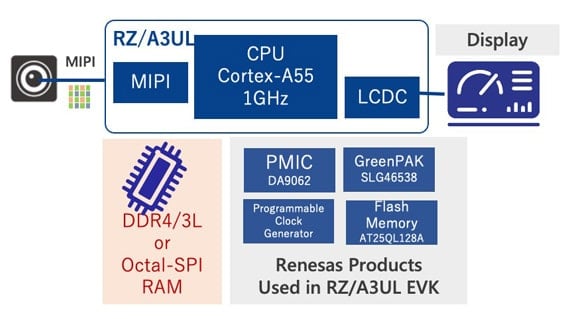 Reduces the Number of Components Needed to Build a Compact and Cost-Effective System
The Smart Mobility Architecture (SMARC) module board that makes up the RZ/A3UL evaluation kit (EVK) enables the easy design of complex power supply systems with discrete components, such as a DA9062 power management IC, 5P35023 programmable clock generator, AT25QL128A flash memory, and SLG46538 GreenPAK™ with various peripheral functions such as system reset, etc mounted in the board. The combination of these components reduces the number of components used in conventional systems resulting in a reduction of the PCB board size, thus contributing greatly to BOM cost reduction. In addition to cost reduction, this board can also be used as a reference design to reduce development time and help customers to bring their products to market faster.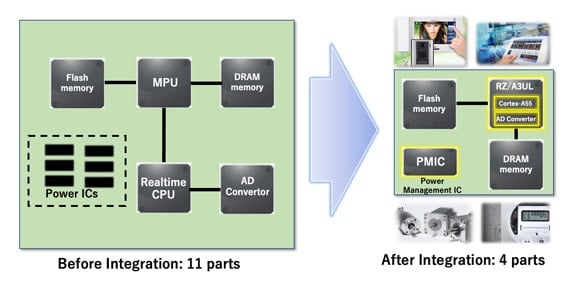 Customers Can Freely Select the Memory Interface that Meets Their Product Specifications
The RZ/A3UL is equipped with an Octal-SPI memory interface (I/F) that enables a simple and compact board design. In addition to Octal-SPI memory, our product lineup includes a DDR3L/DDR4 memory I/F to enable the connection of high-speed DRAM. Customers can choose the memory interfaces suitable for their application requirements, be it for lower design cost or faster memory performance.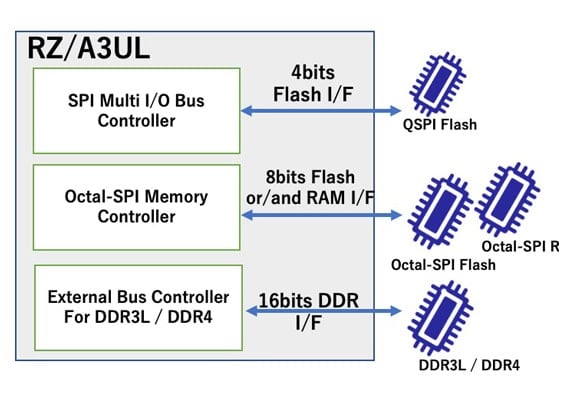 Easy to Expand Product Development
RZ/A3UL is compatible in peripheral functions and package with the RZ/G2UL powered by a Cortex-A55 core, and RZ/Five powered by a RISC-V core, both of which provide a Linux-based Human Machine Interface (HMI). They can be deployed as different products while using the same board design, simply by replacing the chip. This allows efficient deployment of multiple models, for example, facilitating a migration from RTOS-based products to Linux-based products.

Support Major RTOS – FreeRTOS and Azure RTOS
RZ/A3UL supports FreeRTOS and Azure RTOS, the leading major RTOS in the industry. A wide variety of middleware is available for both RTOS, enabling the construction of compact systems with fast RTOS-based startup at a low cost. A flexible software package including a HAL driver is provided as a reference for FreeRTOS, which has the largest RTOS market share. TES Guiliani, a commercial GUI tool, is provided and can be used free of charge for FreeRTOS-based GUI tools, just like other RZ/A series products.
Renesas also provides the Azure RTOS licenses for the RZ Family, allowing users to download the high-performance Azure RTOS from GitHub and easily use commercial-level middleware such as GUI tools.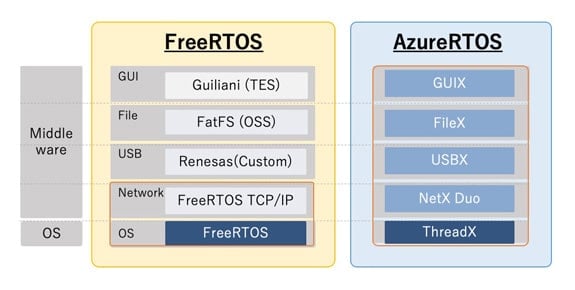 RZ/A3UL Evaluation Kit (EVK) for Easy Prototyping
The RZ/A3UL evaluation kit (EVK) now supports the SMARC v2.1 form factor. This form factor is divided into a module board with a high-speed MPU, DDR memory, etc., and a carrier board with connectors to connect to various peripherals such as USB and WiFi. Users can evaluate MPUs with various functions and performance in a scalable manner by simply replacing the module board. Prototype systems can be developed in a short period of time without complex PCB design by combining the Renesas module boards with user-customized boards.
Visit www.renesas.com/rza3ul for more information on the RZ/A3UL MPU, and RZ/A3UL Software Package to learn more about the software package.