Published: July 22, 2022
Renesas released into the RZ/V2M in 2020 to be adopted in Vision AI applications. It is equipped a high-performance ISP and an original AI-accelerator "DRP-AI". After release, many customers started developing AI using this product.
Today, I would like to introduce the following three examples of RZ/V2M real-life applications.
Security camera (using Object Recognition)
Fitness application (using Pose Estimation)
AI edge gateway (using Object Recognition, Pose Estimation and so on)
1. Security camera (using Object Recognition)
The typical application for RZ/V2M is security camera. ISP is supported up to 4K resolution, the captured image can be encoded to H.265 or H.264. At the same time, AI inference can be treated using DRP-AI. Security camera also requires several special features such as Wide Dynamic Range(WDR), 2D and/or 3D noise reduction. RZ/V2M supports such requirements.
Please refer the blog for more detail about ISP.
Image

The AI inference function adapted for security camera is human detection and recognition, human count, face recognition, suspicious person detection and so on. DRP-AI is a hardware accelerator, but it can also change the program dynamically. So, you can change the AI module after installation, or change several times the AI algorithms during run time. The key success factor of this application is not only the performance such as AI and/or ISP, but also the top level of power efficiency.
Please refer to this blog and white paper for more details about the secret of low power consumption.
2. Fitness application (using Pose Estimation)
Utilizes the pose estimation technology, estimates the pose and advises the form correction, pose and so on for fitness service, dance school, and sport analysis. Usually, such application uses cloud AI systems, but it has delay due to the image cloud upload. This customer installed RZ/V2M in the camera, so its product can get the pose estimation result more easily.
Image

The key success factor is the 4K resolution from CMOS sensor and low power consumption which does not need any fan and heatsink.
3. AI edge gateway (using Object Recognition, Pose Estimation and so on)
This case is a kind of edge gateway which inputs several video streams and treats AI function internally. The functionality is almost the same as a security camera, it only differs by the number of video input.
Image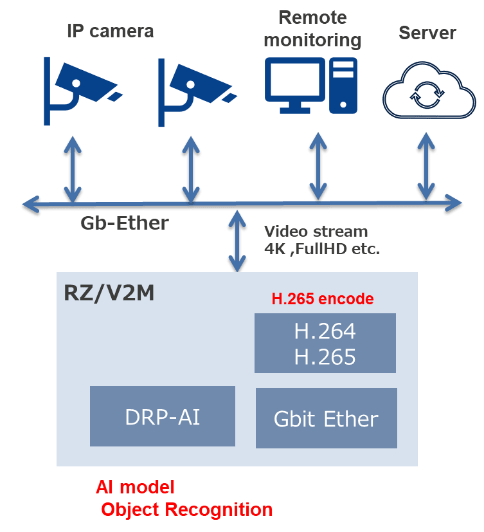 When this gateway is set on the edge, it can reduce the delay compared to the cloud. Also the image data does not need to be uploaded to the cloud, so privacy issue can be solve. They used FPGA in former products, but they had power consumption and heat generation problems. The key success factor is the video codec capability which supports 4K video decoding, and low power consumption. Also, the heatsink could be removed saving cost for the system.
RZ/V2M has potential not only for the introduced application that but also many other kinds of application. When you want to use AI but you do not know how to implement it, first of all please let us know. Renesas will support you to solve your challenges.
Also, Renesas has strong AI partner worldwide. Please utilize such partner to make your product more competitive.
AI Supports the Way We Live and Work