Conserving Water
Due to the improvement of living standards owing to population increase and economic growth, the global demand for water is expected to further increase and the risks of depletion of water resources are becoming actualized. On the other hand, a large amount of water is essential in the semiconductor manufacturing process. If such water resources are depleted, not only can it cause production stagnation, but may impact procurement of raw materials.
Renesas recognizes that water availability is a global issue, and we collect water source data such as water withdrawal according to source, discharge by location and the recycling rate, as well as manage water quality in accordance with local and government policies and regulations across all sites and offices. In addition, we strive to conserve water by actively increasing the recycle rate of used water, in addition to identifying manufacturing sites located in regions with possible water risks, and establishing reduction targets in the relevant sites. By doing so, we can reduce the total water withdrawal amount across the entire Renesas Group and minimize impacts to local ecosystems. Furthermore, we contribute to creating forests that protect our water resources through planting trees as part of nurturing water resources and forest conservation activities that leads to the conservation of biodiversity.
Efficient Use of Water
We reduce total water use by improving manufacturing efficiency and conserving water as well as actively recycling and reutilizing water in order to promote the reduction of water withdrawal across the entire Renesas Group.
In 2020, the total amount of water withdrawal was 24,488 thousand m3, a reduction by 4.8% in comparison to the previous year. As the recycling rate increased by 1%, the annual amount of water supplied was 15,538 thousand m3, a reduction by 5.8% in comparison to the previous year. In addition, the total water usage per revenue in 2020 reduced by 4.4% in comparison to the previous year. 
Image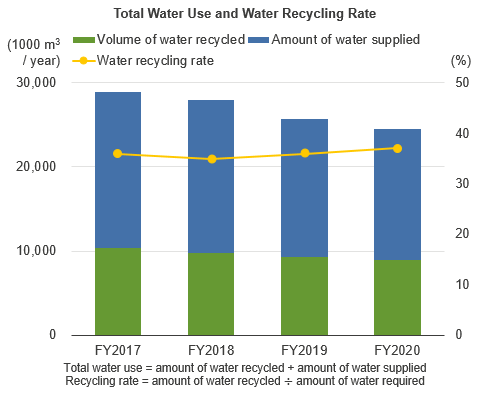 Image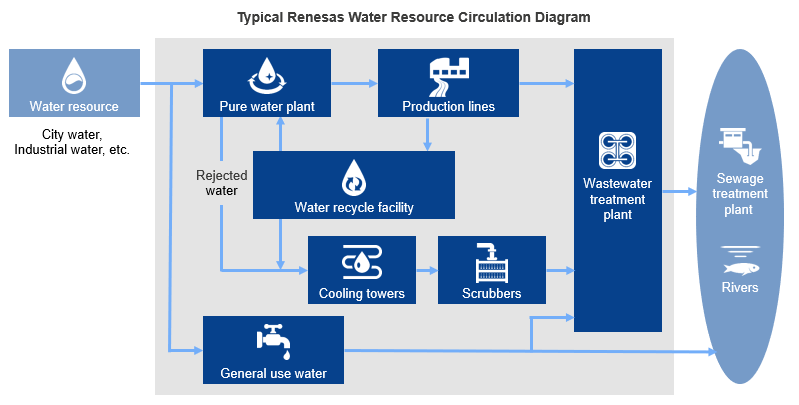 Risk Management for Water Resources
Identifying Water Risks Regions and Evaluating Water Risks in Manufacturing Sites
Evaluations of water risks in our manufacturing sites uses the World Resources Institute (WRI)'s WRI AQUEDUCT tool to determine regions that have high water related risks such as droughts.
As a result, in 2020, two of our manufacturing sites in China (Beijing and Suzhou) was determined to be a region with high water risks. We will assess the situation and decide if preventative measures should be undertaken. In addition, the water intake of two factories located in China (Beijing and Suzhou a) were determined to be regions with high water stress (tight water demand and supply) was 301,265㎥ in total, approximately 2% of the water intake of the entire Renesas Group.  
Water Resource Conservation Measures for Manufacturing Sites in High Water Risk Regions 
We set a quantitative and qualitative target reduction target for manufacturing sites located in high water risk areas (Beijing and Suzhou) as identified by our water risk evaluation. By continuously promoting water withdrawal reduction, we strive to conserve water resources in areas with high water risks. The water withdrawal rate in the aforementioned areas in 2020 reduced by 11% from the previous year. 
Changes in water intake and displacement of sites in China
|   | 2017 | 2018 | 2019 | 2020 |
| --- | --- | --- | --- | --- |
| Water Intake(㎥) | 433,106 | 427,826 | 340,593 | 301,265 |
| Water Displacement(㎥) | 346,219 | 329,629 | 259,589 | 227,520 |
Yamaguchi Factory: Forests for Conserving Water
The Yamaguchi Prefecture in Japan is working to create a healthy and diverse range of forests in order to demonstrate the multi-faceted, sustainable effects of forests, such as the cultivation of water sources, the prevention of disasters in mountainous area, and the prevention of global warming. In order to support the forests which are shared by the Yamaguchi Prefecture and its inhabitants, the 12th "Activity to Develop Water-Protecting Forests" was held in November 2019 with the aim of promoting voluntary activities by corporations. A total of 199 employees and administrative officials from neighboring companies participated, and 8 employees from our Yamaguchi Factory also took part. In this activity, we prepared forests around the Akiyoshidai Kazokuryoko village, which is located north of our Yamaguchi factory and which is also a source of water for the Atsugashi River, which our factory takes water from for production use.
Contributing to SDGs
Renesas' efforts in Conserving Water contributes to these Sustainable Development Goals targets:
Image

6.3 By 2030, improve water quality by reducing pollution, eliminating dumping and minimizing release of hazardous chemicals and materials, halving the proportion of untreated wastewater and substantially increasing recycling and safe reuse globally
Image

6.4 By 2030, substantially increase water-use efficiency across all sectors and ensure sustainable withdrawals and supply of freshwater to address water scarcity and substantially reduce the number of people suffering from water scarcity
Image

6.6 By 2020, protect and restore water-related ecosystems, including mountains, forests, wetlands, rivers, aquifers and lakes
Image

6.b Support and strengthen the participation of local communities in improving water and sanitation management
---