Do you know that RX family supports Microsoft's Azure RTOS?  We have extended the programs with Microsoft Certification and held seminars, providing contents that assist the utilization of the Azure RTOS.
Even if you think "I'm new to Azure RTOS and RX, and completely don't know how to start!", Don't worry.
For those who are starting Azure RTOS development, we have prepared 3 videos on "Azure RTOS Tutorial (Getting Started)".
[YouTube]
These videos are explained in an easy-to-understand manner, how to get connected to the cloud using RX65N Cloud Kit and Azure RTOS. In addition, the video also introduces how to visualize data that is uploaded to the cloud, which is very practical. 
Image
[Azure RTOS Tutorial (3/3) Screenshot]
The videos consist of 3 steps.
Step1: Development Environment Setup 
This video gives an overview of all the download link for each tool, so you can start preparation immediately.
Step 2: Set up the sample program
This video shows you the various settings for connecting to the Azure IoT Hub, while displaying the source code.
Step 3: Operate Azure Cloud
This video shows you how to use the data uploaded to the cloud for drawing graphs.
It would help you get an image about the utilization of the uploaded data.
As every video shows the actual operation screens, you will not get confused about where to set it. With these videos, you can easily start the IoT development using the RX family and Azure RTOS.
This is all about the introduction of these videos. I would be happy if this article is useful for people who have an interest in the IoT development using RX family and Azure RTOS.
For details about the Application Note and the board used in the videos, please visit the links below.
[Application Note]
RX65N Group Visualization of Sensor Data using RX65N Cloud Kit and Azure RTOS Rev.1.00 (PDF | English, Japanese)
[Board used in videos]
Image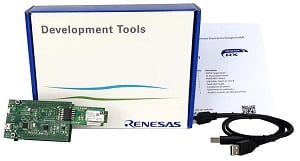 RX65N-Cloud-Kit - Renesas RX65N Cloud Kit | Renesas
[Web page for RX Cloud Connectivity Solutions]
RX Cloud Connectivity Solutions | Renesas
[YouTube]