With over a trillion IoT devices expected to connect to the cloud in the coming years, the challenge is that there is not enough bandwidth to process all the information within central data centers. To alleviate this pipeline limitation, there will be an increasing focus on data processing at the edge of the network to provide useful and actionable insights at the local application level. An example of this problem is intelligent security, which provides monitoring and surveillance either through audio or video processing.
This edge computing design demonstrates a full security control solution capability utilizing Renesas MPU devices for fast local processing. The RZ/A2M features high-capacity internal RAM (4MB), a DRP that delivers 10x image processing performance to enable edge computing features, and strong connectivity via MIPI/LVDS/2 port Ethernet.
This high-performance power and analog system utilizes Renesas' DC/DC, LDO, RS-485/422 transceiver, and sensors that provide leading accuracy and excellent stability across humidity and temperature.
System Benefits:
High performance and suitable MPU RZ/A2M with embedded 4MB RAM, Dynamically Reconfigurable Processor (DRP) technology
Rich connection interface, including MIPI for camera, 2 Port Ethernet, RS-485, USB, CAN, Hyper-Bus
Full Renesas RS-485 transceiver, DC/DC, LDO, temperature/humidity sensor device portfolio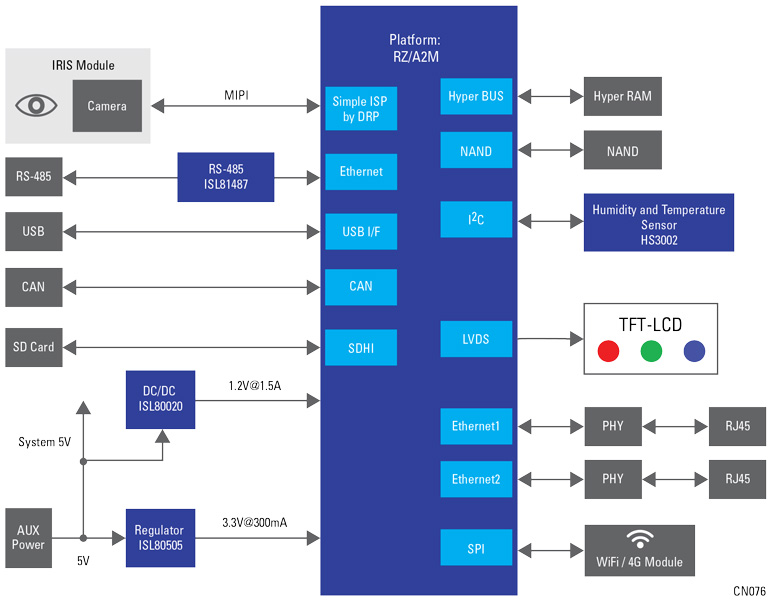 Related Products