Customers often want to quickly evaluate ASi-5 together with several sensors in their lab. The ASi-5 board already exists, but is lacking sensors, so a dedicated I/F is required to connect to the appropriate sensors. 
They often also need to decouple processes and offload their host MCU, so a pre-evaluation of the sensor data by a dedicated MCU on the sensor board is often required. A power supply, usually 3.3V or 5V, is also required. 
This design shows a single PCB with multiple sensors, interfaces, a dedicated MCU for sensor data pre-evaluation, and a power supply.
System Benefits:
Multiple sensors on one board for quick evaluation

Sensor selection by DIP switch or by software
Additional analog inputs

Integrated powerful, rich analog features in the RA2A1 MCU for sensor data pre-evaluation/calculation

I/F to existing ASi-5 board 
8-/16-/24-bit parallel out for simple ASi-5 slave
SPI for complex ASi-5 slave
Additional PMOD I/F to also allow connection to most Renesas MCU boards

Single 3.3V or 5V input and internal generation of additional power rail (3.3V + 5V)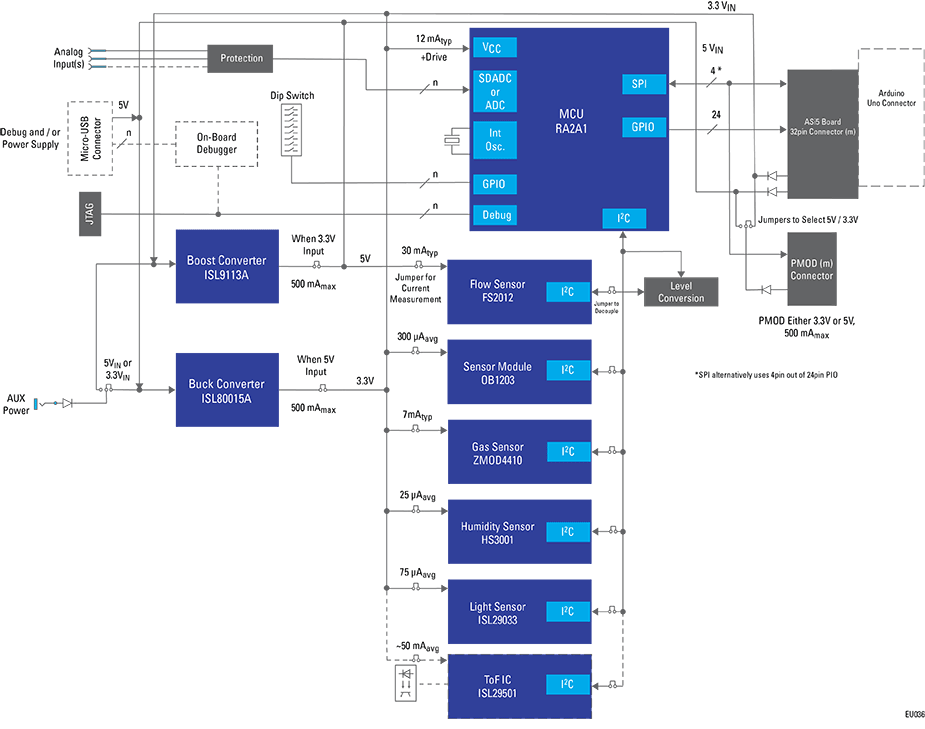 Related Products