Renesas provides a complete development environment with hardware and software for automotive gateway applications supporting the new E/E architecture.
This reference board consists of a CPU board with core System-on-Chip (SoC), power management IC (PMIC) and memory, and an interface board, enabling support for a variety of networks.
The R-Car S4 is an advanced SoC with embedded MCU cores capable of ultra-low power operation. Combine with PMICs (RAA271041 + RAA271005) developed for R-Car Gen4 to enable optimal power control and functional safety support.
System Benefits​:
Reduces the board size and BoM costs through MCU core integration into R-Car SoC, and uses a single board to control both MCU domain and application SoC domain, which previously required separately.
Shorten the time to market with simplified design in the core system by installing R-Car S4, LPDDR4x-4266 memory and HyperFlash™ memory on the CPU board.
Supports 16 channels of CAN FD (can be used as 16 channels of LIN and 8 channels of SENT by multi-function), 2 channels of FlexRay, 2 channels of PCIe V4.0 x2 lanes, and 3 channels of 5G-USXGMII for Ethernet.
The combination of pre-regulators and PMICs developed for R-Car S4 can provide various supply voltages to meet functional safety requirements up to ASIL D in accordance with ISO 26262.
Clock generator capable of generating multiple outputs and PCIe Gen1-4 clocks for automotive applications, supporting multiple channels in a single device.
Image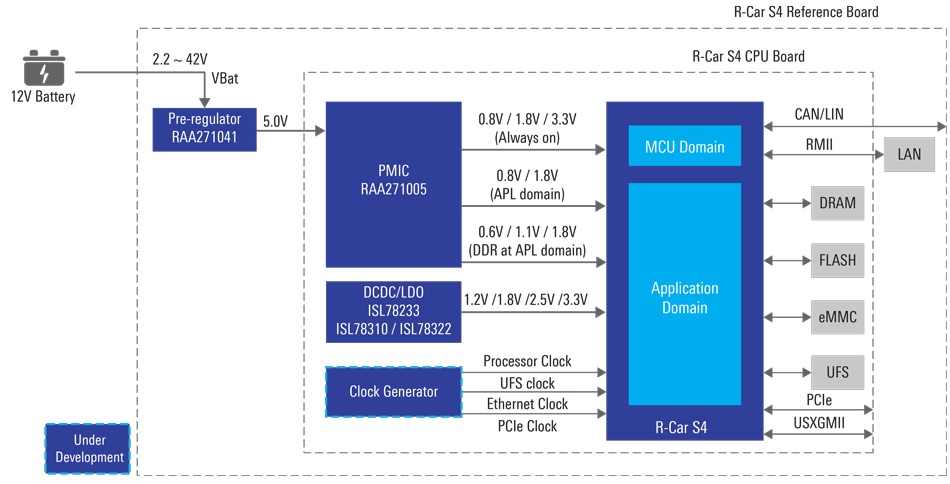 Related Products