Published: September 17, 2021
This year, we received high attention for our Functional Safety over EtherCAT (FSoE) Solution.
The importance of functional safety is the same throughout the world. It protects employees and equipment and eliminates unexpected downtime, thereby effectively improving the overall equipment efficiency and manufacturing capacity.
FSoE, which further enhanced the safety of machines, has been the key factor in further increasing the production capacity of machinery and factories.
-----------
Tips: Industrial Ethernet must not only realize the transmission of data, but also the transmission of the most critical safety control data. EtherCAT uses the Safety over EtherCAT (FSoE) protocol to achieve efficient transmission of safety data, simplify the system, increase flexibility, and reduce the cost of the system.
-----------
However, there are two challenges highlighted by our customers when installing FSoE into their safety system.
In short, it is all about how easy and fast they can get into the market.
An FSoE Stack can be purchased via a stack supplier. However, implementation is not only limited to the customers' tuning to adapt their own safety system, but also involves a huge amount of work other than the FSoE network development, like the preparation of certification documents. "This is actually the bothering part for me!"
In the case of limitations/challenges during development, the customer needs to contact each and every party: stack supplier, device supplier, and might involve an IDH or consultant. "This takes too long!"
That's where Renesas comes in.
As you may know as an  MCU/MPU supplier, Renesas also has software (SW) solutions dedicated to Functional Safety that are TUV-certified.
This FSoE Application Software Kit for RX, together with the SIL3 System Software and Self-test Software Kit, enables easier and faster development than the conventional process.
Image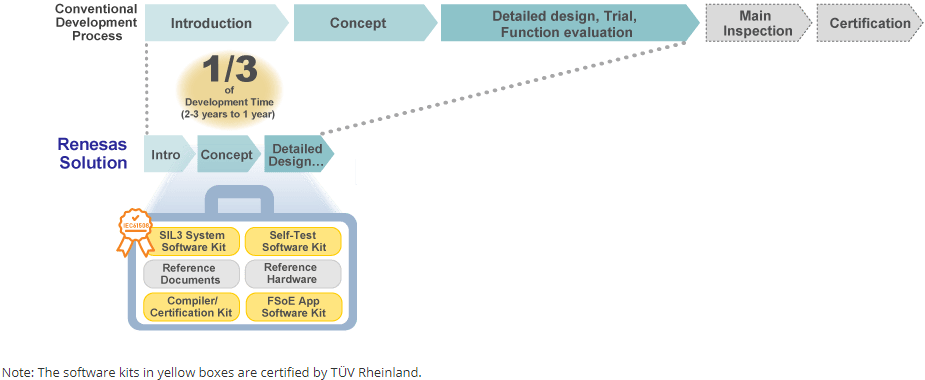 How does Renesas' FSoE Application SW Kit help you?
One-stop shop: Renesas supplies SW that includes an FSoE slave stack: ETG S (R) v1.2.0 compliant and is IEC 61508 SC3/SIL3 certified.
Network communication interface SW: Smart API to interface between safety and non-safety I/Os. It also simplifies the interface with Renesas' EtherCAT Slave MCU.
Furthermore, with the certified Self-test SW and SIL3 System SW, the MCU can do all the safety monitoring diagnosis tasks so that you can focus on developing your network application. In addition, the reference document on the IEC 61508 standard certification guidebook is available to help you make your certification preparation and process smoother.
This total safety package, which only Renesas can offer, makes the whole process much simpler and faster to release to the market.
Image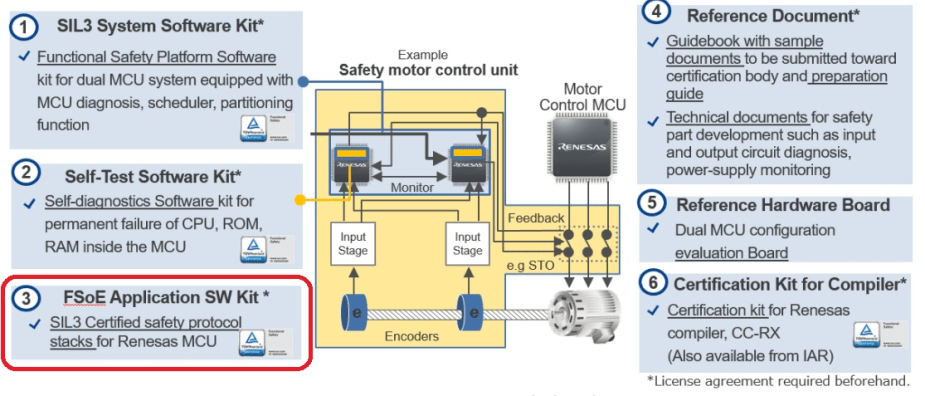 Before closing this blog, let me share a system example. Below is the example with RX72M and RX23T, a dual MCU configuration that runs both EtherCAT and an FSoE system with our Functional Safety SWs.
Image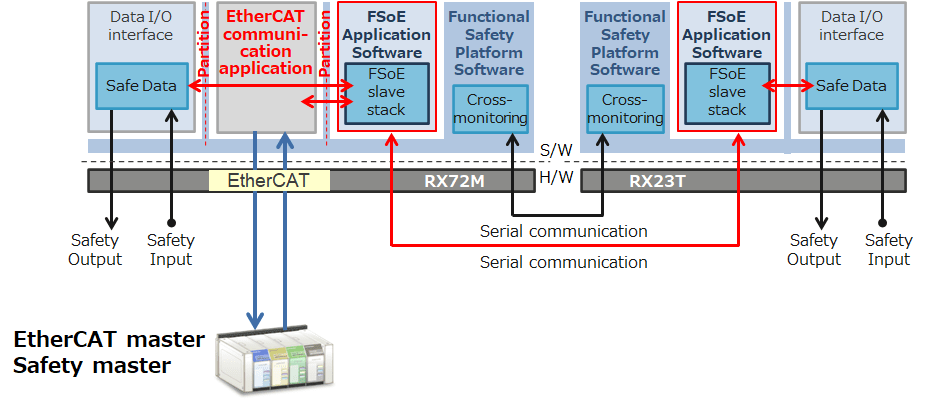 Would you want to try it? Yes, the free evaluation version of the software is made available to download from Renesas' website.
By purchasing the Renesas Reference Board, you can try it by setting up and running.
In summary, Renesas FSoE Application SW Kit for RX, along with our SIL3 System SW and Self-test SW Kit will help to solve your challenges much easier and faster.
For those who are now considering developing a safety system, this solution can also be your door opener.
Today, the functional safety solutions are based on 32-bit high-performance microprocessors in the RX and RA series of MCUs. Depending on market feedback, we will further expand the Functional Safety solution toward higher performance devices too.
For further information, please visit our IEC 61508 Functional Safety web page. You can also attend our webinar, download our white paper and get flyers to enhance your knowledge on implementing functional safety from Renesas.