Published: April 14, 2022
Universal Development Platform
This Communication Gateway ECU is considered as a universal development platform for automotive customers. This type of platform typically requires application performance which is provided by a cluster of several Arm® CPUs.
Image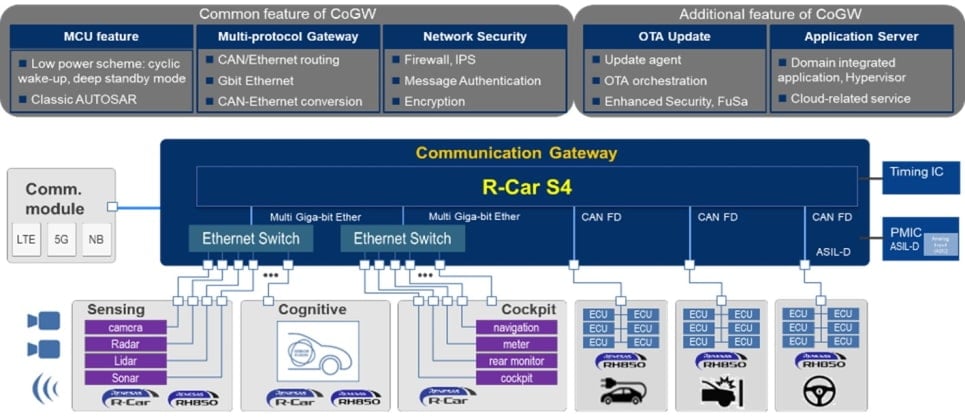 Besides that, also real-time performance is needed that traditionally is provided by a 32-bit microcontroller that carries the typical automotive communication interfaces and functional safety capability up to ASIL D as well. In the past, this required a mix of several chips on one PCB. Now with the new R-Car S4 everything is provided by a single device, this allows a drastic BOM cost reduction and an increased processing performance with new integrated features.
High Level of Software Compatibility
The R-Car S4 solution allows designers to re-use >80% of software code from existing R-Car Gen3 SoCs and RH850 MCU projects. The supported software package includes various drivers and base software such as Linux BSP or Hypervisor.
Image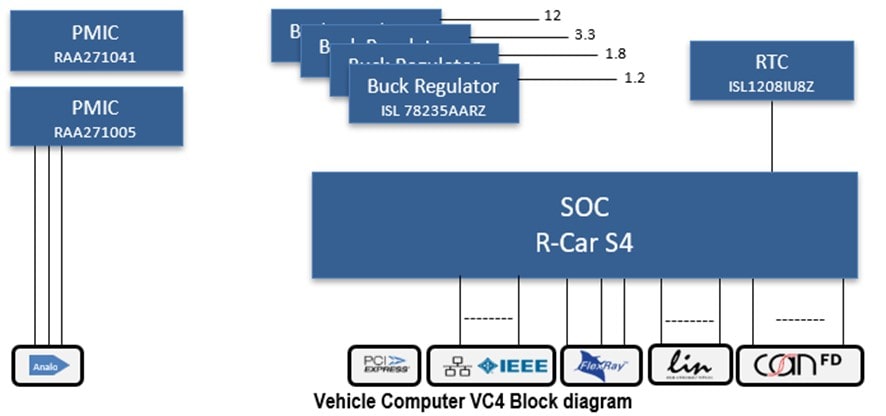 The VC4 is based on a complete Renesas chipset. The centerpiece is the R-Car S4 with 8x Cortex®-A55 cores, 1x Cortex®-R52 core 2x RH850 G4MH delivering up to 27K DMIPS application performance plus >5.3K DMIPS lock step real-time performance. It incorporates an 8MB SRAM to execute code on the G4MH cores with low latency. A rich selection of automotive interfaces including an integrated 3-port Ethernet Switch, 16x CAN FD, 8x LIN, 4x SENT, 1x FlexRay, 2x PCIe V4.0 allow a wide range of connectivity inside the vehicle.
Together with the powerful Renesas PMIC components RAA271041 and RAA271005 which provide advanced power control to support extremely low power operation for always-on, cyclic-run, and suspend-to-RAM modes. The RAA271041 device supports the buck stage when the battery voltage drops during cranking transients as low as 2.5V. The RAA271005 has an integrated 12-bit SAR ADC to monitor external signals. Finally, high precision timing devices RC21012 and 5P35023 will provide perfect clocking to all devices.
It is the ideal platform to evaluate new E/E Architectures using the R-Car S4 in Gateway, Car Server or Zone Control applications.
Characteristics
Key Features
Gateway solution based on R-Car S4 SoCs
Automotive qualified components (timing IC and PMIC)
Robust metal housing
Wide temperature range -40°C to 85°C
Input voltage range 2.5V to 40V
Wake-up support
Real-time clock on board
Interfaces
10BASE-T1S
100BASE-T1
1000BASE-T1
1000BASE-RH
2.5GBASE-T1
CAN/CAN FD
FlexRay
LIN
SENT
PCIe
Analog input
Ecosystem Partner Network
Thanks to our R-Car ecosystem partner network, complex designs like this Vehicle Computer VC4 are a positive example to get the required HW and SW solution running with affordable time-to-market.
The VC4 consists of more than 1,000 semiconductor parts and discrete components, nowadays at limited supply stock it is beneficial to have such a good partner network. For the VC4 development, we have several partners which have supported us technically and with parts. Marvell has supported us at our high-speed Ethernet network ports 1000BASE-T1 and 2500BASE-T1. The 88Q4364 PHY is a transceiver that implements the Ethernet physical layer portion of 2.5G/5G/10GBASE-T1 as defined by the IEEE 802.3ch standard. For this high-speed communication, very accurate timing devices are required which were provided by Epson Electronic. They have a crystal unit for automotive applications.
With VC4, we have also integrated an optical Ethernet interface into our automotive evaluation boards for the first time. KDPOF shared their 1000BASE-RH transceiver according to IEEE 802.3bv with us which also covers the wide temperature range we are looking at. The Fibre Optical Transceiver required a special header to connect the optical fibre to the light diodes of the transceiver, which was delivered by MD-Elektronik. In addition to the new high-speed interface, we have also introduced new low-speed technologies. IEEE has developed the 10BASE-T1S technology to provision the demand for speeds below 100Mbps. Microchip offers a special 10BASE-T1S transceiver with an SPI interface that can be easily connected to the R-Car S4. This Ethernet interface required a Common Mode Choke (CMC) for signal coupling, which was provided by TDK. All Ethernet connectors, especially those used for automotive, required reliable connection with primary and secondary lock has been provided by Rosenberger's H-MTD connectors. The boot flash was provided by Macronix. The OctaBus™ Flash MX25UW51245G has high read access performance to enable fast boot. MX25UW51245G's unique Read-While-Write feature can help to ease the firmware update operations. And the Linux Operating System resides on the high-performance UFS V3.1 Memory from our partner Western Digital.
Utilizing this comprehensive partner portfolio brings us in the position to develop and mass produce the VC4. However, same as with hardware components it is also important to have potential partners for high-quality software development. Together with Elektrobit, we have developed a software framework that allows the usage of the embedded Ethernet switch inside an Autosar workflow. With extensions made in EB Tresos Studio, adaptions to the BSW and MCAL provided by Renesas, customers can configure Ethernet IP routing rules. Those rules are handled by the RSWITCH2 IP in hardware and result in low latency routing without any CPU interaction. With these extensions, the powerful Ethernet features are easy and user-friendly in operation.
Thanks to all partners for the excellent just-in-time support! For a more comprehensive list of partners who have solutions ready for Renesas R-Car SOCs you may want to refer to our list of R-Car Consortium Members.
The Vehicle Computer evaluation platform VC4 will be available at the end of Q2/2022 for selected customers. Please visit our Vehicle Computer VC4 webpage for more detailed documentation, and to contact our sales representative for device ordering.