Published: December 13, 2022
We have posted a series of videos of Vivek Bhan, Senior Vice President and Deputy General Manager of the Automotive Solution Business Unit, and I'm presenting Renesas' automotive business strategy amidst the recent CASE trend. You can access the videos from the links below.
This blog explains the overview of our business strategy for automotive.
Change in the automotive industry
Today, the automotive industry is facing four mega-trends: Connected, Autonomous, Shared/Service and Electrified. These mega-trends will revolutionize the way automobiles are developed and used in mid- to long-term. In the conventional gasoline car market, the value of a car resides in the mechanical system. However, as technology becomes more advanced, the value of a future car will shift to software, semiconductors, or cloud connectivity. Through this shift in value, the next generation of cars will be defined by software.
Image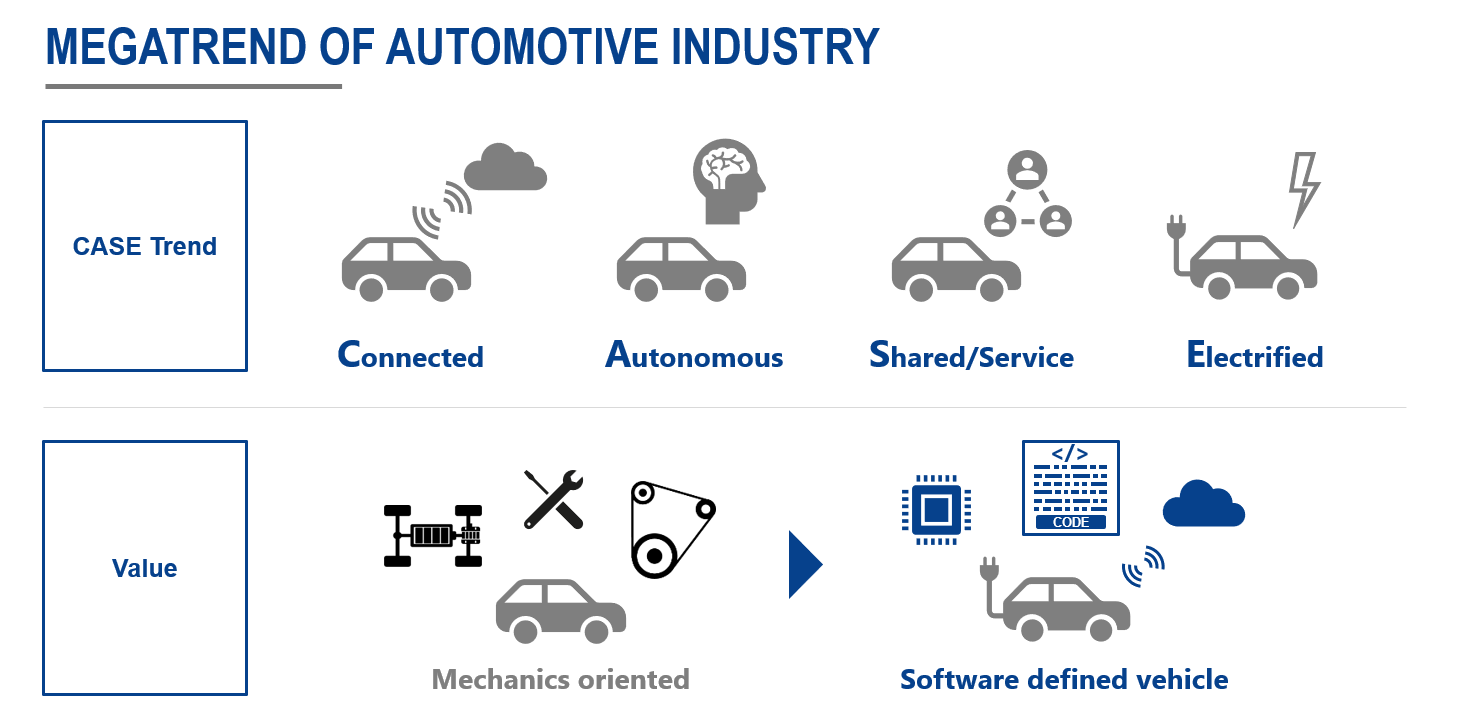 In order to push for the software-defined vehicle, the architecture within the vehicle will evolve from a traditional architecture with ECUs highly distributed for each function to a more domain- to zone- centralized architecture. This architectural change will allow software in the vehicle to be updated even after the vehicle is purchased, and provide increased security of the in-vehicle network. The new architecture will accelerate the adoption of EVs since it can reduce the number of wiring harnesses connecting ECUs, thus reducing the weight of the car and improving fuel efficiency. In ADAS, using this architecture will enable coordinated control of each domain and transmission of large volumes of data on the driving environment.
Image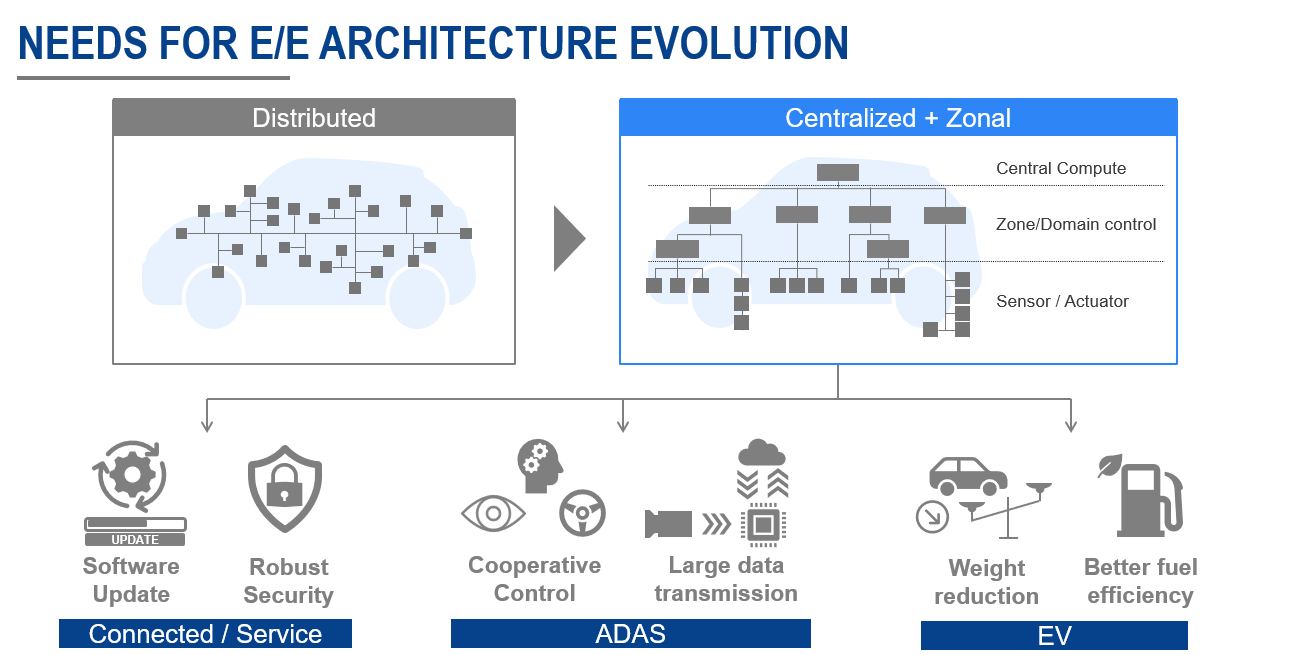 Strategy for E/E Architecture
Renesas offers embedded processors with scalable performance to cover the entire E/E architecture. This performance scalability allows customers to select the best processors from our broad portfolio that spans from low- to high-end devices. In addition, since our digital products are built with common IP and offer greater scalability across car models, applications, and generations, our customers can reuse their software, reduce development costs and shorten time-to-market.
Image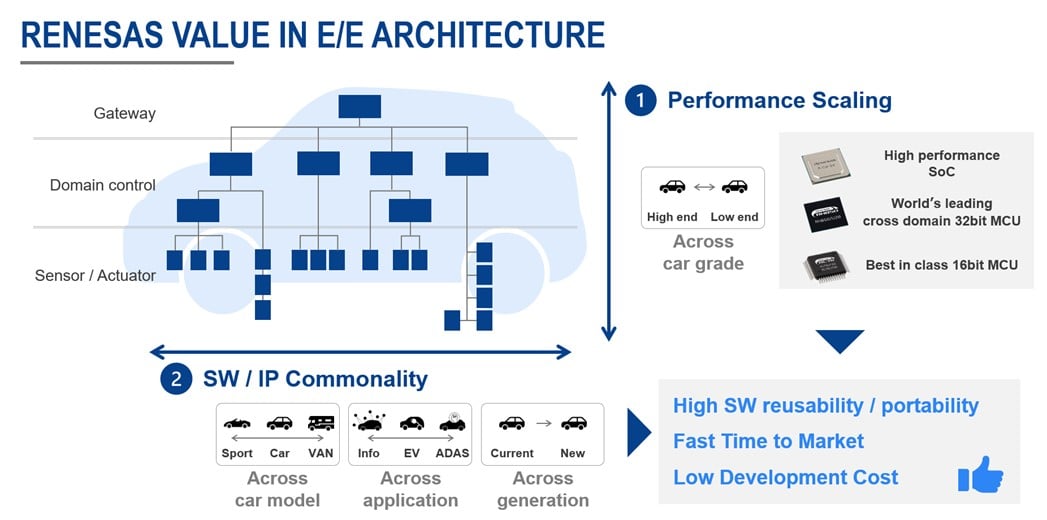 To support software development, we provide a virtual platform, that enables OEMs and Tier1s to develop software without the actual hardware. This virtual development environment allows customers to develop software before the actual devices become available, thus accelerating the time to market.
Winning Combinations
One of the biggest changes in the current automotive industry is that new players are emerging. We are seeing rapid growth in emerging regions such as China, India and Southeast Asia. As the automotive industries in these regions shift from conventional gasoline vehicles to electric vehicles, many new vehicle manufacturers have emerged in recent years. These emerging players are particularly interested in solutions that help them develop products and get to market faster at low cost. To meet these demands, we design chipset solutions called Winning Combinations, that combine digital, analog and power products together with software. Winning Combinations are solutions that are optimized with system-level requirements and enable customers to speed up development.
Image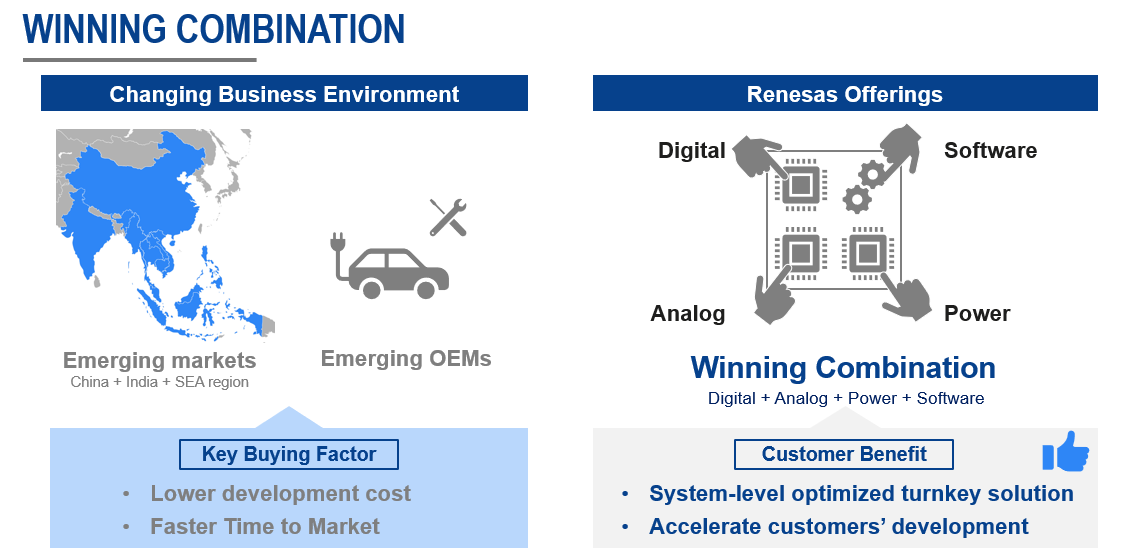 Strategy for ADAS
ADAS is a cooperative function that is enabled by three stages: Sensing, Computing and Actuating. Each stage targets key applications – "Sensing" requires sensing devices such as camera, LiDAR and radar, while "Computing" requires a central ADAS that processes the sensing data and a gateway or Domain Control Unit (DCU) to command actuators based on the processed information. "Actuating" requires basic functions of a vehicle, such as driving, braking and steering. Renesas has a broad product portfolio that covers all applications to enable ADAS and offer Winning Combinations to complement these products and support various functions.
Image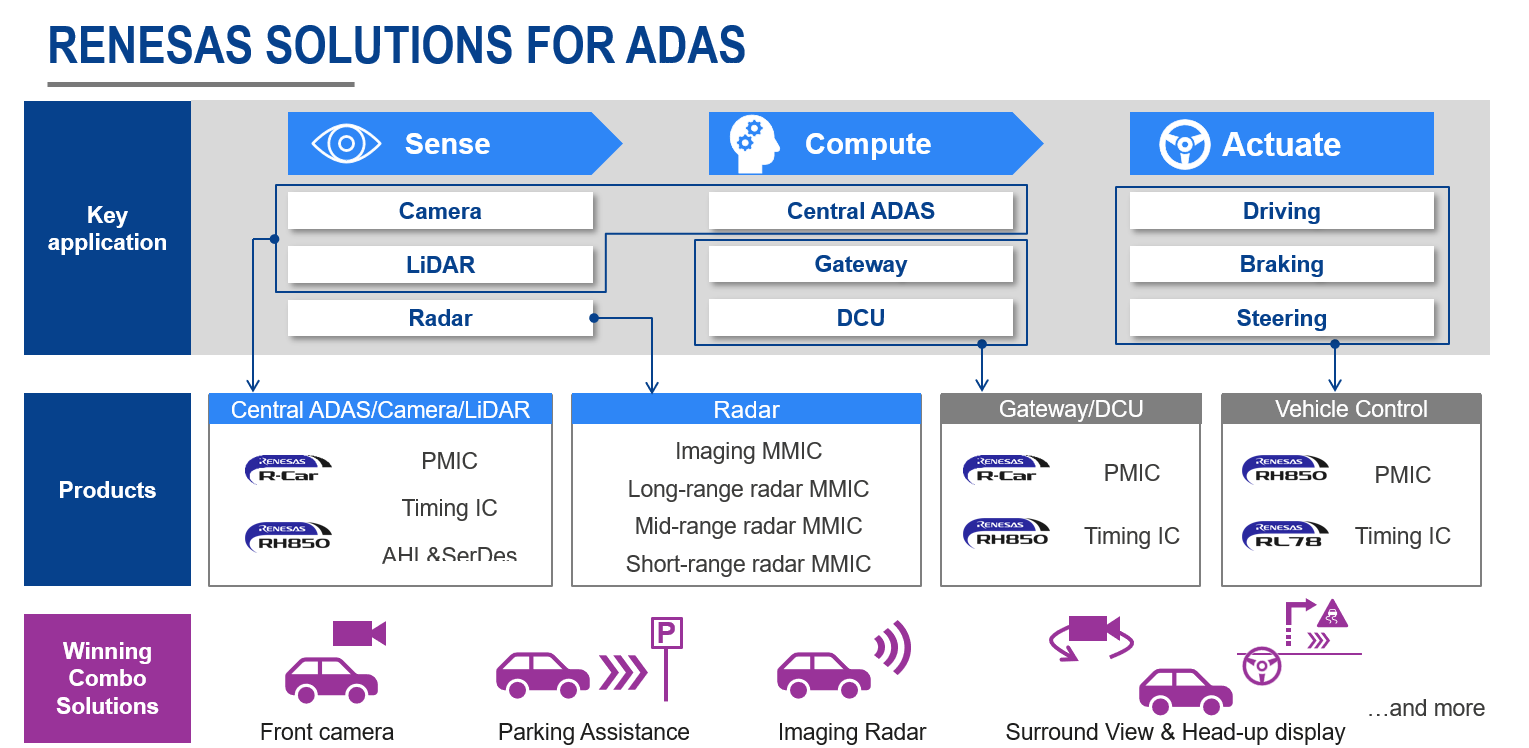 Strategy for EV
In the EV field, we support core functions such as inverters, on-board chargers, battery management systems and DC/DC converters with a comprehensive portfolio ranging from digital, analog, and power products, as well as turnkey Winning Combinations.
The EV market is expected to grow rapidly, and demand for power semiconductors is expected to follow the trajectory. To respond to this rapidly expanding EV demand, we have invested 90 billion yen to our factory to set up a dedicated 300-mm wafer line for power semiconductors. Our IGBT production capacity will triple and we will continue to ensure a stable supply of power semiconductors.
Image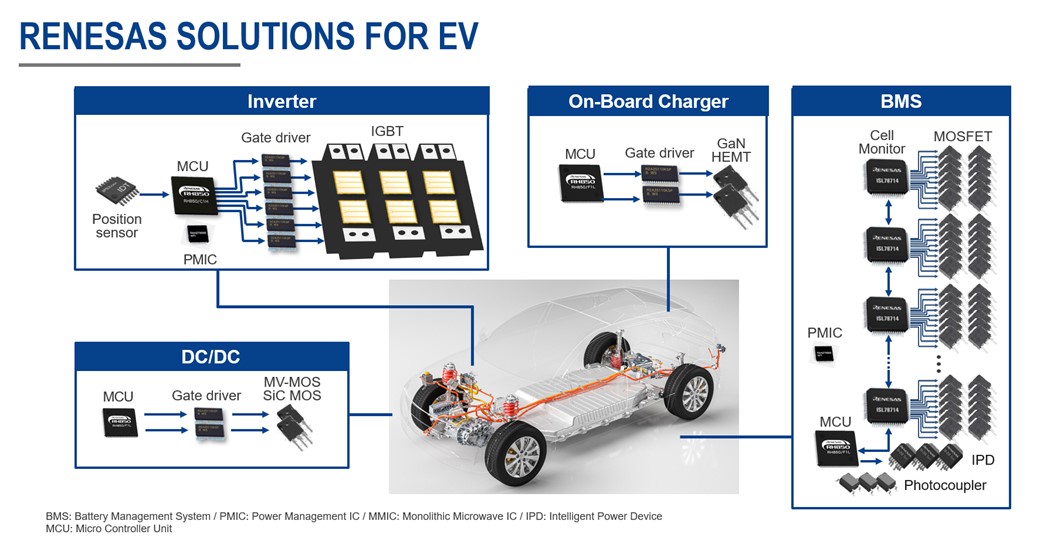 In summary, Renesas provides a broad product portfolio ranging from digital products to analog and power products, and Winning Combinations that leverage these products to support next-generation automotive functions such as ADAS and EV. Renesas will continue to help build a safer, greener, and more convenient mobility society.