The digital addressable lighting interface (DALI) is becoming more and more popular for home and building lighting applications. The standard enables simple wiring and options to change configurations. The latest DALI 2.0 standard allows users to control up to 65 individual lights and/or 32 groups of lights. Complex color light scenes of multiple luminaires can now easily be set up through DALI. For this reference design, energy efficiency LEDs are used, often arranged in stripes. For ambient lighting, RGB is preferred, but for general lighting, warm/cold white light is needed.
Renesas offers a highly integrated, complete solution for driving five LED stripes for red, green, blue, and warm/cold white lights, with up 70V and 700mA each, resulting in 245W of total LED power. The 70V are internally boosted out of the 24VDC input. 
Renesas' Synergy S128 microcontroller (MCU) already contains a dedicated peripheral for DALI 2.0, so the total BOM is further reduced. Renesas also provides a best-in-class power solution to run the system out of the standard 24VDC.
System Benefits:
RGBWW drivers for up to 5* 70V/700mA = 245W LED ~ 25.000 Lumen
Rich interfaces include the DALI 2.0 interface (peripheral included in the S128 MCU), RS-485 interface and PMOD adapter to add wireless connectivity (e.g. Bluetooth or Wi-Fi) - all on a 24VDC power supply and low BOM count
Image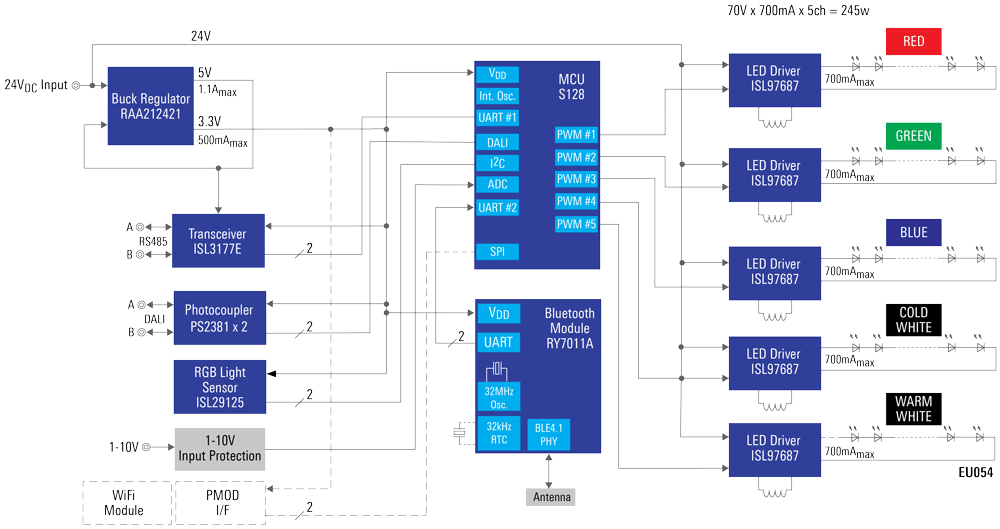 Related Products
| Category | Description | Featured Document | Ordering |
| --- | --- | --- | --- |
|   |   |   |   |
| Microcontroller |   |   |   |
| S128 | Low power 32MHz Arm® Cortex®-M0+ CPU, 256KB code flash memory, 24KB SRAM, capacitive touch sensing unit, 14-bit A/D converter, 8-bit D/A converter, security and safety features | Datasheet | Select Specific Device |
| RY7011A | Bluetooth® low energy microcontroller for smart connectivity, with the lowest level of current consumption in the industry | Datasheet | Select Specific Device |
|   |   |   |   |
| Buck Regulator |   |   |   |
| RAA212421 | 3V to 40V Input, 1.1A Synchronous Buck Regulator with Integrated 500mA LDO | Datasheet | Buy/Sample |
|   |   |   |   |
| LED Driver |   |   |   |
| ISL97687 | 4-Channel LED Driver with Phase Shift Control and 10-Bit Dimming Resolution | Datasheet | Buy/Sample |
|   |   |   |   |
| Photocoupler |   |   |   |
| PS2381-1 | 4-Pin LSOP Photocoupler with an Operating Ambient Temperature of 115 °C | Datasheet | Buy/Sample |
|   |   |   |   |
| Transceiver |   |   |   |
| ISL3177E | ±15kV IEC ESD Protected, 3.3V, Full-duplex, 20Mbps RS-485/RS-422 Transceiver | Datasheet | Buy/Sample |
|   |   |   |   |
| Light Sensor |   |   |   |
| ISL29125 | Digital Red, Green and Blue Color Light Sensor with IR Blocking Filter | Datasheet | Buy/Sample |