Renesas provides an efficient power distribution network solution based on Intelligent Power Device (IPD) technologies. The intelligent protection and diagnostic functions of the IPDs increase the safety level over mechanical relays. This solution helps optimize wiring harnesses and improve reliability by adding current monitoring capabilities.
System Benefits​:
Reduces size and weight of the wiring harness by adding a current monitoring function. Aggressive wire diameter reduction is achieved by estimating Joule heating in the wire based on I2t, which is enabled by the IPD current monitoring function and arithmetic processing by the MCU. The reduced wire diameter contributes to a lower BOM cost and a lighter weight wiring harness.
Reduces maintenance by replacing mechanical relays and metal fuses with IPD.
I2t model ensures compatibility with metal fuse and reusability of existing design assets.
System-level validation including the I2t–model overcurrent protection software is under development by Renesas.
Image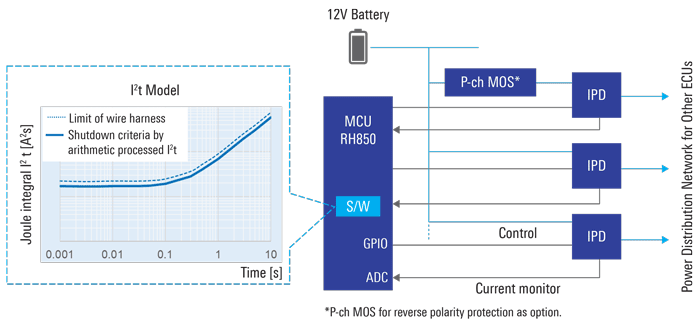 Related Products
| Product | Description | Featured Document | Ordering |
| --- | --- | --- | --- |
|   |   |   |   |
| Microcontroller |   |   |   |
| RH850/F1L | 32-Bit Dual-Core, High-End In-Vehicle Microcomputers for Body Applications | User's Manual | Contact Sales |
| RH850/F1K | 32-Bit High-End Automotive Microcontrollers Ideal for Body Applications | User's Manual | Buy/Sample |
| RH850/F1KM-S1 | 32-Bit High-End Automotive Microcontrollers Ideal for Body Applications | User's Manual | Buy/Sample |
| RH850/F1KM-S4 | 32-Bit High-End Automotive Microcontrollers Ideal for Body Applications | User's Manual | Buy/Sample |
| RL78/F12 | 16-bit MCU with Ultra-Low Power and Built-in LIN (20 - 64 Pins, 16 - 58 GPIOs) | User's Manual | Contact Sales |
| RL78/F13 | 16-bit MCU with Ultra-Low Power and Built-in CAN/LIN (20 - 80 Pins, 13 - 68 GPIOs) | User's Manual | Buy/Sample |
| RL78/F14 | 16-bit MCU with Ultra-Low Power and Built-in CAN/LIN (30 - 100 Pins, 23 - 86 GPIOs) | User's Manual | Buy/Sample |
| RL78/F15 | 16-bit MCU with Ultra-Low Power and Built-in CAN/LIN (48 - 144 Pins, 38 - 130 GPIOs) | User's Manual | Buy/Sample |
|   |   |   |   |
| Intelligent Power Device (IPD) |   |   |   |
| RAJ2800024 | Automotive Nch Intelligent Power Device, High-Side Switch, 1.6mOhm, TO-263-7 Package | Datasheet | Contact Sales |
| RAJ2800034 | Automotive Nch Intelligent Power Device, High-Side Switch, 2.5mOhm, TO-263-7 Package | Datasheet | Contact Sales |
| RAJ2800044 | Automotive Nch Intelligent Power Device, High-Side Switch, 3.8mOhm, TO-263-7 Package | Datasheet | Contact Sales |
|   |   |   |   |
| MOSFET |   |   |   |
| NP100P04PDG | Automotive P-Channel MOS Field Effect Transistor Designed for High Current Switching Applications | Datasheet | Buy/Sample |
|   |   |   |   |
| LDO |   |   |   |
| ISL78301 | 40V, 150mA Linear Regulator for Automotive Applications | Datasheet | Buy/Sample |
|   |   |   |   |
| Buck Controller |   |   |   |
| ISL78206 | 40V 2.5A Buck Controller with Integrated High-Side MOSFET | Datasheet | Buy/Sample |