This RZ/A1* software development kit helps speed up time to market.
RZ/A1* : RZ/A1H, RZ/A1M, RZ/A1L, RZ/A1LU, RZ/A1LC
Image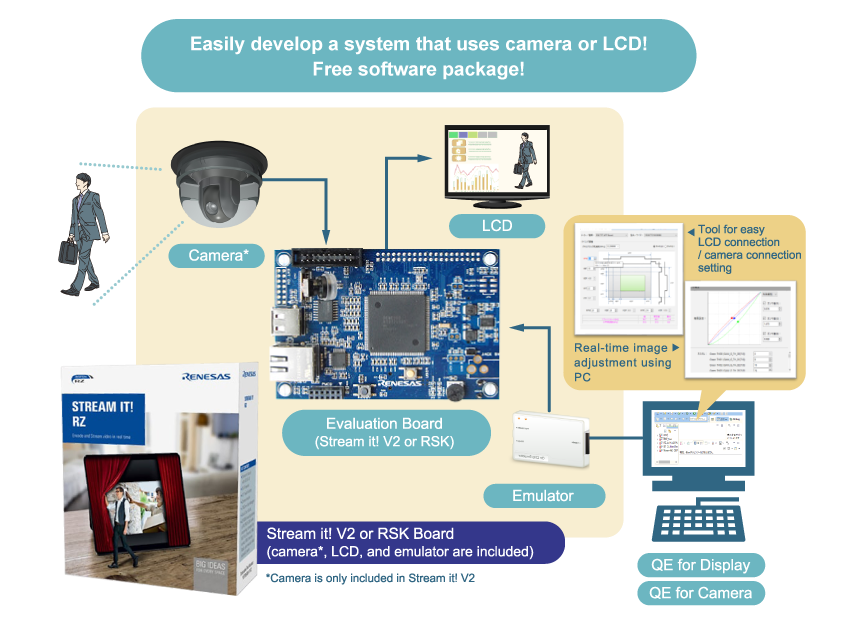 Image

Software Package
RZ/A1H Group, RZ/A1M Group, RZ/A1LU Group, RZ/A1L Group, RZ/A1LC Group RZ/A1 Framework V2.13 - Sample Code (ZIP | English, 日本語)
Image

Development Environment
Image

RZ/A Display Development Support Tool
SDK for Camera is an HMI software development kit for the RZ/A1 that provides consistent support for camera input, LCD output, and image adjustment. It consists of device drivers, middleware, and sample programs for the RZ/A1 in a single package.
STREAM IT! RZ or RSK board must be purchased separately.
Features
Contains sample programs for drivers and application sample programs that can be used for development, so you can start using the peripheral functions of the RZ/A1 immediately.
Use with QE for Display (e² studio plug-in) to easily make image quality and LCD timing adjustments using a GUI.
Use with QE for Camera (e² studio plug-in) to easily set Camera module and Camera timing adjustments using a GUI.