Image

Wi-Fi 6E is Wi-Fi 6 Extended to the 6GHz Band
It's easy to get confused by the 2 different 6's. So here's the distinction between the two:
The "6" in "Wi-Fi 6E" refers to the "generation 6" of the Wi-Fi technology.
The "E" refers to the latest extension of the standard that uses a new frequency band which gives it its great advantage. Similar to the existing Wi-Fi bands, the new spectrum and its use policy varies between geographies and regulations. Currently, the "6GHz spectrum" for the European markets is 5.925GHz to 6.425GHz, and for the US markets between 5.925GHz to 7.125GHz.
Wi-Fi 6 technology brings advancements that result in better efficiency, reduced congestion, lower latency, and longer battery life for end devices.
Utilizing these advantages over the new 6GHz band magnifies those advantages to a whole new level as legacy/older protocols than Wi-Fi 6 technology would be prohibited in this band.
Operating Wi-Fi in the 6GHz band doubles the effective throughputs since it includes multiple 160MHz channels, compared to the practical 80MHz channels in 5GHz and 20MHz channels in 2.4GHz bands.
Wi-Fi 6E offers a higher number of non-overlapping 160MHz channels, which helps reduce congestion, particularly in areas where lots of networks are operating such as MDUs, Enterprises and venues.
History of Wi-Fi Standards and Naming
Here's a reminder of how it all started
| Generation/IEEE Standard | Maximum Linkrate | Adopted |
| --- | --- | --- |
| Wi-Fi 1 (802.11b) | 11Mbps | 1999 |
| Wi-Fi 2 (802.11a) | 54Mbps | 1999 |
| Wi-Fi 3 (802.11g) | 54Mbps | 2003 |
| Wi-Fi 4 (802.11n) | 600Mbps | 2009 |
| Wi-Fi 5 (802.11ac) | 3467Mbps | 2014 |
| Wi-Fi 6 (802.11ax) | 9608Mbps | 2019 |
| Wi-Fi 7 (802.11be) | TBD | TBD |
Is more bandwidth needed?
Or "Don't we have enough bandwidth now?"
Covid-19 has taught us all how critical to our well-being the state of our network is, the quality of our connectivity, and its ability to scale. The current reality speeds up the need that was already clear to the regulators before: that significant capacity enhancements are due. Even before this new reality came to be, Cisco published in their Annual Internet Report (2018 - 2023) figures that show very clearly the urgent need for more capacity. Here are a few of the figures that demonstrate the clear need in the market: "Broadband-speed improvements result in increased consumption and use of high-bandwidth content and applications. The global average broadband speed continues to grow and will more than double from 2018 to 2023, from 45.9Mbps to 110.4Mbps. The table below shows the projected broadband speeds from 2018 to 2023. Several factors influence the fixed broadband-speed forecast, including the deployment and adoption of Fiber-To-The-Home (FTTH), high-speed DSL, and cable broadband adoption, as well as overall broadband penetration. Among the countries covered by this study, Japan, South Korea, and Sweden lead in terms of broadband speed largely because of their wide deployment of FTTH."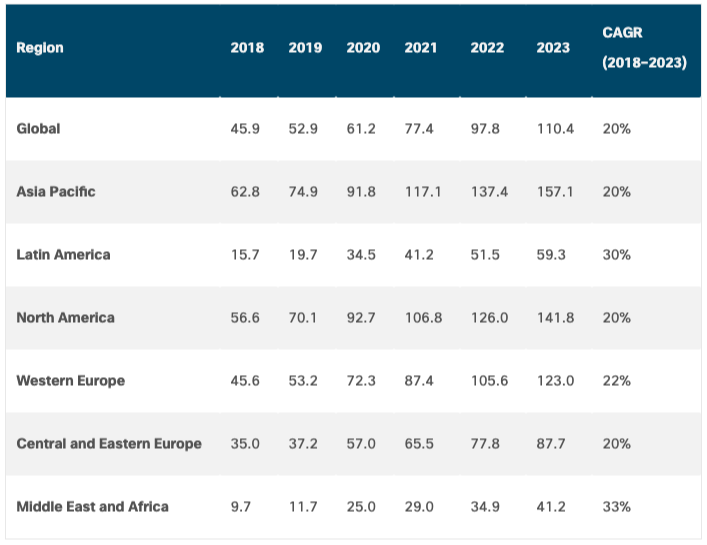 "Video and other applications continue to be of enormous demand in today's home, but there will be significant bandwidth demands with the application requirements of the future, even beyond the forecast period of 2023. In the figure below, a scenario with video applications of the future is explored; today's bandwidth needs are a sliver of the future needs."
Image
Current and historical speeds are based on data from Ookla's Speedtest.net. Forward projections for mobile data speeds are based on third-party forecasts for the relative proportions of 2G, 3G, 3.5G, and 4G among mobile connections through 2023. The figure below shows the Global mobile average speeds by device type: Smartphone and tablet speeds accelerate due to 5G.
Image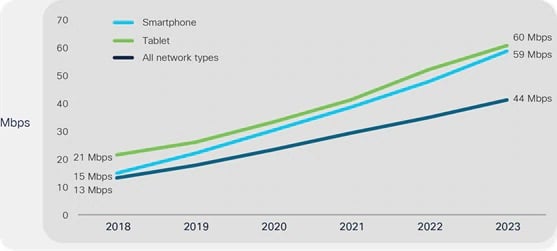 In the figure below, Cisco shows the anticipated number of devices as they are expected to grow worldwide. As the number of devices served per home grows so does the need for bandwidth of course.
Image

By 2022, Wi-Fi and mobile devices will account for 79 percent of Internet traffic.
Image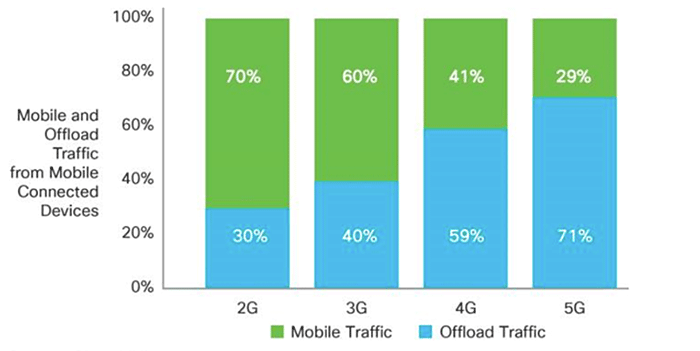 Source: Cisco Annual Internet Report (2018–2023) White Paper
Band Allocation and Channels per Band
Wi-Fi 6E utilizes the 6GHz frequencies. The allocations for FCC and EU are as seen below:
Image

Total available spectrum of the Wi-Fi networks has increased with the European allocation of 6GHz band by more than double, and in the countries adopting the US standard by much more than that - allowing for 14 additional 80MHz channels and 7 additional 160MHz channels. Imagine traffic experience shifting from a 2-lane road to an 8-lane mega highway. Wi-Fi 6E allocates channels that do not overlap with each other, which help reduce congestion significantly, particularly in areas where lots of networks are operating. An additional important aspect is that 6GHz includes more contiguous spectrum - this enables future generations of Wi-Fi such as the 802.11be to utilize broader channel bandwidth (e.g. 320MHz) for the future 10Gbps+ networks.
Unique Benefits of the 6GHz Band for Wi-Fi
Why 6GHz?
Wi-Fi 6 and previous generations of Wi-Fi use the 2.4GHz and 5GHz radio bands in our homes and offices today. A "Wi-Fi 6E" device is one that is capable of operating in the 6GHz band.
Wi-Fi in the 6GHz band means instant performance improvements for Wi-Fi 6 users. Opening up 6-GHz frequency bands for Wi-Fi was the right move to ensure that this widely used wireless technology will be able to deliver the performance needed for future applications and networks.
The 6GHz band only allows operation of Wi-Fi 6 devices, meaning it is legacy-free. The combination of such a pristine band with no legacy devices, sets up an undertaking the industry has not seen in Wi-Fi in the past 20 years.
Wi-Fi 6E with scheduling techniques, Multi-User, Multi-In Multi-Out (MU-MIMO) and the existence of multiple channels, enables less collisions and interference between adjacent networks.
As a result, the latency of Wi-Fi 6E services can be consistently as low as 2 milliseconds, which is a huge improvement over operations in the 5GHz band, where latency is typically around a few to 100 milliseconds. The key point here is that the latency will be consistently low. The performance on a single connect with, for example, a smartphone – should be able to exceed 2Gbps rate. This is excellent for video and AR/VR gaming.
In multi-gigabit indoor wireless, with Wi-Fi 6E, we will not run out of capacity for years no matter what is connected to this network, even with hundreds of data-hungry devices in service.
In total, the new 6GHz band allows unlicensed operation in all of the 1.2GHz of spectrum, which means current Wi-Fi operating bands are more than doubled.
In conclusion, there is more spectrum with larger channel bandwidth. The 6Ghz band provides for contiguous spectrum blocks to accommodate additional 80MHz channels and 160MHz channels that are absolutely needed for high-bandwidth applications which need faster data throughput for such applications as high-definition video streaming and virtual reality. Finally, 6E delivers improved network performance as well as supports a greater number of Wi-Fi customers at the same time, even in very dense and congested environments.
Characteristics of the Wi-Fi 6 Technology which Utilize the Incredible Benefits of the 6GHz Band
Wi-Fi carries far more internet traffic than any other wireless technology and has survived pretty well, until now, despite an available frequency range of less than 800MHz (70MHz in the 2.4GHz band, 700MHz in the 5GHz band). The unlicensed spectrum in the 2.4GHz and 5GHz bands has driven Wi-Fi growth. This unlicensed spectrum is now shared by so many devices (including non-Wi-Fi equipment using Bluetooth, Zigbee and others) and has had to make compromises since it coexists with many users.
The 6GHz band for unlicensed Wi-Fi use frees up more than 1,200MHz of additional bandwidth for next-gen Wi-Fi 6E devices with antennas and chipsets capable of tapping into the extra spectrum.
This additional unlicensed spectrum addresses the two main problems that users face:
Traffic congestion: The low number of Wi-Fi channels available today forces many users to share available bandwidth and creates congestion.
Restricted 80MHz and 160MHz channel availability: Today the limited amount of adjacent spectrum makes it difficult to enable 80MHz or 160MHz channels; however, high data throughput can only happen when wide channels are available.
The introduction of the 6GHz band for Wi-Fi use has enabled immediate gratification for all Wi-Fi 6 users. Having adequate spectrum to safely deploy 80MHz or 160MHz-wide channels and the installation and network configuration, where none had existed before, alleviated concerns of backward compatibility. The 6GHz frequency band has thus become the saving grace for Wi-Fi 6 users.
Summary of Some Wi-Fi 6 Advantages in the 6GHz Band:
More overall bandwidth per user with low latency for ultra-HD, virtual reality (VR) and augmented reality (AR) streaming
Many more simultaneous streams of data augmented with increased throughput
More total spectrum with 2.4GHz and 5GHz bands and bands in 6GHz band when Wi-Fi 6E was ratified
The new spectrum is separated into more channels which enable more communication routes
The ability of offloading wireless traffic from cellular networks in poor reception areas
Much improved performance/robustness in outdoor and multi-path (cluttered) environments
Far better MAC efficiency due to less interference
Industry Use Cases:
That will drive the roll out of 6E devices to the market and adoption of the 6GHz band.
Use Cases and Benefits
Consumer Home Use Cases
With the increased capacity in the 6GHz band, home users will be able to effectively utilize the availability of additional channels for adapting advanced Wi-Fi products that will support the growing bandwidth consumption. Such solutions can simultaneously support multiple bands for various network implementations. The whole home scenario will enable greater than 1Gbps wireless service everywhere in the home.
Below are some examples of popular home applications that can consume high bandwidth and will benefit from the increased capacity in the 6GHz band:
High resolution TV supporting 4K and 8K video streams to multi-screens
VoIP and video conferencing
AR/VR gaming
Offload network for mobile devices
Live audio and video streams from cameras, speakers and sensors
Online backup
High quality music applications
5G backhaul – connecting 5G CPE to the indoor gateway
Next-generation, higher-performing Access Points provide more capacity, lower latency and better QoS. Tri-band products (2.4+5+6 GHz) are expected to become the new norm for Wi-Fi 6+6E Infrastructure.
A Tri-band product can utilize the multi-band spectrum, use of the new 6GHz band without competing with other devices using the 2.4 and 5GHz bands.
Mesh Tri-band products will benefit from a dedicated backhaul link utilizing the 6GHz band while supporting seamless service to client devices on the 2.4 and 5GHz bands.
Image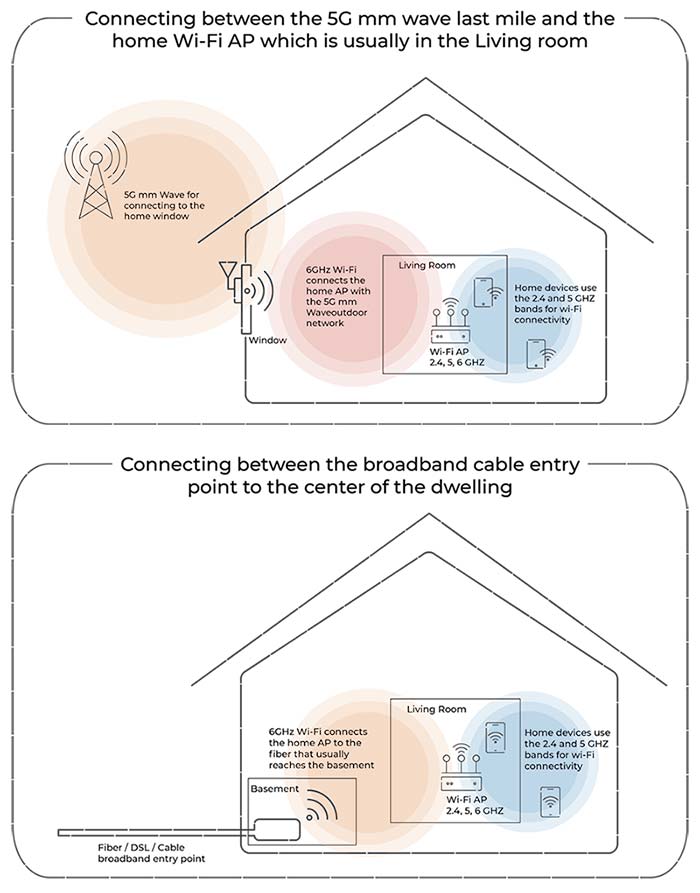 Latency-Sensitive Apps
There are many services that are sensitive to latency such as Gaming, AR/VR, VoIP, live/bi-directional video and Remote Desktop Protocol (RDP). The term "Latency sensitivity" refers to services that are affected by a slow/unstable connection, like video conferencing image freezes, gets pixelized or breaks out of sync with the audio.
Wi-Fi 6E remedies these situations to allow for a much-improved quality of the service.
Enterprise Applications
Higher density is expected to happen in an Enterprise environment. Wi-Fi 6 and specifically Wi-Fi 6E contributes to such environments with a broader number of non-overlapping channels allowing more adjacent APs operating at 160MHz and full capacity. Wi-Fi 6 techniques allow more concurrent devices at service with better user experience, leveraging several Multi-User techniques (MU-OFDMA and MU-MIMO) along with scheduling techniques and TWT to reduce collisions over the air.
Wi-Fi 6 was pretty good in these following types of Enterprise areas, but Wi-Fi 6E shines brighter here:
Improved service in high-density venues such as airports, lecture halls, and sporting arenas to support a large number of users with customer engagement apps, and streaming video.
Enabling virtual and augmented reality apps on wireless devices by providing higher data rates with lower latency.
Extending the connectivity and battery life of IoT devices. Enhancing application Quality of Experience (QoE) with improved interference mitigation in high-density environments.
Status of 6E Regulation
Generally in Wi-Fi standardization processes, IEEE writes the standard, the WiFi alliance defines which part of the spec is mandatory to support in order to pass their certifications, and then builds the testing procedures.
In January 2021, Wi-Fi Alliance announced certification for Wi-Fi 6E.
As for frequency adoption for the 6GHz band, work is undergoing by multiple government radio regulation authorities such as: FCC, EU and OFCOM (the UK regulator). All three are working on the regulatory rule making and procedures for approval of devices to use the 6GHz band in their geographies. FCC and EU are working diligently to meet the Wi-Fi Alliance timeline and enable equipment certification and deployment.
Latest updates on the status of the regulation:
How 6E Complements 5G
5G needs Wi-Fi 6E more than they would like to admit.
It is a long-known fact that Wi-Fi offload is a key enabler for the business case of mobile networks (as Wi-Fi APs are cheaper than cellular base-stations and makes network densification viable), as well as a vital tool of capacity offload of the mobile network (especially for mobile devices that connect from indoors or at dense public venues). In fact, as indicated by Cisco's VNI, the dependency of each cellular generation on Wi-Fi offload grows constantly and this remains the case with the 5G network.
Image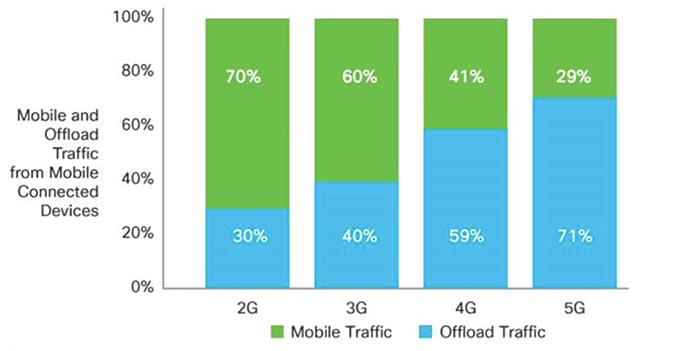 Source: Cisco Annual Internet Report (2018–2023) White Paper
The relevant target KPIs that were defined by the 3GPP for the 5th cellular generation are met (or exceeded on some of them) quite nicely by the Wi-Fi 6th generation technology as indicated by the spider web diagram:
Image
Source: 5G Networks: The Role of Wi-Fi and Unlicensed Technologies
Furthermore, Wi-Fi 6E is the right tool to enable 5G mmWave access to the home; millimeter wave 5G will not penetrate the home reliably because of the physical propagation characteristics of these frequencies through obstructions such as walls, tree leaves and the human body. Also, frequencies such as 28GHz and 39GHz suffer from higher sensitivity to weather conditions and decay faster when propagating through air, not to mention solid buildings. Thus, the deployment model would likely mandate an outdoor cellular 5G unit, and some technology to distribute the service to the indoors, considering the targeted ~2Gbps service Wi-Fi 6E makes a perfect match for the target service and solution costs.
Even in the lower frequency 10GHz spectrum, 5G coverage can only exist inside of untreated glass windows, but not really inside of a building. As a result, most buildings will need in-building cellular aids for reliable in-building coverage. Enter Wi-Fi 6 and Wi-Fi 6E.
Wi-Fi 6 and Wi-Fi 6E alleviate high traffic by reducing congestion in 5G that creates delays and/or slows signal reception. 5G may actually offload nearly ¾ of its traffic to Wi-Fi by 2022. There will be huge growth in connections and devices, especially in Machine-to-Machine (M2M) connections. 5G and Wi-Fi 6 and Wi-Fi 6E will extend the world's Internet community to areas never connected before.
Many feel that 5G will replace wireless Wide Area Networks (WANs) that span a large geographic area across cities, states, or countries. They can be private to connect parts of a business or they can be more public to connect smaller networks together. Wi-Fi 6E complements this as a proper offload and densification tool, as 5G mmWave ODU to IDU distribution tool, as well as a strong backhaul solution to inter-connect the 5G base units.
Some may think that using 5G technology to interconnect the external 5G-mmWave ODU to the indoor unit. However, the costs of such a 5G link are far higher than those of a Wi-Fi solution.
Simply put, cellular technologies relied on the affordability and capacity of Wi-Fi technology to enable their business-case at a growing dependency with each generation. Wi-Fi 6, and specifically Wi-Fi 6E, are the right tool to enable the performance expectations and business case of 5G networks.
Glossary
Band - A wide section of spectrum, meaning a wide range of frequencies as a whole is referred to as a "band". Conventionally an easier industry term to the frequency band in GHz rather than specifying exact frequencies. For example 5.925GHz to 6.425GHz could be referred to as "6GHz BAND".
Sub Band - A subsection of the band which needs to be designated separately due to different regulations per subsection.
IEEE - The Institute of Electrical and Electronics Engineers (IEEE) is a professional association for electronic engineering and electrical engineering and is the body that sets the standards that most of the regulators (including US and Europe) rely on.
Wi-Fi Alliance - Consortium that certifies vendors after testing them for compliance with Wi-Fi related standards.
FCC - The regulating authority in US
ETSI - The regulating authority in Europe
3GPP - The 3rd Generation Partnership Project (3GPP) unites [Seven] telecommunications standard development organizations that cover cellular telecommunications technologies, including radio access, core network and service capabilities, which provide a complete system description for mobile telecommunications.