Published: August 25, 2022
How many consumers crave a cloud-connected microwave? An Internet-enabled toaster? A toothbrush controlled with a mobile app? I think we all know the answer is – not many.  
But rapid consumer adoption of connected smart speakers and voice assistants suggests something else; many people prefer to control products with speech rather than counter-intuitive button pushes. And many consumers also seem to appreciate devices and home appliances that are smart without being connected. After all, who wants to wait for an Internet connection to come back online just so you can pop some microwave popcorn?
The uptick in devices with edge or endpoint voice user interfaces (VUI) is growing along with the increasing sophistication of intelligence at the edge and the endpoint. You can read more on this in a recent blog by Renesas executive vice president Sailesh Chittipeddi. In other words, if your product needs a few good command phrases, all the processing can be done on the device. 
But designing home-automation products with an optimal VUI can be tricky for engineers who don't already have deep expertise in voice systems. And for manufacturers without in-house design experience, outsourcing the design and development can be cost-prohibitive. That's why over the past few years, Renesas has teamed with industry-leading companies like Cyberon, DSP Concepts and Sensory to offer easy-to-implement software solutions that run on our cost-effective Renesas Advanced (RA) family of 32-bit MCUs. If your company wants, say, washing machines and refrigerators that understand simple voice commands, the Renesas VUI solution is your one-stop design, service and support shop. 
Let Us Show You How
The Renesas VUI solution, a third-generation reference platform built on our scalable Arm-based RA2, RA4, and RA6 series of MCUs, is especially targeted to applications in home automation, white goods, and small appliances. Voice-enabled examples include ovens, refrigerator alarms, coffee makers, dishwashers, ceiling fans, and more. The VUI enables these products to respond in a standardized way to a user's voice command. This standardization is a unique approach to help developers avoid writing new code for each product configuration.
To see how simple it can be to incorporate an advanced voice user interface reference design, check out DSP Concepts' RA6M5 advanced VUI implementation webinar. In this webinar, the moderator demonstrates how microphone and MCU hardware can be combined with far-field VUI software and Sensory's wake word and command sets to capture and process voice – offline – even in noisy environments. For a preview, take a look at the reference design developed by DSP Concepts.
Renesas and Cyberon present an equally useful on-demand webinar about implementing the powerful Cyberon DSpotter recognition engine on RA MCUs to enable VUIs on devices – such as smart-home light switches – that are typically compute-, memory- or power-constrained. Cyberon's local voice trigger and command recognition solution features robust noise reduction, low-power consumption and highly accurate performance. See relevant product briefs and the Cyberon solution page for more details.
Image

On-Demand Virtual Lab Instruction
After viewing the webinars, perhaps you'll be ready to create a voice-recognition project with DSpotter using your own commands. Visit the Voice Recognition page to request a Voice kit and then watch the virtual hands-on lab for step-by-step instruction on how to add a VUI in minutes.
In the lab, you'll experience the Cyberon DSpotter software library and create a project from scratch with Cyberon tools. You'll use one of our newest Voice kits and enable the interface for a digital microphone. 
Image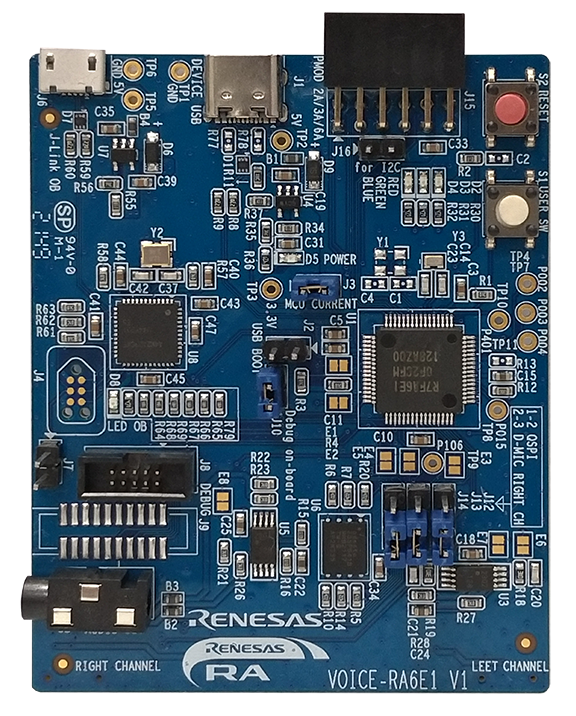 RA6E1 Voice Kit Board
Whether you're just starting out with voice or want to customize the latest set of commands for your product, the Renesas VUI solution gives you access to a variety of developer tools and training resources that will take your product designs to the next level. Visit the Voice Recognition page to learn more and get started on your design.
Find information on products and technologies to help you implement AI solutions at renesas.com/AI.