Demand of electric vehicles (EVs) is rapidly increasing, and as you know, the reason for this is the effort toward a carbon neutral society. Various efforts are being made in many fields, and in the automotive field, a dynamic change from conventional engines to motors is taking place at a rapid pace. For those reasons, customers want to make a car that does not break down with low loss in a short period of time.
Renesas provides IGBTs, which are key components of inverters that control the main motors of EVs, and we have just released a new product, the AE5.
Features of AE5 (1): Improvement of Electrical Characteristics
The driving mileage, which is the focus of attention in EV performance, is greatly affected by the performance (loss) of the inverter that controls the main motor, and high-efficiency IGBTs are needed to reduce the inverter loss. IGBT losses include conduction losses and switching losses, and AE5 focuses on conduction losses, improving them by 10% compared to the conventional product (AE4). AE5 has achieved the industry's top-level performance and is expected to improve IGBT losses during inverter operation by 3-6% compared to our conventional product (at the same current density). Furthermore, by improving the manufacturing process, it has been possible to reduce distribution in characteristic and mass produce IGBTs. Specifically, the fluctuation of the threshold voltage for IGBT turn-on has been standardized at ±0.5V, which is 50% of the previous level. This reduces the time dilation of the IGBTs turning on when used in parallel with high current control, making it difficult to generate current imbalance and reducing the load on the inverter design.
Image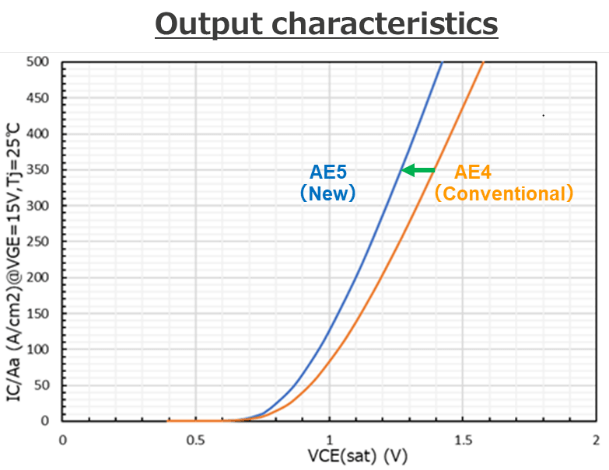 Image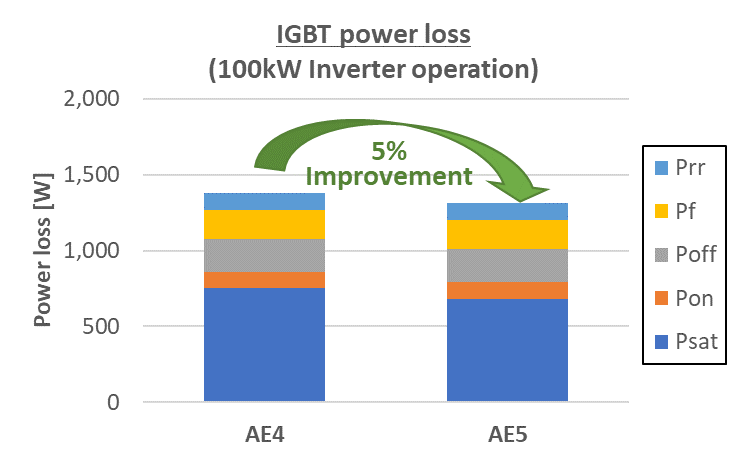 Image

Features of AE5 (2): Maintains high breakdown strength
Achievement of 10% higher current density compared to conventional IGBTs has succeeded in achieving an optimum chip size (100 mm2/300A) that balances both low loss and robustness. In particular, the device is easy to use because it maintains reverse bias safe operating area (RBSOA) at IC pulse (600A) and high short-circuit withstand time of 4µs@400V at a maximum operating temperature of 175degC, which are generally required levels. Furthermore, by reducing the temperature dependence of the built-in gate resistance by 50%, spike voltage can be suppressed at low temperatures and switching losses can be reduced at high temperatures, thus enabling stable and high performance over temperature variations.
Renesas Efforts: Power-specific production line/ Restarted Kofu factory
The demand for power devices which supply and control electric power in the consumer and industrial fields is increasing rapidly for EVs, and is expected to increase further in the future. In order to deal with such demand, we are preparing to restart operation of the Kofu factory, which was closed in 2014, as a power semiconductor production line for 300 mm wafers in 2024. This initiative will double our current supply capacity of power semiconductors and contribute to the realization of a carbon neutral society by building our largest power semiconductor line. (Please see here for more information about the restart of operation of Kofu factory.)
Image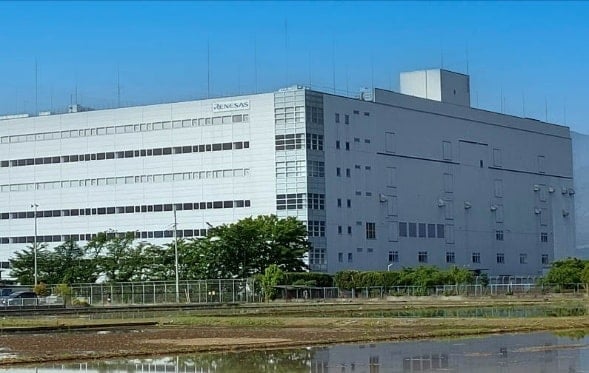 We are planning to develop products with a breakdown voltage of 1200V for high bus voltages and commercialize new materials, and we will continue to develop attractive products for EVs in the future.