Published: October 19, 2021
The rapid evolution of the Internet of Things, driven by the application of Artificial Intelligence at the edge and next-generation communications technologies, has made the dynamic interplay of technologies ever so critical. Whether it's applying AI and machine learning to build smarter and more aware devices, enabling robust security for a connected and increasingly remote access world or building safer contactless human-machine interface experiences, nearly everything is part of the IoT.
Device designers have an incredible opportunity to develop innovative workflows and deliver amazing products. However, this comes at the cost of exponential design complexity. Combine that with ever-shrinking project timelines, the make vs. buy decision becomes critical early in the design process. Having a flexible platform strategy that leverages pre-developed building blocks that operate right out-of-the-box becomes important.
The new Renesas Ready Partner Network, a vast and carefully curated network of trusted technology partners who supply commercial-grade performance-optimized building blocks that operate with Renesas products right out of the box, is here to help. Watch a short video for an overview of the program to learn more.
The program offers a robust software ecosystem of building-blocks that address real-world design challenges. Solutions ease the implementation of important core technologies critical to next-generation IoT design. Whether it's a smart home thermostat or a personal medical device that you are looking to develop, having pre-developed commercial-grade building blocks to leverage will significantly help reduce design complexity and speed up time to revenue.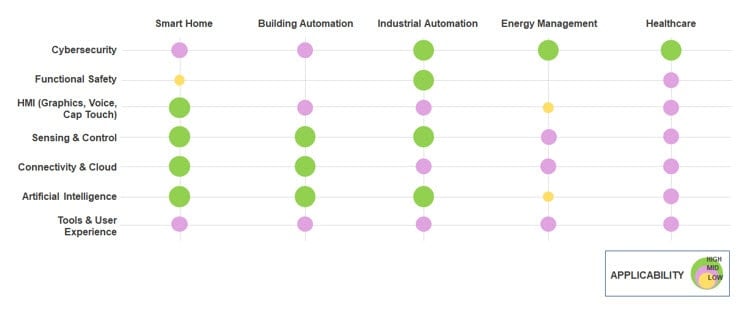 The Renesas Ready Partner Network makes it simple to find and integrate solutions tailored to your requirements. Each building-block solution is labeled with a "Product Ready" badge that indicates which Renesas products it is compatible and ready to use with. As of today, the program supports the Renesas RA, RX and RL78 MCUs providing coverage across all mainstream Renesas MCUs from 8 to 32 bits.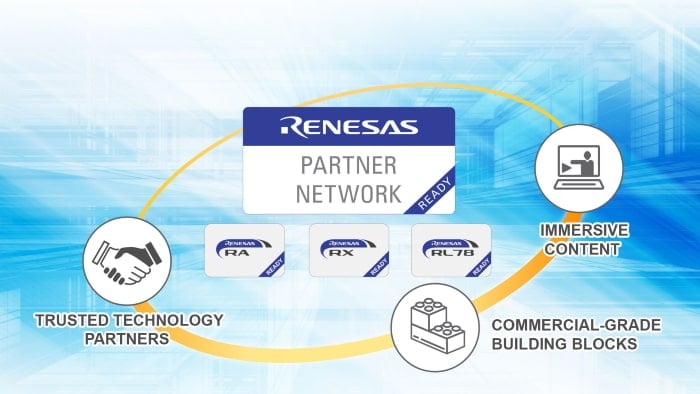 The network today boasts over 100 partners delivering more than 100 ready-to-use building-block solutions. It will continue to develop and expand as the Renesas product line expands and as we continue to onboard more trusted partners.
The RA Ready ecosystem supporting the Renesas RA MCUs now includes over 90 partners. This ecosystem was established back in 2019 with the launch of the 32-bit Renesas RA MCU family and has been growing continuously since then. It is now under the Renesas Ready Partner Network umbrella and continues to grow with a broad range of partnerships across all key technologies.
We are also excited to introduce the new RX Ready and RL78 Ready ecosystems supporting the 32-bit Renesas RX and 8 to 16-bit Renesas RL78 MCUs respectively. These ecosystems are designed in line with the RA Ready ecosystem framework providing a consistent and cohesive approach to customers across all these Renesas MCUs.
The Renesas Ready Partner Network website provides easy access to all three ecosystem programs where immersive technical content on a variety of building block solutions is available. Every solution includes a solution brief that outlines the benefits of the partner product combined with a Renesas product. You can also access numerous videos, webinars, and technical documentation.
The table below summarizes all the building block solutions, including 52 new solutions. More new partnerships have already been established which will provide a healthy pipeline of new solutions to be released soon. For a full listing of partners and solutions for respective ecosystem programs you can also visit their web sites RA Ready, RX Ready and RL78 Ready.
Renesas also offers a complementary hardware-centric partner program the Renesas Preferred Partner Program which brings together a community of system and solutions partners who specialize in working with Renesas products in a variety of domains. The Preferred Partner Program in combination with the newly launched Renesas Ready Partner Network provides you with a complete hardware-software ecosystem to accelerate your next IoT design.
If you're not IoT ready, the Renesas Ready Partner Network has the building blocks to get you there in no time!