An outdoor air quality sensor (also known as an OAQ sensor) is a device used to measure the air quality outside of buildings, as it relates to the health and wellness of individuals who are exposed to ozone and nitrogen dioxide. Typical sources of OAQ gases come from combustion engines, factories and industrial emissions. Examples of sensors and sensor products include ozone sensors and nitrogen dioxide meters.
IDT offers OAQ sensors that are calibrated to detect the gases that contribute to unhealthy air outdoor quality, specifically ozone (O3) and nitrogen oxides (NOx). By measuring both of these gases together and reporting concentrations relative to the US EPA AQI standard, these sensors provide vital information that helps users take control of their health and environment. In addition, the sensors efficiently manage smart air handling systems in buildings, factories, and the home.
Learn More: ZMOD4510 OAQ Sensor Platform
Monitoring Outdoor Air Quality

Poor outdoor air quality is typically associated with traffic and vehicles. Measuring outdoor air quality near roads and factories is important due to the high local influences of poor outdoor air. The levels of NOx and ozone in the outdoor air may have a pronounced effect on outdoor play and activities, including increases in asthma and breathing issues among susceptible individuals. Outdoor air quality is also a significant concern for indoor spaces, and making direct measurement at air intakes can significantly improve indoor air quality.
Typical Sources of Unhealthy Air Quality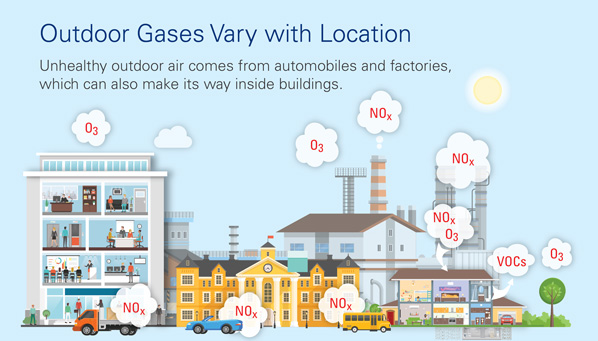 The main source of unhealthy outdoor air is the burning of fossil fuels, including automobile emissions, electric power plants and factories, which can emit an unhealthy combination of volatile organic compounds (VOC), O3 and NOx into the atmosphere. These gases can also make their way into buildings through air handling systems that recirculate unhealthy outdoor air, instead of pulling in fresh air. 
Governments, corporations and non-profit agencies are working to address these air quality problems through a variety of means, including cleaner energy sources, reduction in emissions from power plants and automobiles, and education via air quality alerts. While these actions may begin to decrease the impacts of unhealthy air especially for people with respiratory problems, they do not address the most critical issue, which is personal and local exposure to poor air quality, and efforts to address behavior and activities to protect an individual's health.
Rating Outdoor Air Quality
The World Health Organization (WHO) Air Quality Guidelines (AQG) offer guidance on threshold limits for key air pollutants that pose health risks and provide a reference for setting air pollution targets at regional and national levels to improve air quality. Several other individual countries also offer guidance.
The US Environmental Protection Agency (EPA) provides an Air Quality Index (AQI) as a standard to measure for air quality. The AQI reports daily air quality, and covers five major air pollutants, including ground level ozone, nitrogen dioxide, particulate matter, carbon monoxide and sulfur dioxide. The AQI index goes from 0 (good) to 500 (bad) air, and defined six categories based on the risk to public health of increasing air pollution.
OAQ Rating by Renesas
Renesas' OAQ sensors detect parts per billion (ppb) levels of ozone and nitrogen oxide gases and are calibrated to report the EPA's AQI (for combined O3 and NOx) below.
Industry-leading Outdoor Air Quality Sensor Solutions
Renesas offers metal oxide-based outdoor air quality sensors optimized to sense the key gases contributing to health impacts from poor outdoor air quality. The ZMOD4510 offers a NO2 sensor module and ozone gas sensor in one, calibrated to the EPA AQI. The sensors offer an integrated, reliable solution with pre-compiled libraries for easy integration with common microcontrollers. The platform has been optimized for next-generation industrial and consumer applications.