The Open High-Performance Analytics and Computing (HPAC) Lab is the industry's first lab that enables the inter-working of diverse computing vendors deploying Renesas's RapidIO interconnect technologies. The lab support heterogeneous computing with low-latency interconnect to enable the rapid movement and management of large volumes of unstructured data.
The lab provides a central area for collaboration to build end applications with heterogeneous computing around interconnect, timing and memory interface products and key collaborator computing technologies. It is designed to enable end users to use lab platforms to create prototype solutions around heterogeneous computing elements, which can include, but are not limited to, CPU, GPU, FPGA and DSP technologies.
The lab is based in Renesas's facility in Ottawa, Canada, with plans for expansion to Renesas San Jose, as well as potential satellite computing clusters at select locations.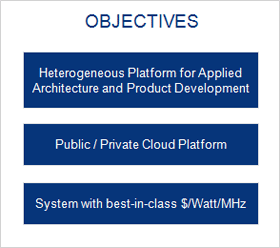 Application
The Open HPAC Lab is focused on a number of strategic markets for existing and emerging silicon technologies from Renesas and Open HPAC Lab collaborators:
Hyperscale Cloud Data Center-Based Analytics
High-Performance Computing
Wireless 4G advanced, 5G and Mobile Edge Computing
Video Analytics
Autonomous vehicles
All of these markets need multiple processing elements to solve the application problem, often with processing of different types all connected with a low-latency Interconnect.
RapidIO Interconnect at the OpenHPAC Lab
As Moore's Law slows down, integration of processing technologies in a single monolithic die becomes more difficult. Applications need to span multiple types of processing elements with low latency for which a suitable interconnect is needed. Renesas's RapidIO interconnect has solved this problem for over a decade in wireless and embedded systems. Many of these attributes have become a requirement in emerging markets where the application workload spans many categories of computing semiconductors in real time. RapidIO 100ns low latency interconnect is the cornerstone to enable this.
Relationship to the Open Compute Project and to RapidIO.org
Renesas co-chairs the Open Compute Project HPC organization. In the Open HPAC Lab there is an intent to leverage industry-standard OCP platforms where possible for a number of reasons.
The first is to accelerate adoption of OCP solutions. The second is to have an area to develop end software applications on OCP hardware in development before it gets through the formal certification process.
Feedback from the software community will allow for feedback to the OCP teams where appropriate. Hardware platforms used in the lab do not need to be OCP compliant though even though there is preference.
The Open HPAC Lab supports Renesas's commitment of RapidIO.org for which we serve as vice chair and also chair the Technical working group. The lab will leverage existing and future RapidIO products from Renesas and its partners and will be used to develop and test open RapidIO software for high-performance data management and fabric management that has already been or will be submitted to linux.org.
Management Structure of the Open HPAC Lab
Renesas is opening the lab for wider industry collaboration working with its partners. At the launch phase, Mohammad Akhter, director of architecture, serves as lab director on behalf of the office of the CTO, and Interconnect Division of Renesas. Devashish Paul, director of strategic marketing at Renesas, runs the partner collaboration and project selection and will formulate formal engagement projects with identified parties. Management structure for the lab will grow as the number of projects and collaborators expand with an advisory board to be nominated with a target of doing so 2 quarters after lab launch.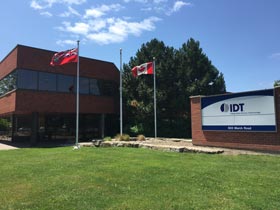 The Open HPAC Lab is located within Renesas's corporate offices in Ottawa.
Business Model and Participation
The lab has been working privately on some successful analytics focused projects around heterogeneous computing and RapidIO interconnect. Previous and current activities include:
Twitter analytics of FIFA World Cup data,
Supercomputing at the "Edge" for Mobile networks research
RapidIO-based data center analytics and Large Hadron Collider target real time data acquisition
The lab is funded through a contribution model.
Partners collaborate by providing processor and networking hardware platforms such as servers, storage and top of rack switches that work with Renesas RapidIO interconnect technologies.
End users contribute by submitting projects and personnel to develop software projects on the platforms.
Renesas's contribution is around several server and networking hardware elements, applications engineering resource, physical lab location and management running the marketing associated with the successful projects and partnerships that emerge from the lab.
The lab's model is for projects to be self sustaining. Renesas's goal is to not to generate revenue directly from the lab. Rather, it allows users of Renesas and partner technologies to develop system-level applications based on the underlying technologies.
Applications for new projects at the Open HPAC Lab
Upon launch the lab is at capacity with projects already in development and will be accepting new applications starting in Oct 2015. Please contact

[email protected]

This is an applied technology lab; applications will be taken on a case-by-case basis based on a number of criteria, that include but are not limited to the following:

Target market for project
Path to commercialization. The intent is small "r" bigger "D"
Impact on future product development of Renesas and key collaborators
Resource and/or monetary investment by end user project