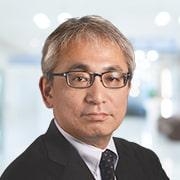 Senior Vice President, Information Technology (IT)
Mr. Nitta serves as Senior Vice President of Information Technology since April 2022.

Previously, Mr. Nitta held the position of Senior Vice President and Head of SoC Business in the IoT and Infrastructure Business Unit starting July 2019.

Mr. Nitta began his career at Mitsubishi Electric and served key posts such as Manager of Worldwide Automotive Accounts, Overseas Marketing of the Semiconductor Group. He also served as the Vice President of the Semiconductor Division of Mitsubishi Electric Europe.

After the joint venture of Hitachi and Mitsubishi Electric was established, Mr. Nitta served the posts of Executive Vice President of Renesas Technology Europe, Senior Manager and Vice President of the Marketing & Production Planning Division, MCU Business Group of Renesas Technology Corporation.

Since the merger of NEC Electronics and Renesas Technology, Mr. Nitta served multiple managerial positions including Vice President and Deputy General Manager of the Sales Management Unit and Global Sales Unit of Renesas Electronics. He has also served as Deputy President of Renesas Electronics America Inc.

Mr. Nitta holds a bachelor's degree in economics from Kyoto University, Japan.