The Renesas University Program Vision
Together with you, the next generation of innovators, we strive to shape the future of technology, creating leading semiconductor solutions that can help improve our lives and the world we live in.
Register for University Program
The Renesas University Program Mission
Impact bright minds! We want to strengthen your skills, deepen your knowledge and support you in becoming the drivers of future technology.
Establish technology cooperation and collaboration with academia! Let's mutually benefit from the exchange of knowledge.
Build a global network of experts and experts-to-be with a culture of open communication, collaboration and respect for diversity.
Deliver creative and innovative semiconductor solutions and toolsets that facilitate outstanding learning opportunities for you.
Strive together in driving progress toward a safer, healthier, greener and smarter world.
University Community
Interact with other students and teaching staff to discuss, share and collaborate.
---
Renesas Synergy Education Concept
Within the Renesas University Program we offer comprehensive course materials and lab exercises to provide fascinating and outstanding learning opportunities for students.
Our educational concept is based on the Renesas Synergy™ Platform, a comprehensive qualified and supported platform that integrates a feature rich software suite, a scalable family of ARM® Cortex®-M series MCUs and a complete integrated solution development environment. It is a unique opportunity for educators and students to access an unprecedented level of full, professional software, as used in industry.
Sign up for the Renesas University Program and get free of charge
Lecturers and students will get access to course materials and an industry-leading embedded platform including full, commercial-grade software - at no cost!
---
Experiences
Edgar Montoya Méndez of the Universidad Tecnológica de Querétaro in Mexico recommends the Renesas University Program because it "offers a free and easy way to learn or strengthen the knowledge on embedded software programming, use of standardized communication protocols and powerful tools like RTOS, IoT applications and many more tools used in industry." Germán Dioniso Vázquez Valdés registered for the program so he could use the Renesas Synergy™ S7G2 Starter Kits to migrate from teaching 8-bit microcontrollers to teaching 32-bit microcontrollers and is now happy to work with the hardware and supporting online material.
At Yaşar University in Turkey, Mustafa Gündüzalp uses the Renesas Synergy™ S7G2 Starter Kits for a graduate course on microcontroller architecture and applications. The ease of use, the richness of materials and the Synergy Software Package are the reason why he likes the University Program and recommends it to other educators.
At Università Politecnica delle Marche in Italy, automation and computer science students learn microcontroller programming on the Renesas Synergy™ S7G2 Starter Kits in the Automation Laboratory. They work on projects about embedded automation, embedded sensor applications, control of DC and brushless motors and autonomous robots. Prof. Andrea Bonci recommends the University Program because it makes it easy for students to understand how a low-level programming of an MCU is coded.
At Université Clermont Auvergne - Polytech Clermont-Ferrand, Michel James uses the Renesas Synergy™ S7G2 Starter Kits for several purposes: hands-on introduction to microcontroller courses for first year engineering students, lab courses about bus communication (I2C, SPI and CAN) with second year students, and a project on developing a wireless DALI communication system with third year students. In his opinion, universities benefit from using the kits as they are versatile and can be used in multiple subjects.
"Besides great equipment and modern software that allows students of different universities to be on the cutting edge of the fourth industrial revolution and latest scientific progress, the Renesas University Program's professional team provides full support on any issues," says Yurii Biletskyi, educator at Lviv Polytechnic National University in Ukraine. He uses the Renesas Synergy™ S7G2 Starter Kits provided by the program in two courses to teach students the basics of microcontroller systems as well as for Bachelor and Ph.D. theses, e.g. control systems for electrical drives, solar panels and hybrid energy-storage systems.
---
Renesas Synergy™ Support
Get in touch with a regional support representative or check out FAQs, documentation and video tutorials.
This book is a step-by-step guide towards your first application implementation with the Renesas Synergy Platform.
View different on-demand training courses about Synergy and more.
---
Join the Renesas Virtual MCU Rally
We are excited to invite you to Renesas' first virtual student contest, taking place from 24 to 27 January 2022! It will be the perfect opportunity to combine practical learning and fun. The live event will be held in Central European Time and the contest is open to engineering students and their educators from universities anywhere in Europe.
Image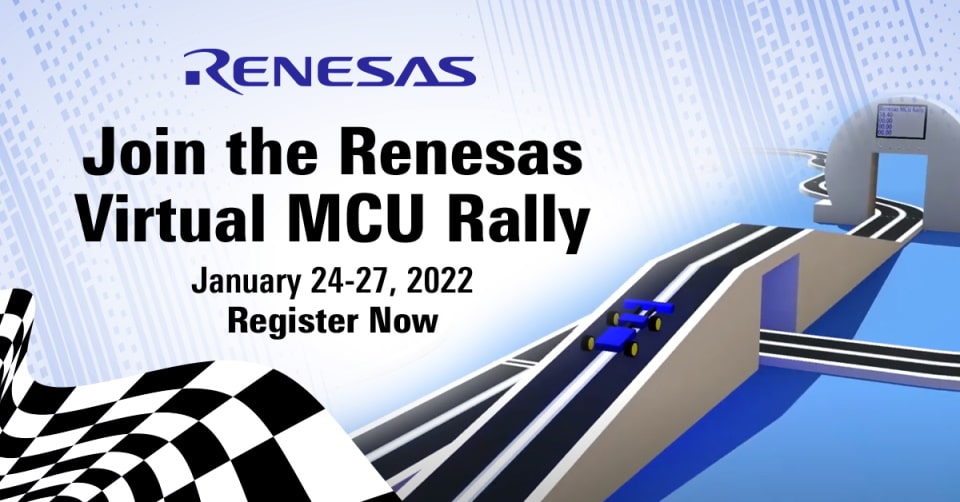 Participants will:
Build a self-guided MCU robot in the Renesas Virtual MCU Rally simulation environment and optimize the software that auto drives the robot along the white line on the track. 
Develop and strengthen skills in microcontroller software development, real-time control theory, sensor systems, motor control, project management, teamwork and more. 
Get participation certificates and possibly credit towards your course, and have the chance to win attractive prizes.
Register now with up to two teams per university, consisting of 2-5 students each and supported by one educator. Registration deadline is 31 October 2021. The total number of participating teams is limited and Renesas reserves the right to decline registrations. 
---
Career opportunities for students and graduates
Your studies are electronic engineering, computer or natural science and you have already passed your intermediate exam? Then we have an opportunity for you to combine theory and practice at an early stage. In cross-border project teams you can bring in your own ideas and simultaneously learn from our wealth of expertise, experience and key technologies.
Renesas supports internships, working student jobs and permanent careers for graduates in the fields of marketing, technical support and research and development. Hence our motivation to invest in your education today to have the right people on board tomorrow.
Candidates with a keen interest in a position are invited to forward their application to our HR team.
Check Out Our Job Opportunities
Engineer School
Are you only just about to begin a career in embedded engineering or need to fill in some gaps? Check out this explanatory website about basic embedded-system concepts and technologies.
---
Renesas University Program Representative