Workbench6 is the integrated development environment (IDE) used with Renesas RX 32-bit microcontrollers (MCUs) for capacitive touch applications. This IDE allows for easy adjustments with a wizard format, simple operations using an intuitive user interface, and automatically adjusted source code as outputs. Using the Workbench6 automatic calibration tool with Renesas touch key MCUs makes it possible to use a graphical user interface (GUI) to adjust the sensitivity and other settings easily, something that was previously complicated by factors such as the board layout and tracing pattern, the panel material, etc.
Image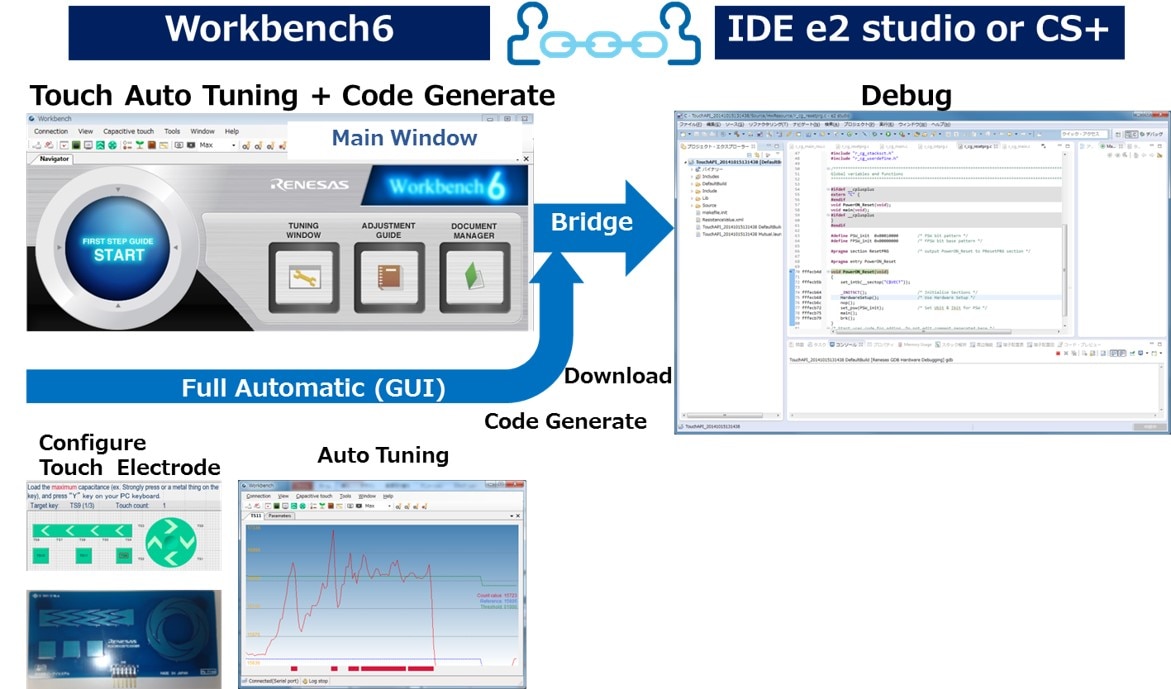 Software for Workbench6 Touch Evaluation Tool (Ver.1.07.00.00)
Which Emulator to Use
If CS+ is selected as the IDE, the emulator will be E1.
If e2 studio is selected as the IDE, the emulator will be E1 and E2 emulator Lite.
Runtime Library & .NET Framework
The following also needs to be installed to use Workbench6 Ver1.07.00.00.
Runtime library: Visual Studio 2012 Runtime Library (32-bit)
.NET Framework: Microsoft .NET Framework 4 or later
Sample Software Output Notice
The following notice is shown regarding the sample software output from Workbench6 (Prior to Ver1.07.00.00).
When system clock (ICLK) is set to a frequency higher than 12MHz for the RX130, RX230, RX231 groups, the code for the operating power control mode will not be created correctly.
There is an error in creation of the code when HOCO is used with the RX113 group.
Changes from Previous Version
What's changed from Ver.1.06.00.00 to Ver.1.07.00.00:
Board monitor added to tuning window and improved functionality.
Changed flow and usability of first step guide.
Added support for RX130 Group MCUs.
Added touch interface template.
Made touch measurement frequency selectable. (advanced setting for experts)
Improved tolerance to frequency switching noise. (advanced setting for experts)
Added support for e2 studio v6.2.0.
Added support for CS+ v6.01.00.
Fixed initialization processing for ports.
Fixed the issue that caused first step guide offset adjustment to fail.
Changed sensor compensation processing according to technical update TN-RX*-A168A/E (RX230 and RX231 Groups only).
Fix for precautions described in TN-RX*-A169A/E (RX231 Group).
Fixed the issue of compensation processing for variation not being carried out when the sensor counter is under certain conditions.
Fixed the issue with the API function that retrieves touch reference counter data (unused function).
Applicable Products