The RX Family LCD Display Solutions provide everything needed for an HMI design. Includes microcontrollers with dedicated display functions, display kits with included demos to help kick-start evaluations immediately, and GUI editing software to facilitate GUI design and development.
Image

Large-capacity RAM and Dedicated Hardware Features for LCD Display
The buffer required for display can be implemented in the high-speed and large-capacity RAM included on-chip with the MCU.
A built-in LCD controller provides support for various formats such as CLUT and RGB.
A built-in 2D drawing engine provides hardware assistance for vector drawing and BitBLT.
Image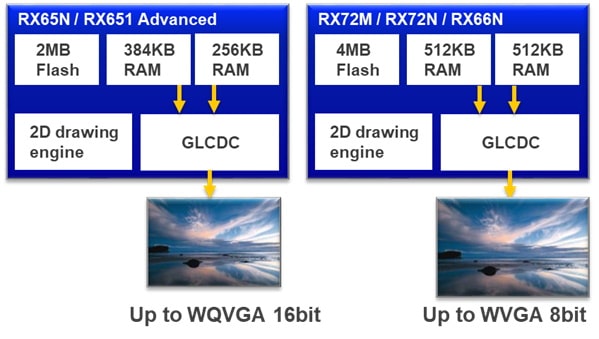 Required buffer capacity:
Panel Size
Resolution
Bit/pixel
Buffer size (single)
Buffer size (dual)
WQVGA
480
272
8
136KB
272KB
WQVGA
480
272
16
255KB
510KB
VGA
640
480
8
300KB
600KB
WVGA
800
480
8
390KB
780KB
Image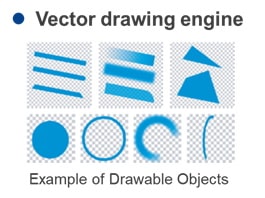 Image
GUI Development Tools Available From Partners
emWin for RX lightweight GUI library from Segger is available at no cost
Aeropoint GUI for RX from CRI Middleware allows GUI creation in PowerPoint, excellent color reduction technology and audio/video playback
Various tools such as Embedded Wizard from Embedded Wizard are supported
'Envision Kit' GUI Development Kit Series
Equipped with a pre-installed demo and onboard emulator to allow quick evaluation and to help get designs started right away
The RX65N Envision Kit is equipped with a WQVGA size LCD
The higher-end model RX72N Envision Kit is additionally equipped with audio/mic, Wi-Fi/BLE, Ethernet, and security features