Global on-demand streaming services have gained in popularity in recent years and have allowed consumers to connect using a wide variety of devices. Now the television must compete with smartphones and laptops as the main vehicle for viewing content. Soundbars are also changing how we consume audio and video in our homes offering consumers a true cinematic audio experience. In 2019 the soundbar market surpassed $5 Billion and is projected to grow at a CAGR of 3.5% between 2020 and 2026*. Renesas is introducing this reference design to give designers a head start in their next generation soundbar design.
System Benefits​:
Complete soundbar design: Left and Right surround sound with subwoofer. Bluetooth and Wi-Fi (with "Alexa" voice control) inputs. Coaxial and optical SPDIF with 7ch output.
The D2-6 family of intelligent digital audio processor devices are complete System-on Chip (SoC) audio processor and Class-D amplifier controllers.​
The Cost-effective RZ/A1 MPU device with an Arm® Cortex®-A9 core running at 400MHz and 3MB of on-chip SRAM.​
The D2-24044 audio integrated power stage device is a high performance, integrated Class-D amplifier power stage.​
Image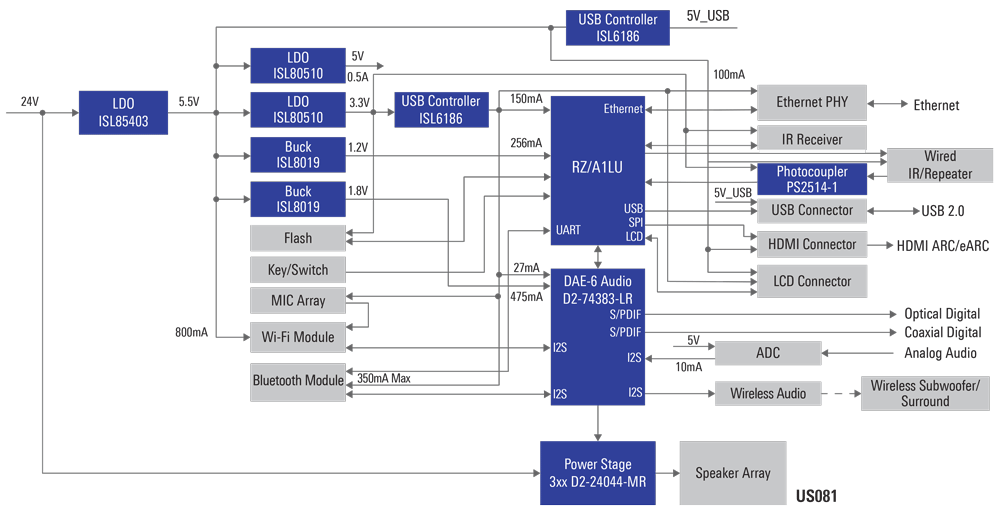 Related Products