Published: May 15, 2021
Human Machine Interface (HMI) refers to a method or tool for humans to operate machines and equipment, and to exchange information between people and machines.
The use of HMI is on the rise among products that require efficiency, convenience and flexibility. Many devices utilizing HMI, such as industrial automation equipment, building automation system equipment, medical display systems, POS systems, intercoms, etc., require early launch of proof of concept (POC) in order to respond quickly to market demands.
However, the integration of microprocessors to achieve this is getting even more complex and there is an increase in time and resources to get to market.
The wide range of CPU scalability and the pin compatibility of the RZ/G2 microprocessor increases the diversity of the customer's products and facilitates the expansion of their line-up. Also, the RZ/G2's graphics engine and video codec capabilities make it easy to extend the functionality of HMI. For example, this includes video-based operation guidance and a graphical GUI that improves visualization and operability.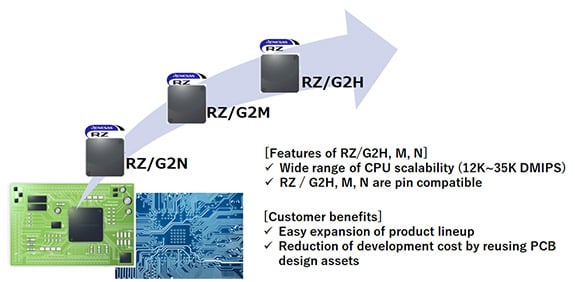 Among the partner boards utilizing this RZ/G2 microprocessor, TQ-Systems completed the modularization of three products among its mass-produced system-on-modules, and customers can use this to significantly reduce the time and resources required to design schematics and layout components. We also support design services that can meet board custom requirements.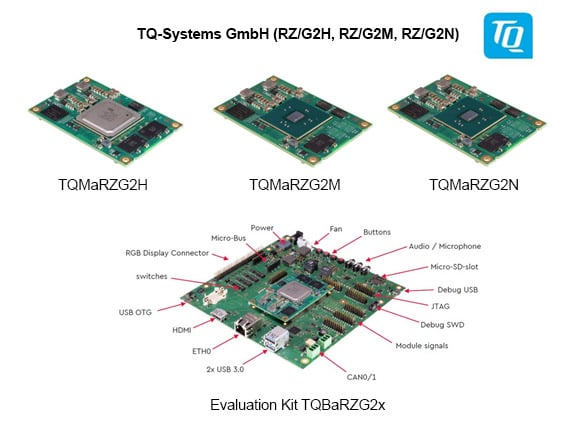 The TQMaRZG2x system-on-module (SoM) is equipped with an RZ/G2 microprocessor incorporating the ARM®Cortex®-A53/A57. The built-in high-performance graphics controller also supports applications that have high display requirements. In addition, all signal pins are available for use, allowing for flexible applications and cost-effective project development.
The RZ/G2 microprocessor is available in three versions (RZ/G2H, RZ/G2M, RZ/G2N), each with different performance and functionality, and the TQMaRZG2x includes up to four Cortex®-A57 cores and four Cortex®-A53 cores. Choose from the three versions of the microprocessor to achieve the best combination of performance and power consumption. Learn more about the TQMaRZG2x embedded module.
The system-on-modules being introduced at this time are smaller than a credit card (54mm x 86mm), and include key components such as a microprocessor, DDR memory and Flash memory, and we anticipate that these products can be used for a variety of applications.
Learn more about the RZ/G2 microprocessors.