The demand for capacitive touch key is growing significantly because it enables elegant designs, such as a flat operation panel or operation key illumination by backlight. However, you might think it is difficult to implement capacitive touch keys in products for wet areas since water droplets may cause false detection.
In the past, at Renesas, we proposed high water resistance capacitive touch keys by adopting the mutual-capacitance method. However, since this method needs two electrodes for each key, the arrangement of electrodes is more complex, and the board size is bigger, which limits a capacitive touch key that could not be implemented in some small enclosers.
To solve this issue, Capacitive Touch Sensing Unit (CTSU2SL) embedded in the latest RX140 MCU has newly supported a method that drives shield electrodes directly using touch sensor pins. This method achieves high water resistance even with a simple self-capacitance method using one key with one electrode, thus allowing capacitive touch keys to be implemented in a smaller PCB area.
With the direct driving shield electrode method, the touch measurement driving pulse is outputted from both the touch sensing pin and the shield electrode driving pin. Effectively making the potentials of the shield electrode and the touch button electrode equal and reducing the effects of capacitance increase by water droplets, resulting in the reduction of false detection.
Image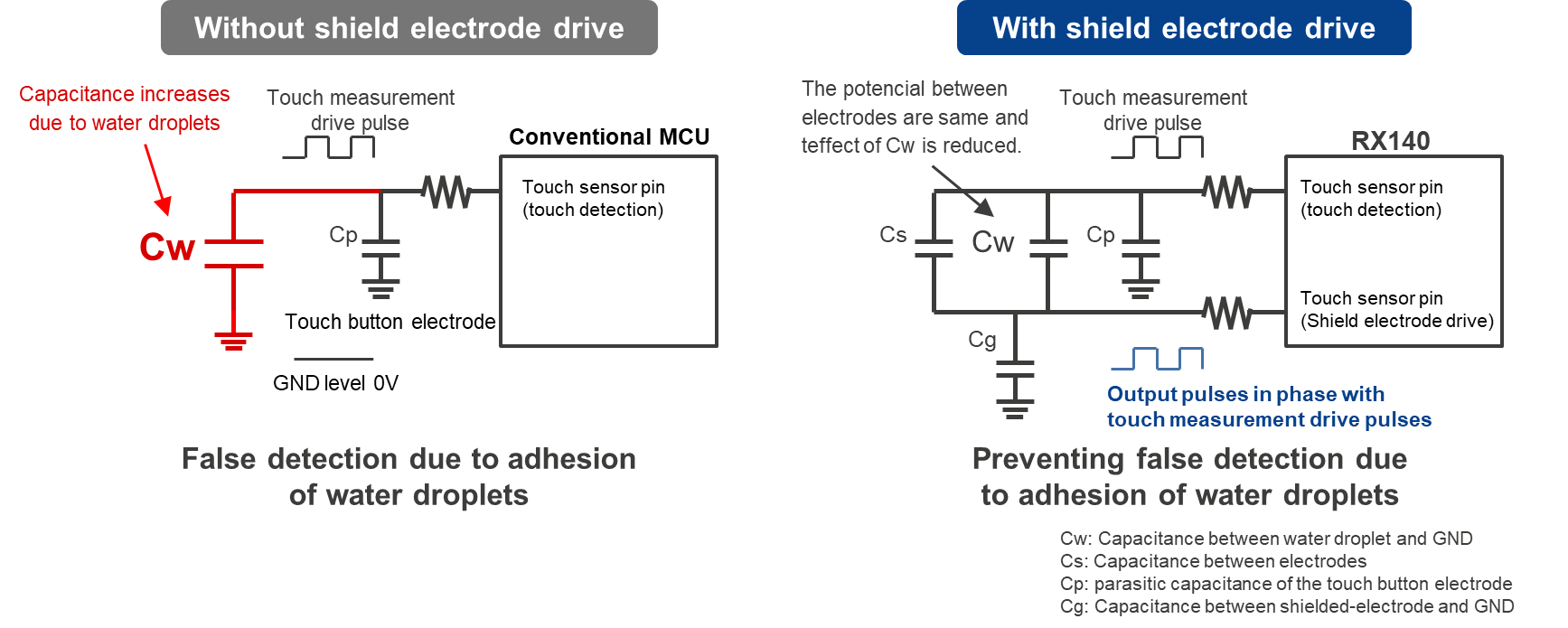 Renesas provides a waterproof self-capacitance solution for the evaluation of this feature, which includes the sample program and the reference design on our website.
The picture below shows a demonstration of this solution. On the left side, since a shield electrode is not driven with a touch measurement drive pulse, a false detection occurs due to water droplets, and LEDs are turned on. On the right side, since a shield electrode is driven, you can see that false detection doesn't happen in the presence of water.
In other words, RX140 can achieve high water resistance with the self-capacitance method, allowing the implementation of capacitive touch keys with fewer electrodes compared to the traditional mutual-capacitance method. It can be applied to wet area applications with smaller board sizes. So, if you had given up implementing capacitive touch keys in such cases before, how about reconsidering it and adopting this solution?
References:
[1] RX140
[2] Self-Capacitance Waterproof Solution
[3] Touch Sensor Solutions