Published: March 13, 2023
The Internet of Things and intelligent endpoints are already revolutionizing the way we live, manage production, operate vehicles and monitor systems across strategic value chains. The next generation of smart devices will help create smart environments with digital technologies to optimize the way we live our lives. To address these growing hardware requirements, the semiconductor industry is going through massive advancements in digital, analog, tools, manufacturing technologies, as well as material domains.
The fast-moving industrial, automotive and IoT markets are forcing developers to re-evaluate their traditional approach to product development. Today's embedded designs are simply too complex to develop in a case-by-case, step-by-step, serial fashion in which designers take a hardware design and painstakingly build their software infrastructure around it. The market demands a faster response and shorter time-to-market.
Renesas Electronics is an established semiconductor market leader with proven quality in demanding applications including the industrial and automotive segments. A global leader in microcontrollers, analog, power and SoC products, Renesas is a trusted and reliable supplier delivering embedded design innovations to help shape a limitless future. The Renesas name is synonymous with quality with close to zero PPM (parts per million), thanks to our long-established quality assurance systems. Consistent quality assurance and quality control across all stages from product planning to after-sales services is based on "built-in quality" that is backed up with reliable technologies.
Renesas offers the broadest portfolio of ultra low-power to ultra high-end MCUs in the market. As one of the leading MCU suppliers – and the market leader in 16- and 32-bit solutions – we ship more than 9 million high quality devices every day (more than 3.5 billion a year), which are used to build advanced IoT, consumer, industrial, automotive and infrastructure products worldwide.
Image

Designed to Grow with You
Renesas offers advanced microcontrollers that provide excellent expandability while allowing designers to make full use of their existing resources. Available in a wide array of memory and package options, Renesas MCUs are fast, highly reliable, low cost, and deliver eco-friendly performance. Incorporating the latest process technology which enables integration of large-capacity flash memory, they are used in a range of systems, including demanding industries that require high quality and high reliability meeting strict requirements. Renesas MCUs are designed with software in mind and offer improved features and pin compatibility, allowing easy scalability and code reuse from one device to another.
Delivering the Promise of a Secure, Connected and Intelligent IoT
Renesas offers the broadest portfolio of MCUs designed to address any embedded application. Our extensive choices range from ultra-low-power RL78 devices designed for a wide range of cost-effective applications with industry-leading low power consumption down to 0.355 μA during clock operation; to the Renesas eXtreme (RX) family featuring the proprietary RX core offering an industry-leading 32-bit CoreMark® per MHz performance; as well as the flexible, popular Renesas Advanced (RA) 32-bit MCUs with the Arm® Cortex®-M33, -M23 and -M4 processor cores and PSA certification. Each RA device delivers key advantages compared to competitive Arm Cortex-M MCUs by providing stronger embedded security, superior CoreMark performance and ultra-low-power operation. The MCU portfolio is further complemented by RISC-V core options addressing a diverse set of applications.
Additionally, there is a robust support system in place to help reduce both development costs and the time required for development. Support includes a variety of development tools, including products from other companies, backed by extensive technical documentation, software libraries, and active user communities.
With a range of performance, features and pin-compatibility within each series, Renesas MCUs deliver the scalability, power consumption, code-reusability, and performance needs for the embedded market.
Flexible Software Platform Accelerates Your Development Time
To be competitive and succeed in the vibrant IoT or automotive arena, embedded system developers must not only innovate and differentiate their products, but also accelerate their time to market. At Renesas we offer the industry's most comprehensive software platform to enable our customers to easily adopt our MCU and MPU devices and achieve the quickest time to market.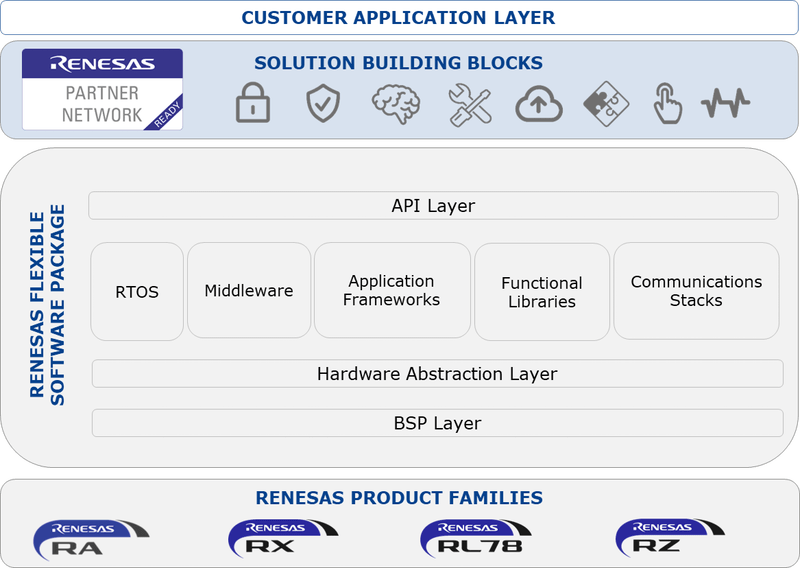 The Renesas Flexible Software Package (FSP) provides a quick and versatile way to build secure connected devices and systems. FSP is an enhanced software package designed to provide easy-to-use, scalable, high-quality software for embedded system designs. It provides a quick and versatile way to build secure, connected IoT devices using production-ready drivers, Azure® RTOS, FreeRTOS™, and other middleware stacks.
FSP includes best-in-class HAL drivers with high performance and a low memory footprint. Middleware stacks with Azure RTOS and FreeRTOS integration are included to ease implementation of complex modules like communication and security. The e² studio IDE provides support with intuitive configurators and intelligent code generation to make programming and debugging easier and faster.
FSP uses an open software ecosystem and provides flexibility in using bare-metal programming, including your preferred RTOS, legacy code, and third-party ecosystem solutions.
More Than Just a Support Ecosystem
We are proud to provide complete end-to-end support across our broad range of MCU families. From concept to commercialization, Renesas experts together with our partners help customers get to the market faster. The Renesas Ready Partner Network offers an extensive curated network of trusted technology partners delivering commercial-grade building blocks that work out-of-box with Renesas products. These solutions are designed to help accelerate the development of IoT capabilities around core technologies such as security, safety, artificial intelligence / machine learning, connectivity, cloud, sensing and control, and human machine interface among others.

The path to the development of billions of smart devices is opening up and creating a new breed of smart embedded applications and business streams not previously possible. Advances in the semiconductor world put intelligent MCUs and MPUs at the core of driving this digital transformation. At Renesas, we invite you to join us on this exciting journey and help realize your vision.
Visit renesas.com/mcu to find the right MCU for your next project today.