With increasing requirements for automated meter reading (AMR) capabilities for water, heat and gas meters, many utilities have decided to use MID-certified "plug-and-play" retrofit modules for already deployed mechanical meters. This has become a viable option for a complete replacement with purely electronic meters before the lifetime expires.
Although the following concept had been developed for a mechanical water retrofit module, the principle of operation is media agnostic (heat and gas) and fully applicable to electronic direct drive meters (no mechanical gear box).
To address the current market requirements, this design uses 16-bit RL78 MCU core technology. However, in order to address possible future market trends, especially with respect to more complex communication schemes, this design is flexible enough to use other appropriate Renesas MCUs.
System Benefits:
The selected RL78/G11 MCU offers the advantage of running both metrology and application on one MCU at an attractive cost
The RL78/L1C (includes the LCD on-chip controller) is especially important for a purely electronic meter design
The buck-boost DC/DC converter provides RF transceiver operability as well as a significant system lifetime extension because of a more efficient use of the battery's available capacity
The proposed Sub-1-GHz transceiver provides RF connectivity that is key to address AMR capability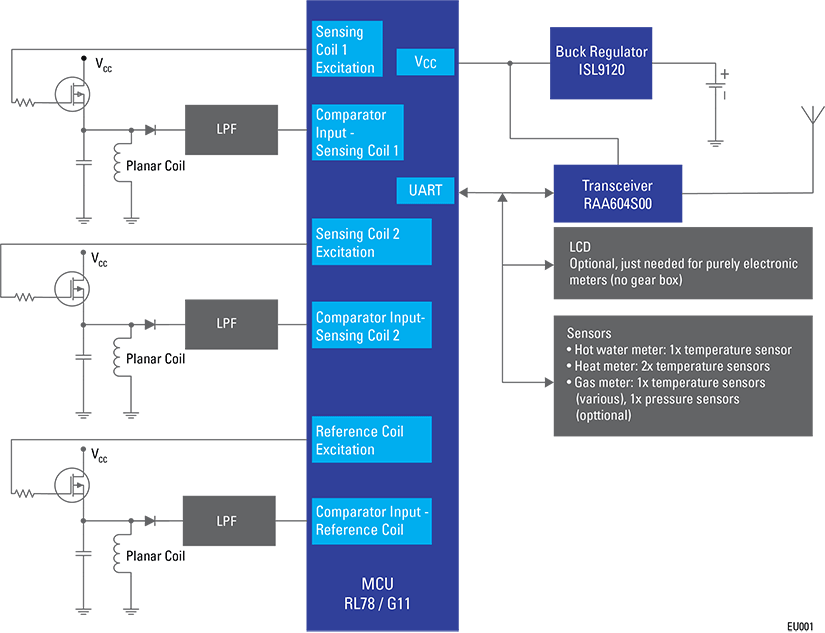 Related Products