Published: April 8, 2021
In recent years, the introduction of data-driven predictive maintenance and automation has attracted attention, and the demand for acquiring various sensing data has also increased. In the field of temperature control, there is also an increasing case where a single MCU device is being used to measure temperature at multiple points as well as other physical parameters.
As the specifications are increasing, the number of components used also increases. On the other hand, the demand for product miniaturization is also increasing, and reducing the board mounting area. In addition, the standardization of parts and platform development to meet such diversifying specifications has become a challenge.
To address these challenges, Renesas has developed the RX23E-A, which integrates a high-precision 24-bit delta-sigma (ΔΣ) ADC and MCU that is ideal for temperature control into a single chip. By using the RX23E-A, the temperature control equipment that used a general-purpose MCU and dedicated external ADC can now be replaced with a single MCU.
Renesas provides a reference design of the thermoelectric Peltier controller as an example of a temperature controller. The main function in this reference design includes the measurement, control and communication all by using RX23E-A as a single-chip MCU.
System Configuration Diagram of RX23E-A Thermoelectric Peltier Controller 
In this reference, cascade control is implemented by adding a current control loop to the temperature control loop. Cascade control is a control method used in applications that require precise control, and the RX23E-A comes with a lot of functions that are capable of realizing this implementation with a single chip.
We have developed the demo kit and confirmed that a control resolution of about 5m °C could be achieved. In addition, with proper tuning, high-speed response with no overshoot can be realized.
Image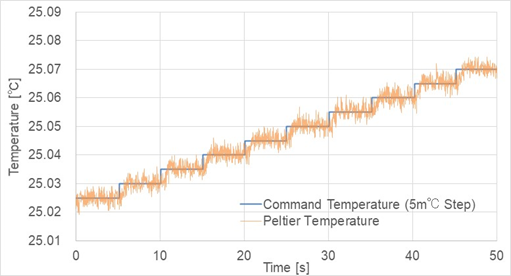 5m ℃ Step Response Waveform
Image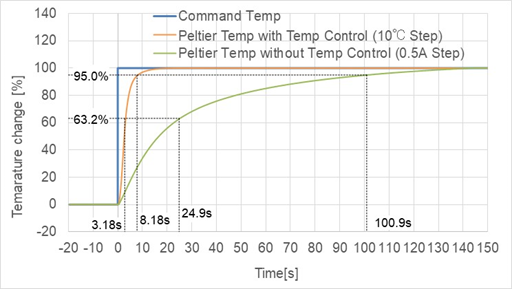 Temperature Step Response    
As shown in the table, this reference can be realized with a light arithmetic load, leaving room for adding other functions and implementing more advanced arithmetic processing. By using RX23E-A, it is possible to support various additional specifications.
Processing Load of RX23E-A
Image

*1 ICLK=32MHz
*2 The ratio to current control cycle 500us
This reference design can be used when considering the implementation of a high-precision sensing control in a single chip. The solution introduced has been posted on the website as "RX23E-A Group Example of Thermoelectric Peltier Controller Application Note". A webpage for this solution is also made available. Please make reference to it.
More about the RX23E-A Analog Front-End Mounted 32-bit Microcontroller
Learn more about the Renesas Solution Starter Kit for RX23E-A
Check out our RX23E-A Thermoelectric Peltier Controller Reference Design